Titleist & FootJoy Return As Official Partners Of 2022 Women's Golf Day
Details

Category: Inside Golf
Published: 2022-02-03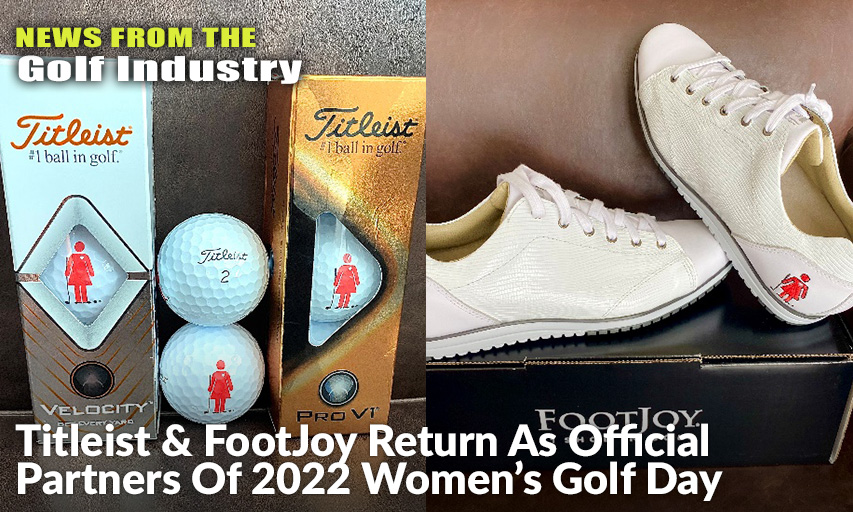 WEST PALM BEACH, Florida — Titleist and FootJoy have returned as Official Partners of 2022 Women's Golf Day (WGD): Titleist as the preferred golf ball and FootJoy as the preferred footwear. 
Women's Golf Day, a global golf movement that engages, empowers, and supports women, will be staged internationally on Tuesday, June 7.
"These two companies share our vision to bring golf to the diverse, growing female golfer community across the world," said Elisa Gaudet, Founder of Women's Golf Day. "We are proud to have these two prestigious brands support the movement, our year-round slate of events, and be a quality resource for women golfers." 
In signing on as the official sponsors in the ball and footwear categories, Titleist and FootJoy are demonstrating their commitment to elevating the women's game and recognizing the important role that WGD plays in bringing together women who play or are interested in finding out more about golf and performance equipment to help them take their games to the next level.
Titleist and FootJoy will work with the WGD Team to activate the sponsorship and give the WGD global community access to their impressive product lines. Titleist golf balls with the Women's Golf Day logo will continue to be available as a specialty order and were showcased this past year at all the PGA TOUR Superstore locations. The designers at FootJoy have created a Women's Golf Day My Joy shoe that is available via direct order from FootJoy. The products also will be integrated into WGD's new travel program and showcased at events held around the world.
With a boom in women's golf fueled by the pandemic — 450,000 new women golfers in 2020, according to the National Golf Foundation (NGF) — timing is prime to embrace and encourage more women's play.
"The WGD partnership offers our brands the opportunity to connect with a global community of women who love golf," said Alicia Madden, Director of Media, Titleist. "We are committed to being at the forefront of the women's game, and we're dedicated to developing partnerships, products and an overarching community for all female golfers."
For clubs and courses looking to host a WGD event, online registration and additional information may be found at www.womensgolfday.com/register.
To register for WGD Membership visit www.womensgolfday.com/become-a-member.
---
Women's Golf Day Official Partners: ahead, Callaway Golf, ClubCorp, FootJoy, GloveIt, Golf Town, Titleist, The R&A, and PGA TOUR Superstore.  Women's Golf Day is also proudly supported by:  All Square, Annika Foundation, Asian Golf, The California Alliance for Golf, Chronogolf, ClubCorp, EGCOA, European Tour, European Tour Properties, The First Tee, Gallus Golf, The Golf Channel, GolfNow, International Golf Federation, LET, LPGA, LPGA Amateur, Modest Golf Management, NGCOA, NGCOA Canada, PGA of America, PGA TOUR,  Players First, Sky Sports,  TopGolf, TopTracer, TPC Properties, Troon Golf, Troon International, USGA, WE ARE GOLF, Women & Golf, Women's Golf & Travel, The World Golf Foundation and more.
About Women's Golf Day: Women's Golf Day (WGD) is a global movement that Engages, Empowers, and Supports women and girls through golf and facilities them learning the skills that last a lifetime. The one-day, four-hour event, has now taken place at more than 1000 locations in nearly 80 countries since its inception in 2016, and has introduced thousands of new golfers to the sport. WGD is the fastest-growing female golf development initiative.
To find us online, visit: www.womensgolfday.com
To follow us on social media: @womensgolfday #WomensGolfDay #WGDunites
All are welcome to participate in Women's Golf Day except where prohibited by law. Women's Golf Day does not discriminate against anyone based on sex, race, color, religion, ancestry, national origin, disability, medical condition, genetic information, material status or sexual orientation.