Three Members Elected To PGA of BC Board Of Directors
Details

Category: Inside Golf
Published: 2022-02-03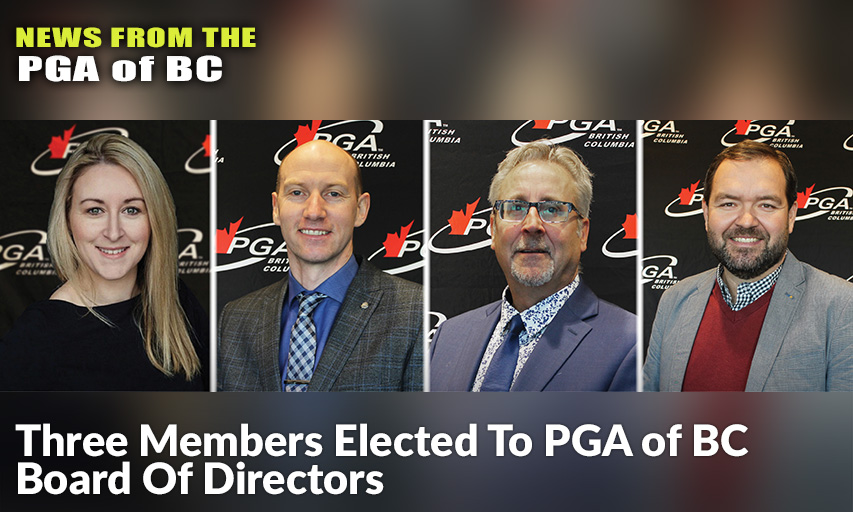 RICHMOND, British Columbia — The PGA of BC is pleased to present the results of the Association's 2022 Board of Directors election.
Listed in alphabetical order, the following candidates have been elected to two-year terms based upon the results of membership voting conducted January 17-24:
Courtney Campbell-Leveck; Head Professional, Gleneagles Golf Course
Padraic O'Rourke; Head Professional, The Fairmont Chateau Whistler Golf Club (re-elect)
Bruce Vermee; Head Professional, The Harvest Golf Club (re-elect)
The three successful candidates above join Lindsay Bernakevitch (Victoria Golf Club) on the cohort of incoming directors. Bernakevitch, who sought re-election, was previously acclaimed for a Board position as the only declared candidate from the Vancouver Island region, thus satisfying the quota of regional representation that was to be addressed via the election.
Congratulations to each of the Directors-Elect for being named to the board by their peers. Membership of the 2022 Board of Directors will become official and the Directors-Elect will be sworn in during the PGA of BC Annual General Meeting taking place virtually on Monday, February 7, at 4:00 p.m. PST.
The PGA of BC would like to thank outgoing director Jared Siminoff (Crown Isle Resort & Golf Community) for his service and dedication to the Association throughout the duration of his two terms on the Board. Siminoff will serve out the remainder of his term on the Board of Directors until next month's AGM.
Thank you to all members who put their names forward as candidates in this election and to all member Professionals who cast ballots to help determine their Association's elected leaders. Congratulations once more to the successful candidates.