The Latest & Greatest Iteration Of The Push Cart That Started It All – The Speed Cart V1R
Details

Category: Inside Golf
Published: 2022-02-03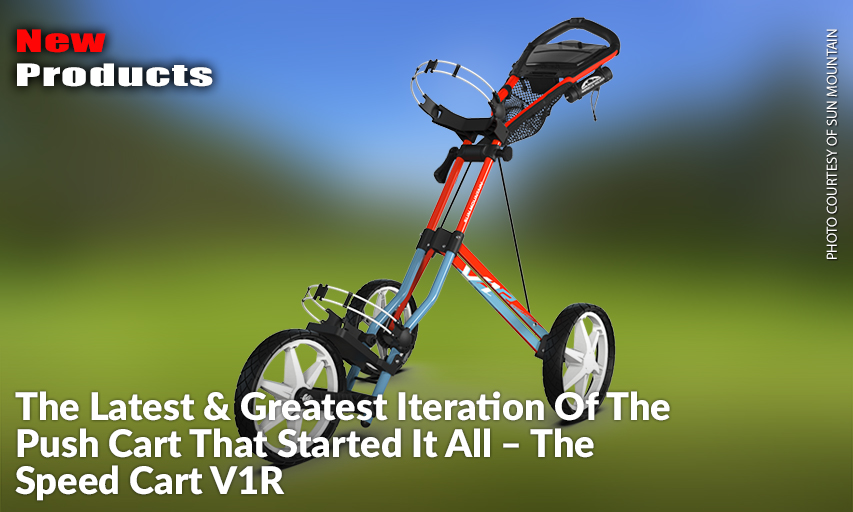 MISSOULA, Montana — Tiger Woods once said, "No matter how good you get you can always get better, and that is the exciting part." That pretty much sums up the continuing evolution of the category-creating Sun Mountain Speed Cart golf push cart. New for 2022 is the latest and greatest iteration of the push cart that started it all – the Speed Cart V1R. And the exciting parts are the redesigned handle, improved bag brackets, and more standard features.
Golf has experienced incredible growth in the past couple of years and many of these golfers are walking the course. A golf push cart shouldering the weight of your clubs makes walking the course even more enjoyable. And, the Sun Mountain Speed Cart has been at the top of this class since 1999.
Speed Cart opens and folds in two easy steps. The storage tray on the Speed Cart seemingly has a spot for everything including extra balls, car keys, pencil, tees, scorecard, and even a convenient slot for a mobile phone for those who use it as a GPS rangefinder.
Attached to the storage tray and included as standard accessories are a drink holder, umbrella holder, and a mesh headcover tray. Optional accessories can easily clip to the handle and include options such as cigar holder, sand/seed mix bottle holder, battery charger, and more. Other optional accessories include cooler pouches, covers, seats and others.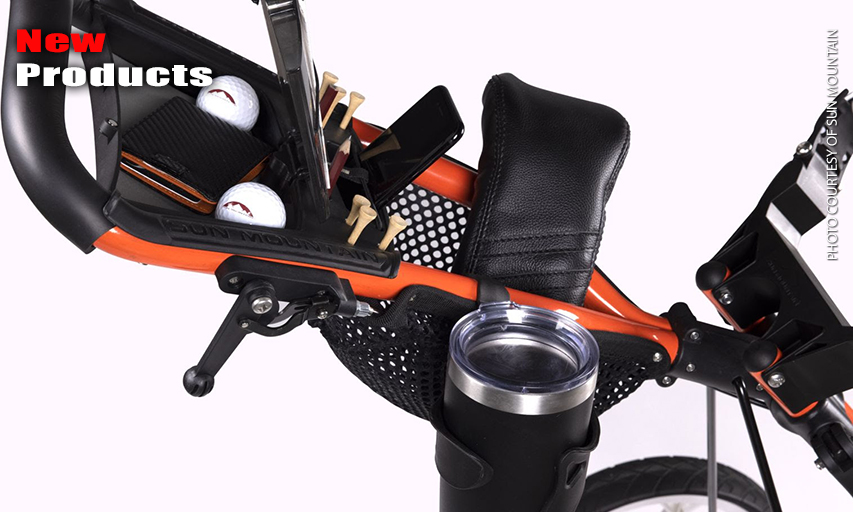 The upper and lower bag brackets on the Speed Cart V1R are designed to work with a wide range of golf bag shapes and sizes and work particularly well with the Sun Mountain Sync golf bag. In fact, the lower bag rest on the Speed Cart V1R is shaped to 'lock' into the plastic bottom of the Sync golf bag to minimize side-to-side movement of the bag. A built-in bracket on the Speed Cart is designed to hold the optional Speed Cart seat or an industrial-sized sand/seed mix bottle holder.
Speed Cart V1R is available in 10 different colors, folds down to W 37" X H 16" X D 13" and weights just under 18 lbs.
The Speed Cart V1R is available now with a suggested retail price of $269.99. For the nearest Sun Mountain retailer call 800-227-9224 or visit www.sunmountain.com.
Other golf push carts by Sun Mountain include the PX3 and PX4.
---
2021 marks the 40th year Sun Mountain has been a pioneer in the golf industry, revolutionizing golf bags, golf outerwear, and golf carts. Sun Mountain's many innovations, including the first lightweight golf bag and modern stand bag, have made it the top golf bag company in North America. Within golf outerwear, Sun Mountain redefined golf-specific performance first with the windshirt, then fleece, and again with its four-way stretch, waterproof, and breathable rainwear. The Sun Mountain Speed Cart® golf push cart transformed walking carts and created an entirely new category of golf products. Sun Mountain's "Ahead of Time Design" motto drives the company to continually design and refine golf equipment. For the Sun Mountain retailer nearest you call 800-227-9224 or visit www.sunmountain.com.