TendedBar To Bring Industry's First Automated Bar Service To 2022 Farmers Insurance Open
Details

Category: Inside Golf
Published: 2022-01-13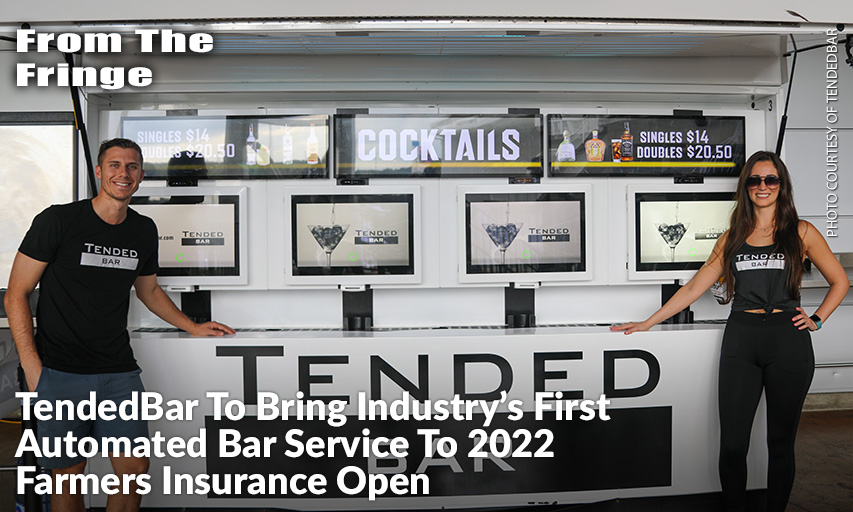 JACKSONVILLE, Florida / SAN DIEGO, California — The Farmers Insurance Open® will be the principal PGA TOUR event to provide fans with the industry's first automated bar service, TendedBar, as officials today announced the event will include four public, and one private hospitality, self-service bar locations. TendedBar will provide spectators with a controlled and safe process, less crowding, reduced wait times and an overall improved experience that serves drinks in seconds, so fans don't miss a minute.
The automated bar service will make its professional golf debut at the Farmers Insurance Open after a successful season with the NFL's Jacksonville Jaguars, as well as several other sports and entertainment events and venues in the greater Jacksonville area. Each TendedBar station offers more than 100 different drink options, allowing fans to easily order and pour their own cocktail in a matter of seconds. At Torrey Pines, ticket holders will find TendedBar services in four high-traffic areas on the South Course in the Fan Village (near the 15th green and 17th fairway), the Grove (left of the 18th fairway), at the Vantage Point (adjacent to the 1st tee and 18th green), and in the Farmers Fairway (between the 15th green and 16th tee).
"TendedBar provides the ideal balance of technology, automation, safety, and quality," said TendedBar co-founder, Justin Honeysuckle. "When fans experience the Farmers Insurance Open, they expect to have a great time with friends, see the best players on the PGA TOUR, and enjoy a high-quality mixed cocktail. The last thing they want to do is stand in long lines or have a less-than-stellar product as part of their experience. TendedBar's system is a perfect pairing for fans from tee to green."
Tended Bar "Cocktail Caddies'' will be on-site to assist with ID validation and state-of-the-art facial recognition process. TendedBar's beverage pouring automation uses facial recognition technology to enhance safety, efficiency, and guest experience, all at the touch of a button.
"At the Farmers Insurance Open, we strive to provide our fans with the very best experience in all of sports," said Farmers Insurance Open CEO, Marty Gorsich. "As we learned about TendedBar, we recognized this as an opportunity to bring automation technology to our fans with a unique, hyper-effective, fun, and safe beverage experience. The system is built on efficiency and will provide us with information and analytics to best serve our fans. Whether it's our signature cocktails like the Tito's Mary Mulligan and the Maestro Dobel Eleven Under Paloma, or hundreds of other mixed cocktail options, TendedBar's facial recognition brings perfect-tasting cocktails to the fan experience safely, quickly, and efficiently.  Fans will only have to scan their credit card once per day. No one wants to be in a line when their favorite player drains a birdie putt. TendedBar is going to be an incredibly popular new experience for our fans this year." 
---
About TendedBar
In a category of its own: TendedBar is an industry-first, innovative, self-pour automated bar designed to significantly prevent loss and improve service to customers, all while providing a drink-ordering experience that's faster, cleaner, and more controlled. The result offers fans shorter wait times, safer access to drinks, less crowding with better social distancing, and an overall improved experience that serves drinks in seconds, so fans don't miss a minute.