Speakers Announced For The PGA of BC 2022 Spring Education Seminar
Details

Category: Inside Golf
Published: 2022-01-10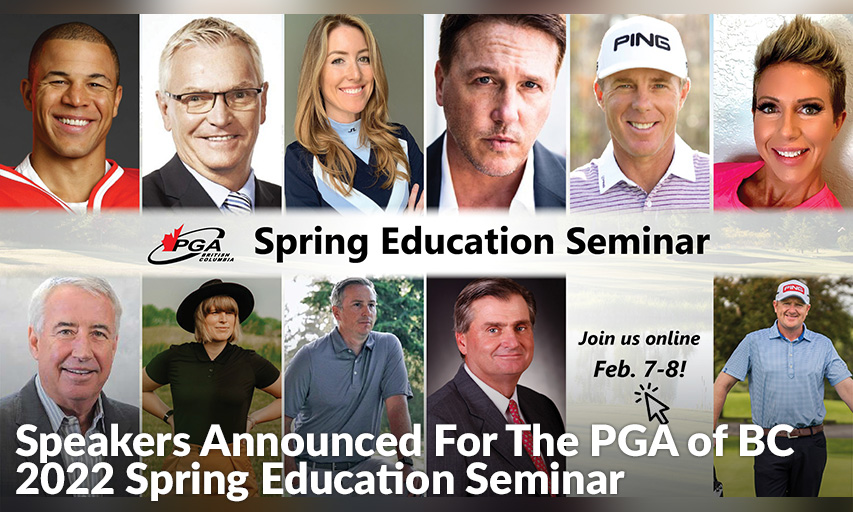 RICHMOND, British Columbia — The PGA of BC is pleased to announce the lineup of featured guest speakers to appear at the Association's 2022 Spring Education Seminar, which is set to be conducted virtually on February 7-8.
Following the success of the first-ever virtual Spring Education Seminar in 2021, the PGA of BC is pleased to be conducting this year's event online once again. This format will ensure no disruptions resulting from public-health circumstances, allow member Professionals of the PGA of BC to participate from all corners of the province, and has provided the Association's Education Committee and administration team the opportunity to engage world-class speakers from around North America to join us for two great days of learning and professional development.
Based upon the membership's response to education sessions hosted virtually since 2020 and the tremendous lineup of speakers that has been assembled, next month's Spring Education Seminar is sure to be an outstanding and well-attended gathering. The event will once again feature a variety of subject matter relevant to all members, delivered by some of the leading minds and experts in our sport and from notable figures outside the golf world.
The presentations and discussions comprising this year's seminar will cover topics that include golf instruction, leadership, career longevity, fitness and nutrition, golf-course design and more.  
The Day 1 schedule will include presentations from business mogul and Seminole Golf Club President Jimmy Dunne, acclaimed short-game guru Gareth Raflewski, a panel discussion featuring prominent hockey personalities Jarome Iginla, Bob Nicholson and Jim Hughson, and a session led by renowned instructor Trillium Rose.
Day 2 of the event will feature a workshop guided by fitness expert Ali Gilbert, PGA of BC Professional Dave Zibrik speaking on brand and culture, insights into the career longevity of actor Lochlyn Munro, a conversation with golf-course architect Christine Fraser and a session with esteemed instructor Andrew Rice.
The event schedule is as follows (all times PST):
Monday, February 7
8:45 a.m. – Opening Remarks – Donald Miyazaki; Executive Director, PGA of BC
9:00 a.m. – Jimmy Dunne; Vice-Chairman & Senior Managing Principal, Piper Sandler
10:00 a.m. – Gareth Raflewski, PGA; Class "A" Professional, RiverBend Golf Community
12:00 p.m. – Break
1:00 p.m. – Panel Discussion: Jarome Iginla, Bob Nicholson & Jim Hughson
2:30 p.m. – Trillium Rose, PGA; Director of Instruction, Woodmont Country Club
4:00 p.m. – Adjournment & PGA of BC Annual General Meeting
Tuesday, February 8
9:00 a.m. – Ali Gilbert; Founder, Metabolic Golf
10:00 a.m. – Dave Zibrik, PGA; Head Professional, Point Grey Golf & Country Club
11:00 a.m. – Lochlyn Munro; Actor
12:00 p.m. – Break
1:00 p.m. – Christine Fraser; Course Architect, Christine Fraser Design
2:00 p.m. – Andrew Rice; Director of Instruction, The Club at Savannah Harbor
4:00 p.m. -- Adjournment
**Schedule & lineup subject to change
Registration is open now and is priced at $99 (plus GST) for PGA of BC members. Non-members are welcome to register for $199 (plus GST) and with the reference of a Class "A" member.
CLICK HERE to access the event page and view synopses for each presentation, more information about each presenter, registration links and more.
Please note that registration will close at 4 p.m. PT on Friday, February 4. Registered attendees will receive details on how to access the virtual seminar via email closer to the event dates. Members are advised that seminar content will only be available during the live sessions and not made available for later viewing.
The Spring Education Seminar will once again provide an excellent opportunity for members to earn points toward the 2022 Professional Development Program (PDP) Order of Merit presented by Sunice & Bobby Jones. Four (4) PDP points will be available to registered participants for each day of the event on which they attend. Of the individuals named to the PGA of BC's Top 100 Professionals of 2021 list, all but four attended at least one day of last year's Seminar.
We look forward to having you join us online for next month's event.
Members who have not already done so are also encouraged to register for the PGA of BC's Virtual Education Series, which begins one week from today with a session on social-media strategy led by Colby Johannson from our Preferred Partners at P6R Golf. Members can purchase a Series Pass for $39 (plus tax) granting access to all virtual sessions, with more to be added at a future date. Visit the PGA of BC Schedule of Events page for more details and to register.