PGA of BC Releases 2022 Education Series Schedule
Details

Category: Inside Golf
Published: 2021-12-29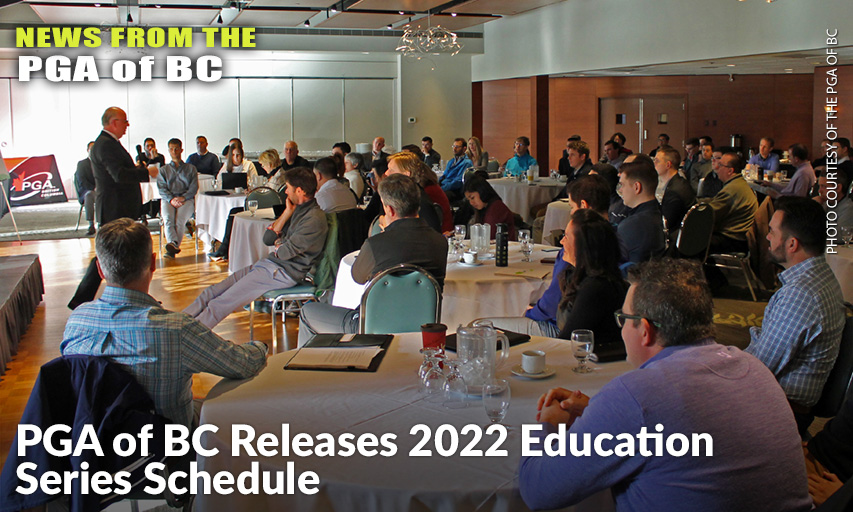 RICHMOND, British Columbia — The Association is pleased to announce the schedule and lineup of featured speakers for the 2022 PGA of BC Education Series.
Expanding upon the success of the exclusively virtual Education Series conducted this past winter and spring, the PGA of BC will offer a combination of both the traditional, regional gatherings that have comprised the series in past years, as well as multiple, individual sessions to be hosted online.
The Education Series will once again showcase the diverse expertise of the PGA of BC membership, as many of the presentations at regional, in-person events will be administered by member Professionals to the benefit of their peers across the province. Among them will be three of the Association's 2021 provincial award recipients: Alvie Thompson Teacher of the Year Tim Wilson (Shaughnessy Golf & Country Club), Jack Westover Coach of the Year Conner Kozak (The Okanagan Golf Club) and Davie Black Professional Development Award recipient Dennis Bradley (Copper Point Golf Club), plus many more individuals honoured through the PGA of BC Awards Program in past years. As well, the presenters secured for the virtual education sessions will provide significant expertise on areas of interest to all Golf Professionals.
The schedule for the Education Series will be as follows (all times local, schedule & lineups subject to change):
Tuesday, January 18 – Richmond Country Club (10 a.m. to 2 p.m.)
"Improving Players by Process" – Tim Wilson, Shaughnessy Golf & Country Club
"Panel Discussion: An Analytical Approach to Pro-Shop Merchandising" – Mark Thirtle, Capilano Golf & Country Club; Scott Kolb, Victoria Golf Club; Trevor West, Sandpiper Golf Club
"Serving a Surge of New Golfers" – Derek Orr, Iron & Wood Golf Simulators
Tuesday, February 1 – Victoria Golf Club (10 a.m. to 2 p.m.)
"Teaching Outside the Box" – Mark Bicknell, Victoria Golf Club
"Setting Up a Tournament Course: Painting Between the Lines" – Doug Hastie, British Columbia Golf
"Career Journey: Serving Top Clubs Around the World" – Padraic O'Rourke, The Fairmont Chateau Whistler Golf Club
Tuesday, March 15 – The Harvest Golf Club (10 a.m. to 2 p.m.)
"The Upside of Down!" – Kevin MacDonald, Clarity Success Coaching
"Coaching & Developing Today's Junior Golfers" – Conner Kozak, The Okanagan Golf Club
"Community-building Through your Academy & Professional Network" – Kyla Inaba, Predator Ridge Resort
Monday, April 25 – Fairmont Hot Springs Resort (10 a.m. to 12 p.m.)
"Changing Expectations: Coaching Athletes with Special Needs" – Dennis Bradley, Copper Point Golf Club
Additional presentation TBA 
The schedule for virtual presentations as part of the 2022 Education Series will include the following sessions (all times PT, schedule subject to change):
Wednesday, January 12 – 10 a.m.
"How to Actually Use Your Social Media in 2022" – Colby Johannson, P6R Golf
"Perseverance & Podiums: A Canadian Cowboy's Journey" – Manuel Osborne-Paradis, Four-time Olympian & Three-time FIS World Cup winner
"Transforming Your Organization into People First!" – Three Carpenter, CCM & Jackie Carpenter, CCM
Click on any workshop heading for more information on each individual session or view them from the PGA of BC's Schedule of Events page. Registration is now open for all events comprising the Education Series.
Please note that virtual sessions must be purchased as a Virtual Education Series Pass priced at $39 (plus GST) for members that grants access to all events, including replays of recorded sessions. The PGA of BC intends to add further virtual sessions to the series at a later date.
When signing in to register their participation at an in-person gathering, members will receive four (4) PDP points for their attendance at an event within their region and six (6) PDP points for events outside their region. All virtual-session attendees will receive two (2) PDP points when registering their attendance during the live broadcasts; no points will be awarded for viewing recorded replays of the virtual sessions, so participating live is strongly encouraged.
To make the content presented at in-person sessions available to all members across the province, the administration team will make every effort to record presentations and add them to the Education Series Archive for viewing at a nominal fee where possible.
Please note that registration for each in-person event session will close seven days prior to the workshop taking place. For virtual sessions, all individuals holding a Series Pass will receive information on how to join the virtual workshops via email at the address listed during registration, delivered on the business day prior to the scheduled session.
We look forward to having you join us for these informative workshops in the months ahead. The administration team also looks forward to revealing the lineup in the near future for the 2022 Spring Education Seminar, which will be held virtually on Feb. 7-8. Members are welcome to register now for the Spring Education Seminar by clicking here.