A Message From The PGA of BC President
Details

Category: Inside Golf
Published: 2021-12-15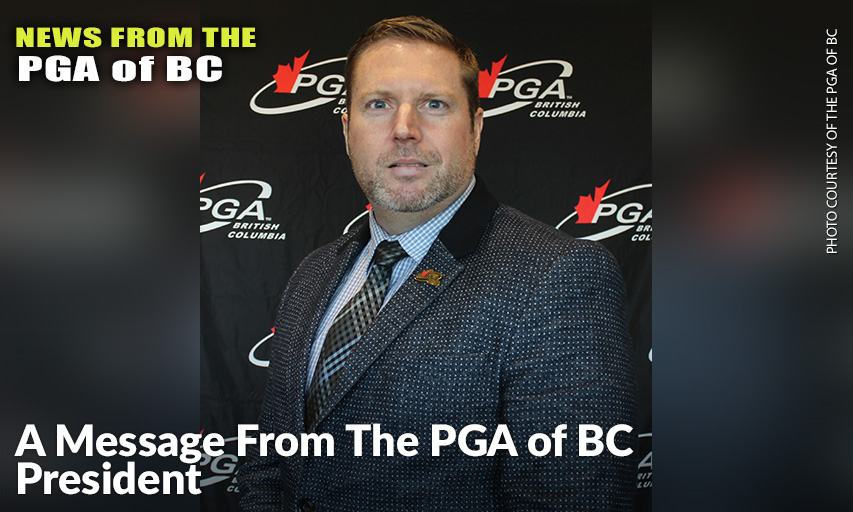 Dear PGA of BC Professionals,
On behalf of the Board of Directors, kudos to each of you for persevering through another year in this crazy industry and career that we have chosen. I am amazed daily by the adaptability and dedication our members have provided to the game of golf in these times of uncertainty. Business levels are through the roof, staffing levels are at an all-time low and the elements of a pandemic and weather had us changing strategy daily to continue offering an incredible experience for our members and guests. We are all needing to be creative and intuitive to the demands and, at times, we struggle to keep all the balls in the air. All of you should be commended for bringing your best every day as we welcome so many new people to the game of golf and for continually sharing your passion.   
From the turn of the calendar in 2021, there has been so much uncertainty and change that our team had to react without much notice to be able to provide quality experiences for our members through events, tournaments, and communications. Our team is to be commended for taking these challenges head-on and striving to offer alternative, engaging options that allowed members to still enjoy many of the networking opportunities we would get from our traditional gatherings. I look to the Spring Education Seminar as a shining example of the ingenuity our team showcased. An online seminar was not ideal, but our members were able to partake in world-class education, and we even saw many new participants who have not had the opportunity to attend an event in a few years.
I thank each of my fellow board members for taking the time from their immensely busy schedules and lives to engage with their committees. Work is ongoing to formulate some great ideas and initiatives that we can begin to discuss and hopefully lead to the creation of some great content for our members to enjoy in the coming years. Although COVID-19 has changed many of our lives and businesses, I truly believe that it presents a great opportunity for our association to reimagine our identity and find new paths and visions to where we want to go and who we want to be in the coming years. It is an exciting time for golf and I for one am eager to assist our members with opportunities to enhance their brand for the many new consumers that have entered the golf world in recent years. 
Our administration team of Donald, Eric, Doug and Jack took the challenge of this year head-on and truly produced first-class events and experiences for our members. Having to move tournaments into the summer months – thus requiring an intense travel schedule for them – and executing at the highest level all while having a smile on their face is a testament to what a great team we have. Dealing with travel advisories, weather warnings, heat concerns and even acting as the technical experts for members to navigate the scary new world of an online event: These gentlemen brought it to a new level once again this year and deserve all of our praise for thinking quickly and being leaders when it comes to zone operations. 
I am excited about the future and cannot wait to embark upon this new chapter for our game and association with each of you.  I wish all of you the very best this holiday season and happy planning for the 2022 golf season. 
Sincerely,
Adam Blair
President, PGA of British Columbia