Red Deer Golf & Country Club Makes The Alberta Golf Season Year Round
Details

Category: Inside Golf
Published: 2021-09-30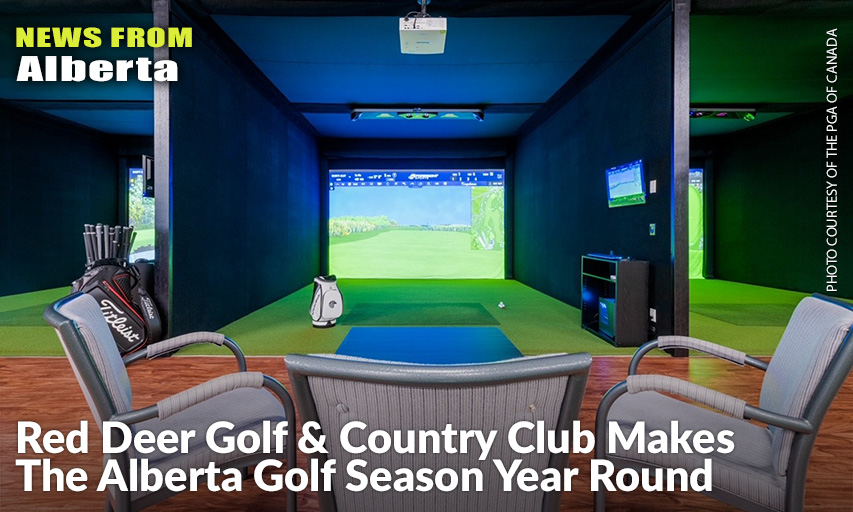 By SHELBY DECHANT, PGA of Canada
Dean Manz, Head Golf Professional at the Red Deer Golf and Country Club, spearheaded a project that would give his Club and members a way to enjoy the game not only during the sunshine months, but also throughout the prairie's brutal winters. 
In 2020, the Club sent out a survey to its members asking what they wanted from the Club going forward. The results from that survey showed that the members ultimately wanted something more than just golf. They wanted something they could use year-round, a golf simulator.
As Manz began scoping out a place to put a golf simulator, he realized that the old Turf Care facility was prime real estate that would be able to house much more than just the sim (the final photo in the carousal is what Hawk's Alley looked like before the installation).  
The Red Deer Golf and Country Club opened Hawk's Alley, a one-of-a-kind indoor golf facility, in early 2021.
The Club's website says, "our goal was to create a year-round, interactive facility that was more than just a simulator, attracting new members to the game, with an end goal of growing the game of golf. Along with our four state-of-the-art bays, we also have a four-hole putting green and a full-service lounge in this facility".
Manz says Hawk's Alley has accomplished exactly what it set out to do and then some. 
"The members and staff were blown away with the facility. It has allowed us to keep two of our golf professionals on for 12-month periods instead of being laid off in the winter. It has been a great source of extra revenue with year-round lessons as well," says Manz. 
It took less than a year of renovations for the old Turf Care facility to be transformed into Hawk's Alley. The project got underway in the summer of 2020 and the Club welcomed its first winter golfers in January 2021.
Despite opening the year-round golf facility in the thick of the COVID-19 pandemic, Manz says, "our members took to the facility immediately and it has consistently been booked solid."
Manz says another advantage Hawk's Alley has brought the Club is that they are now able to offer club fitting year-round. 
"Before Hawk's Alley, we would have to pack up clubs and take them to other members' golf simulators and try to fit them there. Now we have members coming to us year-round looking for golf equipment. So, the retail sales have been absolutely astronomical," says Manz. 
The members of the Red Deer Golf and Country club have been given another advantage from Hawk's Alley that would make most golfers in the Great White North green with envy. 
"[the members] have been able to work on their game over the winter so when we opened on April 6th, they weren't banging off rust for a couple of months or weeks. They were out of the gates and ready to start playing good golf. So, it's been very beneficial for their games," says Manz. 
Manz says that this project would not have been able to come to fruition without the help of his highly skilled and knowledgeable team. 
Class "A" member Garret Jenkinson, who teaches out of the Golf Performance Canada Center at Elbow Springs, helped the Club with the initial planning for the facility and determining the layout and flow of the space. Chris Melbourne was also invaluable throughout the process. Melbourne had previously spent time at Golf Town prior to coming on board at the Club and was very influential in sourcing the equipment for Hawks Alley. Manz says he owes a lot of the building process to Melbourne and the rest of his team.
"It has been a really great way for the Club to retain members and attract new members. It's a competitive marketplace in central Alberta. We are the only private golf club, but there are a lot of really good golf courses in the central area. This was a game-changer for us because this was another amenity other golf courses didn't have, which has been a great selling feature for us", says Manz.
With Hawk's Alley approaching its 1st anniversary, Manz says that he would recommend any golf course that has the ability to offer something like this for its members to take the step and do it.