Inman, Kartusch Low Overall Boy & Girl In MJT Bieber Classic At Rossmere
Details

Category: Inside Golf
Published: 2021-09-11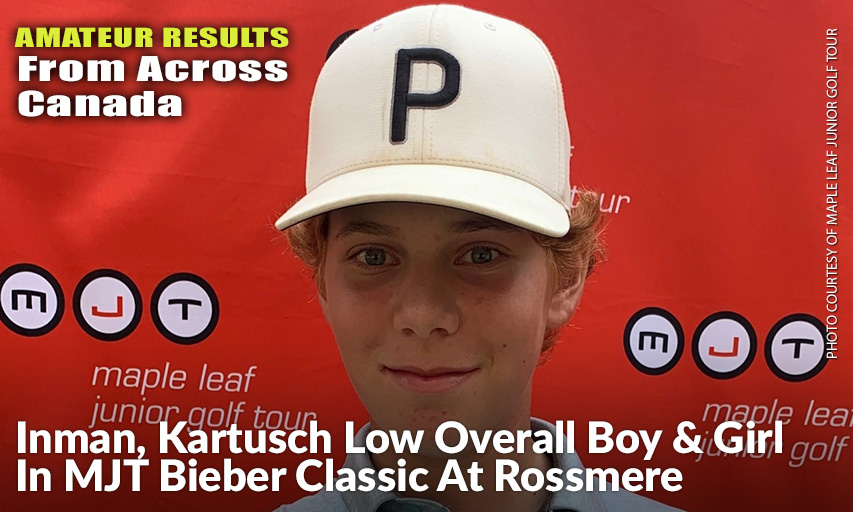 WINNIPEG, Manitoba — The Maple Leaf Junior Golf Tour concluded its 2021 Manitoba season, making its way back to Winnipeg to host the MJT Bieber Classic / PGA of Manitoba Junior Championship at Rossmere Country Club. Junior golfers competed for titles in six divisions and were offered the last chance to gain valuable points on the MJT's Order of Merit presented by RBC and qualify for the MJT National Championship presented by TaylorMade and adidas Golf in British Columbia.
The MJT Juvenile Boys Division saw the consistency of 15-year-old Carson Inman shine through after the young golfer from Portage La Prairie, MB, recorded scores of 73 and 74 (147), taking home both the division title by five shots and the low overall Boys score for the tournament. "I felt pretty good coming into the tournament and getting the win was a bonus," commented Inman. "My short game held me in the lead." Winnipeg player Jack Rudick, 16, recorded scores of 74 and 78 (152) to finish runner-up.
MJT veteran champion Jordon McDonald, of Winnipeg, found himself on top of the MJT Junior Boys Division once again, carding scores of 71 and 77 (148). The 18-year-old golfer, who has been playing on the MJT in Manitoba for six years now, earned his seventh career MJT win with his performance at Rossmere Country Club. "I putted really well," commented McDonald who made some key putts at key moments during the tournament. "It feels good to win one of my last events of the season." Winnipeg golfer Noah Fiks, 17, after struggling to find his rhythm on the first day, surged back up the leaderboard to finish in second place with scores of 79 and 72 (151).
Addison Kartusch, 14, of Winnipeg, recorded scores of 79 and 77 (156) to earn her second consecutive MJT Girls U15 Division title along with low overall Girls score. "My irons were probably most responsible for my win," commented Kartusch. "The golf course was in really good shape and it felt really good to get the win." Winnipeg's Jeri Lafleche, 14, shot 88 and 89 (177) to finish runner-up.
The MJT Girls 15-19 Division saw 16-year-old MJT rookie Cala Korman, of Killarney, MB, enter the winner's circle for the first time, shooting scores of 77 and 81 (158). Korman, who was finishing her first year playing on the MJT, slowly moved up the leaderboard throughout the season earning a top-three and a runner-up finish prior to getting the win at Rossmere Country Club. "Coming out a tournament, it feels really good to end the season well," commented Korman. "My putting was consistent this tournament and I made a few good birdie putts." Clara Peake, 17, of Binscarth, MB, recorded rounds of 82 and 90 (172) to finish runner-up.
Payne Wood, 14, of Winnipeg, picked up a four-shot win in the MJT Bantam Boys Division after finishing with scores of 78 and 74 (152). Wood, who saw himself tied in a clustered leaderboard after the first day, managed to separate himself from the pack to get his first MJT win of the season. "I felt really confident, like I was going to do great," commented Wood. "The strongest part of my game was my short game." Brayden Boge, 13, of Winnipeg, fired a pair of 78s (156) to finish the division in second place.
In the MJT Peewee Boys Division, 12-year-old Teerawut Boonseeor, from Thailand, returned to the top of the leaderboard in style. Boonseeor won the division title in convincing fashion shooting scores of 76 and 74 (150). "The greens and fairways were in good condition and my chipping and putting were good," commented Boonseeor. "This was my last tournament in Canada and I really enjoyed playing on the MJT."
This tournament marks the end of the 2021 MJT season in Manitoba. A 2022 Early Bird Membership Offer will be available this December and details can be found online at www.maplejt.com.
---
About the MJT
The non-profit Maple Leaf Junior Golf Tour is Canada's number one-played Junior Golf Tour as well as the only national junior tour run exclusively by PGA of Canada Professionals and the 'Road to College Golf' in Canada. The organization is supported by valued Premier, Tournament and Product Partners. The MJT hosts close to 90 events across Canada, including free Ford Go Golf Junior Clinics, the MJT Mini Tour for 12U and multi-day events for competitive players aged 11-19 which also offer qualifiers for international tournaments. The program has annual awards, scholarships and incentives to help reward performance and participation throughout each season. MJT alumni include many Professional Tour players and PGA of Canada Professionals, as well as Canadian Amateur, National and Provincial Junior Champions. The MJT aims to develop champions, in golf and in life, promoting the game from grassroots through to the provincial, national, university and professional levels.