Ritchie & Babineau Tie For Low Overall In MJT Bell Aliant Series Finale At Kingswood
Details

Category: Inside Golf
Published: 2021-09-11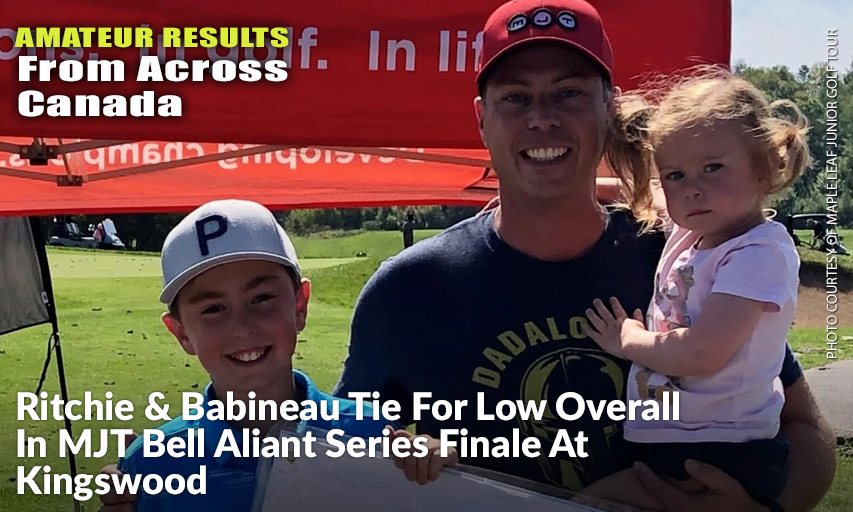 FREDERICTON, New Brunswick — The Maple Leaf Junior Golf Tour concluded its 2021 Atlantic Canada schedule in Fredericton, NB, with the two-day MJT Bell Aliant Series at Kingswood Resort for the Junior Tour and the one-day MJT Mini Tour at Kingswood Resort for the 12U only players.
"I'd like to send thanks to my hard-working MJT staff for helping me run this season and to the five wonderful venues that hosted the MJT in such a challenging year," commented MJT Atlantic Canada Tournament Director and PGA Professional, Andrew Noseworthy. "I look forward to seeing all the players and parents once again in the 2022 season on the MJT."
The MJT Junior Boys Division title was captured with impressive scoring by 18-year-old Nicholas Ritchie, of Quispamsis, NB. Ritchie fired rounds of 70 both days for a two-day total of 140, tying for Low Overall Score. "I was hitting the ball well coming into the tournament," commented Ritchie. "It feels amazing to win my final junior tournament of the year." The division saw a three-way tie for the runner-up position between 18-year-old Keegan Miller (79-73 = 152), of Quispamsis, NB, 18-year-old Alex Smith (78-74 = 152), of Irishtown, NB, and 17-year-old Jack Bailey (74-78 = 152), of Saint John, NB.
Tying for Low Overall Score with his third win in all three starts this year on the MJT was 16-year-old Julien Babineau, of Dieppe, NB. Babineau recorded scores of 69 and 71 (140) to win the MJT Juvenile Boys title by four shots. "I was able to stay focused for the entire tournament," commented Babineau. "I had a tough stretch in the back-nine of my final round, but I got through it to finish with a win." Cameron Friars, 16, of Quispamsis, NB, finished the division in second place recording a pair of 72s (144).
The MJT Bantam Boys title was taken in convincing fashion by 13-year-old Tristan Frenette, of Rothesay, NB. Frenette recorded rounds of 75 and 74 (149), winning the division by an 11-shot margin. Playing in his third career MJT event, Frenette's performance at Kingswood Resort earned him his first ever MJT Junior Tour title. Rothesay, NB, resident Kyle McClune, 13, finished the division runner-up with scores of 81 and 79 (160).
Addison McClune, of Rothesay, NB, won the MJT Girls 15-19 Division title after the 15-year-old carded solid scores of 81 and 82 (163). McClune earned her first win of the year at the season-finale event after finishing in the top five in her other two starts on the MJT Atlantic Canada circuit. "After winning the tournament, I feel great just knowing that from my scores, all my hard work from the summer paid off," she said. "My short game was the most important part of my game and saved me a few times throughout the tournament." Quispamsis, NB, golfer Callie Taylor, 15, recorded scores of 81 and 89 (170) to take home second place.
Inching out the victory in the MJT Girls U15 Division was 14-year-old Rachel Steeves, of Quispamsis, NB. Steeves fired 87 and 81 (168), coming from behind to win the title by just a single shot. "It was my driver and irons that were good on the first day," commented Steeves. "It was my putting and chipping on the second day that got the job done." Dieppe, NB, player Neve Miller, 13, recorded rounds of 86 and 83 (169) to finish second.
In the MJT Peewee Boys Division, 11-year-old Carter Lavigne, of Moncton, NB, recorded scores of 82 and 83 for a two-day total of 165.
The MJT Booster Juice BounceBack awards for most improved scores in round two over round one went to Riley Partington, Stephanie Roy, Tommy Chang, Marrthew Brosens, and Justin Roy. Full results of the Junior Tour stop can be viewed here. 
The MJT Mini Tour event at Kingswood Resort saw players aged 12 and under compete for titles in three divisions. Aiden Guimond, 12, of Mazerolle Settlement, NB, took home the MJT Boys 11-12 title after a playoff with Anthony Cormier, 11, of Moncton, NB, after both had finished tied for the lead with a score of 83. "I had never been in a playoff before and it was really exciting," commented Guimond. "My tee shots were responsible for getting me the win."
The MJT Boys 9-10 title was won by 10-year-old Liam Wheaton, of Memramcook, NB, who recorded a score of 71 to win by nine shots. Wheaton has secured three wins in all three of his starts on the inaugural season of the MJT Mini Tour in Atlantic Canada. Ten-year-old Adrien Breault, of Dieppe, NB, finished in second place with a score of 80.
The MJT Boys 8U Division saw eight-year-old Sae Chan, of Cocagne, NB, pull out a one-shot win with a score of 102. Runner-up was eight-year-old Pax LeBlanc, of Grand-Barachois, NB, who recorded a score of 103. Full results from the Mini Tour event can be viewed here.
These two tournaments mark the conclusion of the 2021 MJT Junior and Mini Tour seasons in Atlantic Canada. A 2022 Early Bird Membership Offer will be available this December and details can be found online at www.maplejt.com.
---
About Bell Aliant
Bell Aliant provides customers in New Brunswick, Newfoundland and Labrador, Nova Scotia and Prince Edward Island with innovative information, communication and technology services including voice, data, Internet, video and value-added business solutions such as data security and cloud computing services; including Fibe™ TV and Internet, Bell Satellite TV, and Home Phone.  
About the MJT
The non-profit Maple Leaf Junior Golf Tour is Canada's number one-played Junior Golf Tour as well as the only national junior tour run exclusively by PGA of Canada Professionals and the 'Road to College Golf' in Canada. The organization is supported by valued Premier, Tournament and Product Partners. The MJT hosts close to 90 events across Canada, including free Ford Go Golf Junior Clinics, the MJT Mini Tour for 12U and multi-day events for competitive players aged 11-19 which also offer qualifiers for international tournaments. The program has annual awards, scholarships and incentives to help reward performance and participation throughout each season. MJT alumni include many Professional Tour players and PGA of Canada Professionals, as well as Canadian Amateur, National and Provincial Junior Champions. The MJT aims to develop champions, in golf and in life, promoting the game from grassroots through to the provincial, national, university and professional levels.