Five Titles Awarded At MJT Mini Tour Presented By PGA of Saskatchewan At The Legends Golf Club
Details

Category: Inside Golf
Published: 2021-09-06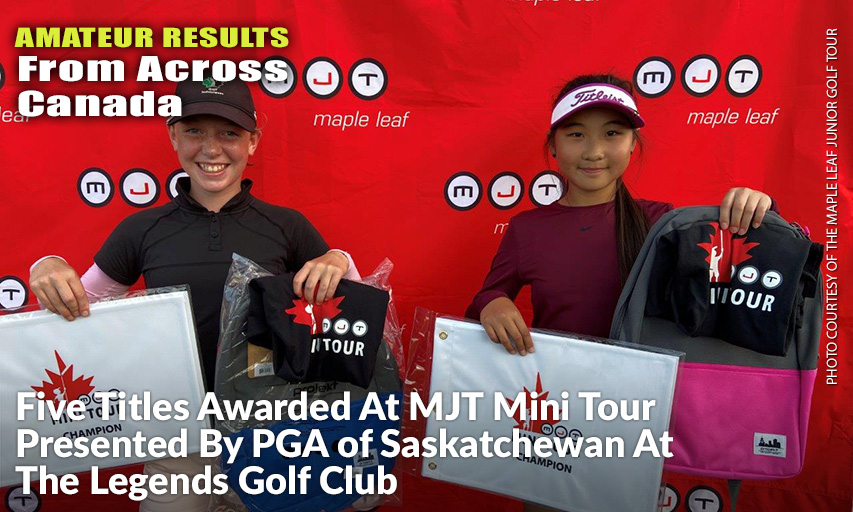 WARMAN, Saskatchewan — The Maple Leaf Junior Golf Tour concluded its successful 2021 Saskatchewan season in Warman with the MJT Mini Tour presented by PGA of Saskatchewan at The Legends Golf Club, which ran in conjunction with the Junior Tour's MJT / Golf Saskatchewan Order of Merit (OOM) Championship.
Another record field, this time of 135 players from across the province, came to compete for division titles in the two events. For the Mini Tour's one day stop, where the PGA of Saskatchewan awards random participants with a golf makeover courtesy of one of their Zone Professionals, results are detailed below.
The MJT Boys 11-12 Division winner was 12-year-old Finn Silver, who fired a score of 77 to claim his second title in just his first full year of playing on the MJT Mini Tour in Saskatchewan. "I felt like I was going to play solid today because I was playing well before," commented Silver. "The course was in really good shape and my putting was responsible for getting me the win." Martensville, SK, golfer Carter Skene, 11, shot 86 to finish the division in second place.
With daylight running out, the MJT Girls 11-12 Division saw two 11-year-old victors emerge tied for the lead. Yuna Lee, of Regina, SK, and Grace Odnokon, of Saskatoon, SK, both recorded a score of 79 to share the championship title. "My putting was the reason I finished tied for first," commented Lee. Odnokon, coming off her performance at the MJT Mini Tour National Championship in BC this month, stated, "My driving and approach shots were the best parts of my game."
Competing in his first full season on the MJT Saskatchewan Mini Tour in the Boys 9-10 Division, 10-year-old Ty Nochowny recorded his first-ever win with a score of 73 at The Legends Golf Club. The Saskatoon, SK, resident was able to hold on to the very end against two Mini Tour veteran players to finish with a one-shot lead. "My driving and putting were really good," commented Nohowny. "The course was unbelievable; the fairways were perfect and the greens were mint." Nine-year-old Keaton Kreklewich, of Melville, SK, fired a round of 74 to take home second place while 10-year-old Austin Nesbitt, of Pilot Butte, SK, shot 75 to round out the podium in third place.
The MJT Girls 9-10 Division saw nine-year-old Erika Wurst of Saskatoon record a score of 133 in her first MJT Mini Tour outing.
In the MJT Boys 8U Division, the winner was six-year-old Hudson Deibert, of Regina, SK, who took home the title after shooting a score of 91. "The highlight of my round was making a birdie on hole 10," commented Deibert. Eight-year-old Kipton Fenrich, of Saskatoon, SK, shot 93 to come in second place.
This event concludes the 2021 MJT Saskatchewan Mini Tour season; Early Bird Memberships for 2022 will be available in December and more details can be found at www.maplejt.com.
---
About the MJT
The non-profit Maple Leaf Junior Golf Tour is Canada's number one-played Junior Golf Tour as well as the only national junior tour run exclusively by PGA of Canada Professionals and the 'Road to College Golf' in Canada. The organization is supported by valued Premier, Tournament and Product Partners. The MJT hosts close to 90 events across Canada, including free Ford Go Golf Junior Clinics, the MJT Mini Tour for 12U and multi-day events for competitive players aged 11-19 which also offer qualifiers for international tournaments. The program has annual awards, scholarships and incentives to help reward performance and participation throughout each season. MJT alumni include many Professional Tour players and PGA of Canada Professionals, as well as Canadian Amateur, National and Provincial Junior Champions. The MJT aims to develop champions, in golf and in life, promoting the game from grassroots through to the provincial, national, university and professional levels.