Another Record Field Of 135 Juniors Compete In MJT Saskatchewan Finale At The Legends Golf Club; West & Grieve Low Overall
Details

Category: Inside Golf
Published: 2021-09-06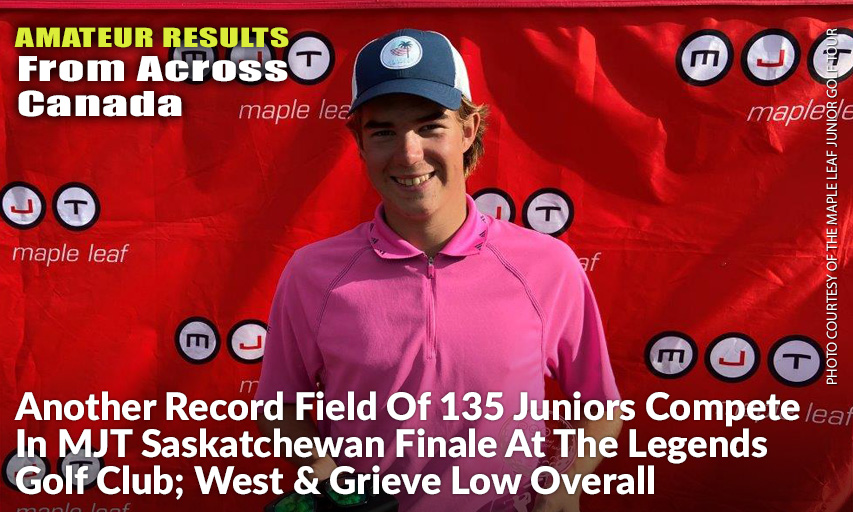 WARMAN, Saskatchewan — The Maple Leaf Junior Golf Tour concluded its successful 2021 Saskatchewan season in Warman with the MJT / Golf Saskatchewan Order of Merit (OOM) Championship at The Legends Golf Club for the Junior Tour, and the MJT Mini Tour presented by PGA of Saskatchewan at The Legends Golf Club for the 12U players. Another record field, this time of 135 players from across the province, came to compete for titles in six divisions. Results from the Junior Tour's two day stop, which was the last chance to qualify for the MJT National Championship presented by TaylorMade and adidas Golf in British Columbia this October, are detailed below.
Spectacular scoring highlighted the MJT Junior Boys Division where 18-year-old Theoren West elevated his game to a new level. The Wawota, SK, golfer fired rounds of 70 and 66 (136) to win Low Overall Boy's score and his division title. "I felt confident going into the tournament," West said. "I struck the ball well and I put the ball in the spots I wanted to be in." Regina, SK, golfer Will Blake, 17, recorded impressive scores of 71 and 68 (139) to finish in the runner-up position.
Also taking it low on day two was 16-year-old Thomas Danielson, of Saskatoon, SK, in the MJT Juvenile Boys Division. The 16-year-old golfer fired excellent rounds of 70 and 67 (137) to win the title by a three-shot margin. "I was confident in my abilities and the course was in great shape," commented Danielson, who found the recipe to his success. "My wedges were able to keep the momentum going in my rounds." Darien Herlick, 15, of Weyburn, SK, was runner-up with rock-solid scores of 71 and 69 (140).
Picking up a two-shot victory in the MJT Bantam Boys Division was 14-year-old Dane Giesbrecht. The local Warman golfer opened with a round of 75 and closed with a 70 (145), which included a timely eagle on the 12th hole. "I was pretty excited to get the win especially after playing well on the second day," stated Giesbrecht. "The greens were fast and my putting came through for me on day two." Buena Vista, SK, player Elias Haukeness, 13, made a great charge on the second day to finish runner-up (77-70= 147).
Sarah Grieve, 18, of Saskatoon, SK, won the MJT Girls 15-19 title and Low Overall Girls score after shooting rounds of 76 and 74 (150). Grieve earned her second consecutive MJT win with her performance at The Legends Golf Club. "I felt excited to play because it was the last tournament of the year and I felt like my game was finally coming together," commented Grieve. "I've worked hard to turn my driving around and it became one of my favorite clubs in the bag." Saskatoon, SK, resident Symone Ripley, 18, finished the division in second place with scores of 80 and 77 (157).
Saskatoon boys took the top two spots in the MJT Peewee Boys Division at The Legends Golf Club. Aricin Franklin, 12, earned his third win of the season (79-73=152), coming back to win by a three-shot margin. "The course was in great condition," Franklin said. "It was my putting in my second round that was responsible for the win." Lucas Sturgeon, 11, carded 77 and 78 (155) to finish in second place.
The MJT Girls U15 Division saw 12-year-old Tayla Perry, of Regina, SK, fire rounds of 83 and 88 (171) to pick up her first MJT win of the year. This year marked Perry's full season on the MJT Junior Tour after playing in the Mini Tour last year and her hard work paid off with a trip to the winner's circle at the season finale. "My short game was pretty good as I was hitting lots of close chips," said Perry. "The course was in really nice shape and I'm really excited to get the win." MJT veteran champion Chloe Wills, of Kyle, SK, recorded scores of 86 and 97 (183) to finish runner-up.
The MJT Booster Juice BounceBack awards for most improved scores in round two over round one went to Sarah Henderson, Sung Park, Cohen Hepburn, Dane Whitney, Andrew Bell, and Adam Husli. Full results can be viewed here. This event concludes the 2021 MJT Saskatchewan Junior Tour season; Early Bird Memberships for 2022 will be available in December. More details can be found at www.maplejt.com.
---
About the MJT
The non-profit Maple Leaf Junior Golf Tour is Canada's number one-played Junior Golf Tour as well as the only national junior tour run exclusively by PGA of Canada Professionals and the 'Road to College Golf' in Canada. The organization is supported by valued Premier, Tournament and Product Partners. The MJT hosts close to 90 events across Canada, including free Ford Go Golf Junior Clinics, the MJT Mini Tour for 12U and multi-day events for competitive players aged 11-19 which also offer qualifiers for international tournaments. The program has annual awards, scholarships and incentives to help reward performance and participation throughout each season. MJT alumni include many Professional Tour players and PGA of Canada Professionals, as well as Canadian Amateur, National and Provincial Junior Champions. The MJT aims to develop champions, in golf and in life, promoting the game from grassroots through to the provincial, national, university and professional levels.