Ritchie Low Overall, Hole-In-One By Seaman In MJT Humber College PGM Atlantic Canada Championship At Fox Harb'r Resort
Details

Category: Inside Golf
Published: 2021-08-24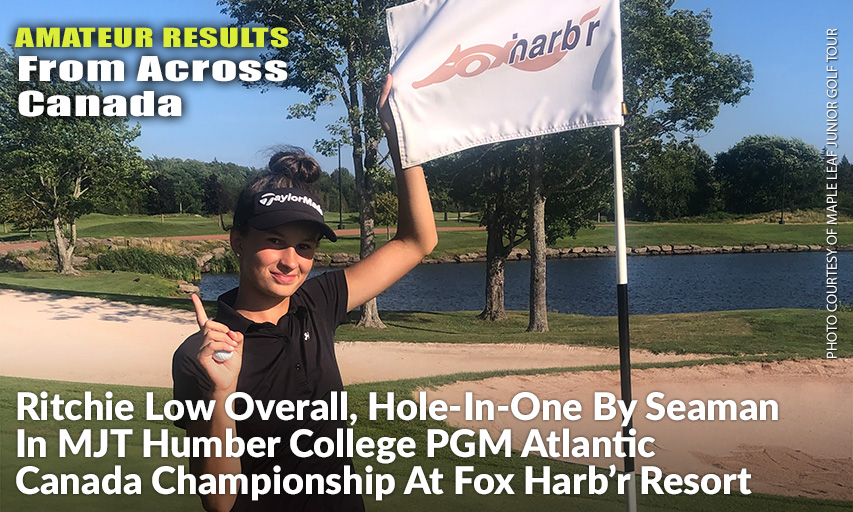 WALLACE, Nova Scotia — The Maple Leaf Junior Golf Tour hosted the second-to-last event on its 2021 Junior Tour schedule in Wallace, NS, where junior golfers from as far afield as British Columbia competed for titles in six divisions in the MJT Humber College PGM Atlantic Championship at Fox Harb'r Resort. Humber College Professional Golf Management Program (PGM) is a strong supporter of junior golf and offers $1,000 bursaries to MJT members.
In the MJT Junior Boys Division, 18-year-old Nicholas Ritchie, of Quispamsis, NB, won the division title and the low overall score for the tournament with solid rounds of 71 and 75 (146). Ritchie has certainly made an impression this year on the MJT earning his second consecutive win with his performance at Fox Harb'r. He stated afterwards, "I felt a little shaky going into the tournament. I put a new putter in the bag so didn't know how that was going to go. I putted super well, it feels awesome (to win)." Fall River, NS, golfer Jordie Cooper, 18, finished the division in second place with scores of 72 and 76 (148).
The MJT Girls U15 Division saw two great moments take place for 14-year-old Olivia Seaman. On the par-3 seventh hole at Fox Harb'r resort on the second day, the Kentville, NS, golfer made a Hole-in-One, spring-boarding her to the top of the leaderboard. Seaman kept her poise to take home the division title by just a single shot, finishing the tournament with scores of 86 and 77 (163) for her second MJT win of the year. "I was nervous going into the tournament because myself and another girl have been close all year," Seaman said. "I was very excited because I got my first hole in one and finished well." Halifax, NS, golfer Annika Parkash, 14, recorded scores of 86 and 78 (164) to finish runner-up.
Julien Babineau continues to shine on the MJT Junior Tour in Atlantic Canada picking up his second consecutive win in the Juvenile Boys Division. Babineau, who has seen great development on the MJT over the past four years of competing, recorded scores of 74 and 74 (148) to win the division by just a single shot. "My ball striking off the tee and on the fairway was most responsible for my win," Babineau said. "I feel relieved and satisfied after the win because I had a tough front and really battled on the back nine." Simon Mullen, 15, of Truro, NS, finished runner-up with scores of 76 and 73 (149) and currently holds the lead in the MJT Atlantic Canada Juvenile Boys Order of Merit presented by RBC.
In the MJT Girls 15-19 Division, Abbey Baker, 16, fired rounds of 76 and 77 (153) to win the title in convincing fashion. Baker, who has been playing on the MJT for five years, earned her 12th career MJT win at Fox Harb'r Resort. "I felt good with my game and was really excited to play a great course, and a win is always great," Baker stated afterwards.  Baker's game has made great strides as she continues to dominate the fields on Canada's number-one played junior golf tour.
Truro, NS, golfer Zachary Gaudet, won the MJT Bantam Boys Division with scores of 73 and 78 (151). The 14-year-old player, with his performance at Fox Harb'r Resort, leads the MJT Atlantic Canada for Bantam Boys Order of Merit presented by RBC. Finishing the division in second place with scores of 81 and 73 (154) was 13-year-old Elliot Mullen, of Shortts Lake, NS.
Taking home a two-shot victory in the MJT Peewee Boys Division was 12-year-old Grady Cohen, of New Glascow, NS. Cohen, who recorded scores of 80 and 85 (165) to earn his first ever MJT title, said "It's a nice Resort so I knew I was going to have fun and knew my buddies were going to be there," said Cohen. "I felt excited because it was my first MJT win." Kentville, NS, player Jacob Seaman, 11, finished the division in second place with scores of 84 and 83 (167).
The Atlantic Canada Junior Tour next heads to Fredericton, NB, to host the MJT Bell Aliant Series at Kingswood Resort. Registration for the event remains open and more details can be found at www.maplejt.com.
---
About Humber College PGM Program
Humber College's Business Administration - Professional Golf Management program is a Recognized PGA of Canada program. Gain a business education, develop your golf game, and embark on a career you will love. Gain valuable experience and earn income during our two six-month paid co-op terms. Our on-campus Golf Lab is a world-class golf performance training facility run by PGA Professionals. Our Golf Lab is equipped with three Simulator Rooms, a Golf Retail Shop, Golf Club Workshop, and 2000 square feet of putting surface. Our students have the opportunity to play on the Humber Hawks varsity golf team, the most decorated golf team in Canada. For more information please visit our website at business.humber.ca/golf.
About the MJT
The non-profit Maple Leaf Junior Golf Tour is Canada's number one-played Junior Golf Tour as well as the only national junior tour run exclusively by PGA of Canada Professionals and the 'Road to College Golf' in Canada. The organization is supported by valued Premier, Tournament and Product Partners. The MJT hosts close to 90 events across Canada, including free Ford Go Golf Junior Clinics, the MJT Mini Tour for 12U and multi-day events for competitive players aged 11-19 which also offer qualifiers for international tournaments. The program has annual awards, scholarships and incentives to help reward performance and participation throughout each season. MJT alumni include many Professional Tour players and PGA of Canada Professionals, as well as Canadian Amateur, National and Provincial Junior Champions. The MJT aims to develop champions, in golf and in life, promoting the game from grassroots through to the provincial, national, university and professional levels.