Grieve & Salazar Win Low Overall Titles In Style In MJT At Elk Ridge Resort
Details

Category: Inside Golf
Published: 2021-08-19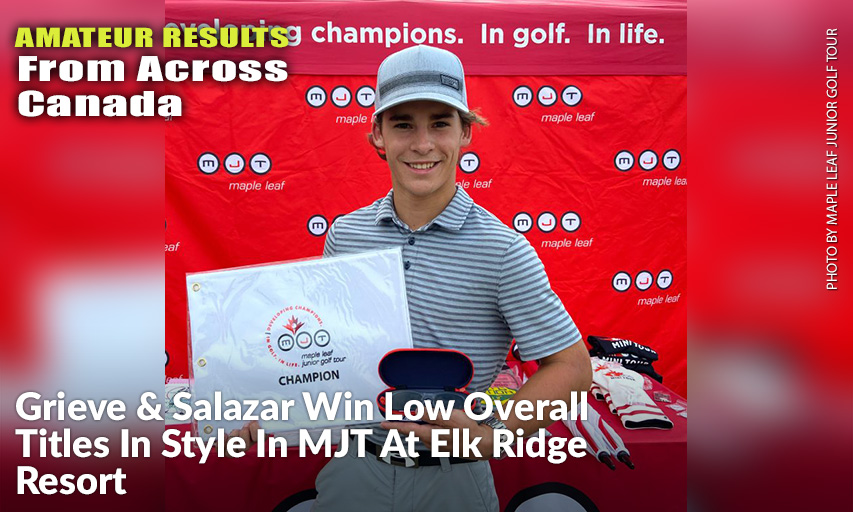 WASKESIU, Saskatchewan — A packed field of top junior golfers on Canada's number-one played junior golf tour competed in Waskesiu, SK, in the MJT / Golf Saskatchewan Order of Merit Series at Elk Ridge Resort, a venue that will play host to the Elk Ridge Open on the PGA of Canada's Mackenzie Tour in just three weeks time. With limited opportunities to acquire valuable points on Golf Saskatchewan's Order of Merit and the MJT Order of Merit presented by RBC, this event acted as one of the final opportunities to qualify for the MJT National Championship presented by TaylorMade and adidas Golf.
Local Waskesiu golfer Guillermo Salazar, 17, used his local knowledge to his advantage, firing rounds of 69 and 74 (143) to win the MJT Junior Boys Division by an impressive seven-shot margin. Salazar, who has played on the MJT sporadically over the last five years, earned his first win in three years with his performance at Elk Ridge Resort. "My mental game was strong," commented Salazar, who was Low Overall Boy in the event. "I had certain clubs working well and I stayed with those including my driver which got me the win." Saskatoon, SK, golfer Chase Pochylko, 17, climbed up the leaderboard to finish in second place with a pair of 75s (150).
The MJT Girls 15-19 Division continued to see the stellar play of 18-year-old Sarah Grieve, of Saskatoon, SK. Grieve fired 75 and 72 (147) to win the title and Low Overall Girls score in convincing fashion. "I was excited to play here as we had never been here before and it was a nice change," commented Grieve, who enjoyed the challenge at Elk Ridge Resort. "I had been working on my putting the last couple of weeks and it paid off here." Runner-up with scores of 80 and 77 (157) was 18-year-old Symone Ripley, of Saskatoon.
Another Saskatoon golfer, Thomas Danielson, 16, took home the title in the MJT Juvenile Boys Division after finishing with scores of 71 and 80 (151). Danielson, a veteran player on the MJT, showed his talent and poise on the first day of the competition. "I felt relieved to get the win," he said. "Mentally, I kept my emotions in check and brushed off the bad shots and that got me the win." Walker Cote, 15, also of Saskatoon, finished in the runner-up spot with scores of 79 and 75 (154).
Holding on for a three-shot win in the MJT Bantam Boys Division was 13-year-old Elias Haukeness, of Buena Vista, SK. The 2020 MJT Saskatchewan Order of Merit Winner recorded scores of 77 and 79 (156) and currently sits second on this year's MJT Order of Merit presented by RBC. "I felt good going into the tournament thanks to my coach and trainer," commented Haukeness. "I was able to come back from some bad shots and the hit the ball straight and stay positive." Wawota, SK, golfer Kerr Cudmore, 14, carded 82 and 77 (159) to place second.
In the MJT Peewee Boys Division, 12-year-old Aricin Franklin, of Saskatoon, shot rounds of 82 and 74 (156) to come back and win with his rock-solid final round. Franklin, who is playing in his first full season on the MJT, won his second career MJT title with his performance at Elk Ridge Resort. "My first round wasn't quite what I wanted, but I had a great second round," said Franklin, who turned his game up a couple of notches. "I felt pretty good coming into the tournament and comfortable with the golf course and it's exciting to get the win." Runner-up was North Battleford, SK, golfer Shae Maunula, 11, who recorded rounds of 81 and 83 (164).
Chloe Wills, of Kyle, SK, continues to shine on the MJT Saskatchewan Junior Tour this year as she carded a pair of 89s (178) for another 2021 victory in the MJT Girls U15 Division. The 13-year-old golfer has a commanding lead on the MJT Order of Merit presented by RBC and may have punched her ticket to the MJT National Championship presented by TaylorMade and adidas Golf. "I was a little nervous going in as I had never played the golf course before," commented Wills. "My drives were straight and consistent throughout the tournament."
The MJT Booster Juice BounceBack Awards for most improved score in round two over round one went to Sarah Henderson, Hallie Crozier, Kai Kriekle, Ayden Ross, Myles Johnson, and Carter Timmerman. Full results can be viewed here. 
The final event in the province, the MJT Golf Saskatchewan Order of Merit Championship at The Legends Golf Club in Warman, will take place on August 28 and 29. More details can be found at www.maplejt.com.
---
About the MJT
The non-profit Maple Leaf Junior Golf Tour is Canada's number one-played Junior Golf Tour as well as the only national junior tour run exclusively by PGA of Canada Professionals and the 'Road to College Golf' in Canada. The organization is supported by valued Premier, Tournament and Product Partners. The MJT hosts close to 90 events across Canada, including free Ford Go Golf Junior Clinics, the MJT Mini Tour for 12U and multi-day events for competitive players aged 11-19 which also offer qualifiers for international tournaments. The program has annual awards, scholarships and incentives to help reward performance and participation throughout each season. MJT alumni include many Professional Tour players and PGA of Canada Professionals, as well as Canadian Amateur, National and Provincial Junior Champions. The MJT aims to develop champions, in golf and in life, promoting the game from grassroots through to the provincial, national, university and professional levels.