Corey Conners, Mackenzie Hughes Team Up For Canada In Tokyo
Details

Category: Inside Golf
Published: 2021-07-29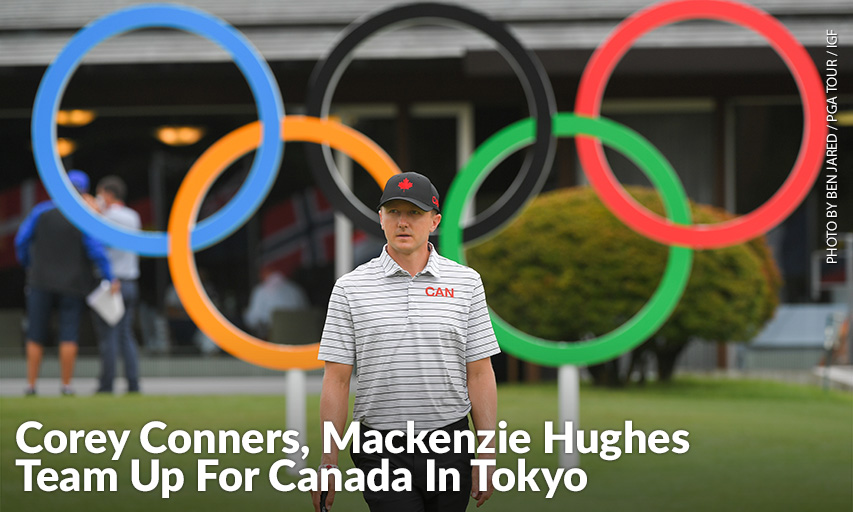 They were early in their careers. The pressure of trying to win a trophy meant there was less conversation than at your local library. The 12-13 age division of a provincial competition hardly compares to the tournaments that Corey Conners and Mackenzie Hughes play now, but try explaining that to them back in 2004.
"It was pretty much impossible to get a word out of him," Hughes recalled recently. Conners' stone-faced approach worked, as he beat the older Hughes that day.
Seventeen years later, they still remember that day. They're still competing against each other but the years spent together on Golf Canada's national team, at Kent State University and now the PGA TOUR have forged a strong friendship.
And now, the two kids who grew up about 90 miles apart in Ontario are representing Canada in the Olympics.
Conners, 29, is still the quiet type, but his ball-striking speaks for itself. There are only three players who rank inside the top 10 of both Strokes Gained: Off-the-Tee and Approach-the-Green on the PGA TOUR this season. They are Conners, World No. 1 Jon Rahm and four-time major winner Brooks Koepka. Conners is the only player to rank in the top 15 of both statistics in each of the past three seasons.
"His rhythm doesn't change from the first swing Thursday to the last one on Sunday," Hughes said.
Hughes, on the other hand, shows a bit more emotion and his short game is his specialty, just as it was when he first met Conners.
"He seemed like a fierce competitor, really a grinder," Conners said about their first meeting. "I'd still give him those grades."
Hughes, 30, was the only player to rank inside the top 10 in both Strokes Gained: Around-the-Green and Putting last season. He's so confident in his prowess on the greens that he's used the same putter for almost his entire pro career.
Conners and Hughes would seemingly make a perfect team for alternate shot. "If Corey hit it and Mackenzie chipped and putted, they'd never lose," said their college coach, Herb Page. That is a conversation that can be tabled until next year's Presidents Cup in Hughes' adopted hometown of Charlotte, North Carolina, however. Having both cracked the top 50 in the world ranking this year and contended in major championships, they're strong candidates to represent the International Team for the first time in 2022.
This week, they're playing for their country. There is no team format in the Olympics but there are still benefits to having a friend at Kasumigaseki Country Club; it provides some comfort to a week where COVID protocols limit social interaction, especially outside of competition.
"We're both pretty structured and pretty disciplined," Hughes said. "Our approach to how we get better, and doing the little stuff right, there's a lot of similarities between us and I think that has helped us in getting along."
Conners comes from the small town of Listowel, Ontario, with a population of approximately 7,500 people. He started playing golf at the Listowel Golf Club, where he worked in the cart barn and pro shop. Hughes grew up in Hamilton and took up the game at age 7, after his parents decided to give it a try. He used to spend hours on a par-3 course, which may explain the short-game skills.
Hughes was the first to Kent State. Conners followed two years later. Both players saw dramatic improvement in their four years at the Ohio school. Page, who's also from Canada, lettered in golf, hockey and football for the Golden Flashes and became the school's golf coach at just 26 years old. He held the job for four decades, and former Open Championship winner Ben Curtis also is among his former players.
"Coach was great about taking the things you do well and refining them," Hughes said. "And he's very big on keeping you accountable off the golf course. His overall style of coaching just tends to make guys better."
It worked for both Hughes and Conners, who each had scoring averages over 75 in his freshman year.
"They just got better and better every year," Page said. Conners added length to his tee shots after barely carrying them 240 yards when he arrived on campus, Hughes recalled. Page didn't mess with the bent left elbow on Conners' backswing that is unconventional but contributes to his accuracy. Page convinced Hughes to be easier on himself on the course, an attitude change that paid big dividends.
Hughes graduated in 2012 as a two-time Canadian Amateur champion. Conners earned his degree two years later after making the semifinals of the 2013 U.S. Amateur and finishing runner-up a year later. He also won the prestigious Jones Cup in 2014, an event also won by U.S. Olympians Justin Thomas and Patrick Reed.
Both Hughes and Conners continued their progression as pros, working their way through PGA TOUR Latinoamerica, PGA TOUR Canada and the Korn Ferry Tour before earning their PGA TOUR card. Hughes won the 2016 RSM Classic in his fifth start of his first TOUR season, just months after he was playing Monday qualifiers for Korn Ferry Tour events.
Conners had conditional TOUR status when he won the 2019 Valero Texas Open. He was the first Monday qualifier to win on TOUR in nine years.
Now they've taken the next step in their career by contending in majors. Conners has finished in the top 10 at the past two Masters. Hughes played in the final group of this year's U.S. Open, eventually finishing 15th. Hughes and Conners both started the final round of the last major, The Open, in the top six. Hughes went on to record his best finish in a major (T6) while Conners finished T15.
"We have a lot in common, both humble beginnings, working hard at kind of a local golf course, developing our games, playing in junior tournaments and being on the national team together," Conners said. "We're very similar in our work ethic, in our preparation, our thinking about the game. We've just shared so many experiences together, have so much in common with our progress through the game."
This won't be the first time they've represented Canada together in a foreign land. They led Canada to a sixth-place finish in the 2012 World Amateur Team Championship in Turkey.
Hughes will be playing in Japan for the first time. Conners was medalist in the 2010 Toyota Junior Golf World Cup in Japan, a victory that he described as a "big momentum boost" for his career. Conners also helped Canada to a second-place finish in the 2014 World Amateur Team Championship in Japan. More recently, he was sixth in the PGA TOUR'S ZOZO Championship, where Tiger Woods won his record-tying 82nd PGA TOUR title.
Now Conners and Hughes will make their Olympic debut. They've come a long way from their first meeting.
This story was originally published on PGATOUR.COM.