Two Playoffs In Hot, Windy Conditions At MJT Re/Max Blue Chip Realty Classic In Estevan
Details

Category: Inside Golf
Published: 2021-07-10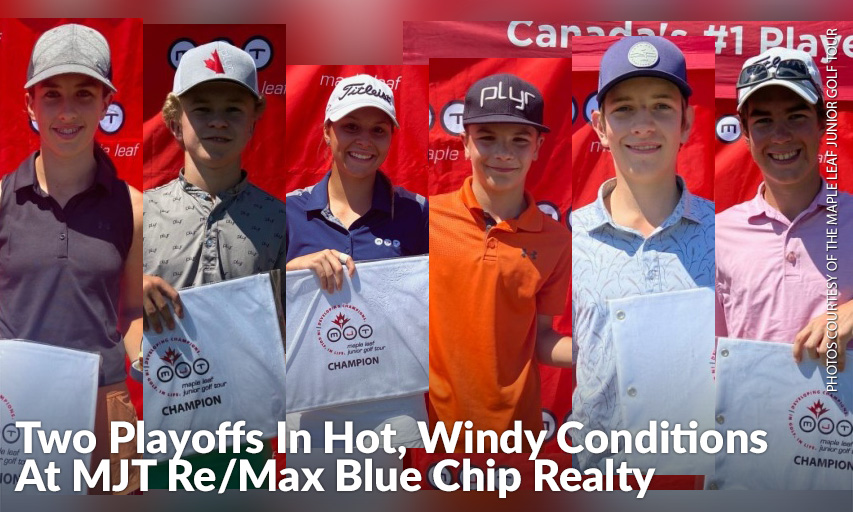 ESTEVAN, Saskatchewan — Canada's number-one played junior golf tour continued with the Saskatchewan schedule on July 2 and 3 with the second stop in the province - the MJT Re/Max Blue Chip Realty Classic at Estevan Woodlawn Golf Club in Estevan. Players had to handle windy conditions on the first day and extreme heat on day two, while vying for titles in six divisions along with valuable points on the MJT Order of Merit presented by RBC.
Theoren West, 18, of Wawota, SK, picked up both the low overall score of the tournament and the MJT Junior Boys Division top spot with scores of 74 and 71 (145). The 2020 MJT Saskatchewan Order of Merit leader, who had two wins last year, held on until the very end for his first 2021 title. "I gave myself lots of birdie chances," mentioned West, who tried to keep things simple in the variable conditions in Estevan. "These MJT events are always awesome with great competition and great prizes and I'm happy to get the win." Jackson Wingert, 17, of Saskatoon, SK, fired 77 and 69 (146), shooting up the leaderboard to finish in second place.
The MJT Juvenile Boys Division saw Saskatoon-native Max Regier, 15, card 77 and 69 (146), coming from behind to win the title. Regier, who finished second at the MJT's Elmwood event last week, quickly worked his way to the top of the podium at Estevan. "I played smart golf on day two," commented Regier. "My putting saved my first round and I managed my game in the second, hitting the middle of the greens and not attacking the pins." Thomas Danielson, 16, of Saskatoon, recorded scores of 80 and 71 (151) to finish in second place.
The MJT Girls 15-19 Division saw a great contest take place between two MJT veteran players, Ella Kozak and Autumn Neiszner. Ella Kozak, 15, of Yorkton, SK, fired 79 and 75 (154), managing her game well throughout the challenging tournament conditions. Autumn Neiszner, 17, of Regina, SK, shot 81 and 73 (154), coming from behind to force a playoff. Kozak emerged victorious, winning her second consecutive MJT title.  "The key for me was not giving up," commented Kozak. "I made back-to-back birdies to share the lead and had great focus in the playoff."
Extra holes were also needed in the MJT Bantam Boys Division. Dane Giesbrecht, 13, of Warman, SK, fired rounds of 82 and 74 (156), coming from behind to tie for the lead with 2020 MJT Order of Merit winner, Elias Haukeness, 13, of Buena Vista, SK, who carded a pair of 78's (156). Giesbrecht went on to win a four-hole playoff for the division title. "I stayed calm during the playoff," commented Giesbrecht. "I played strategically and kept the ball low in the wind.
Jayden Chernoff, 12, of Estevan, SK, shot 86 and 74 (160), coming back to win the MJT Peewee Boys Division with a 12-shot improvement over the two days. "I just had fun," commented Chernoff, who enjoyed being out on the golf course. "I stuck with my game and didn't think about anyone else's." Saskatoon player Lucas Sturgeon, 11, finished the division in second place with scores of 84 and 79 (160).
The MJT Girls U15 Division saw 13-year-old Chloe Wills, of Kyle, SK, record scores of 97 and 88 (185) to win another MJT title in 2021. Wills' transition onto the Junior Tour from the Mini Tour has been successful so far, winning her first two starts. "I was hitting the ball pretty straight," commented Wills, who has been working diligently with coach Jeff Chambers. "It's really fun to play in the MJT competitions and do well."
The MJT Booster Juice Bounceback awards for most improved scores from round two over round one were Chloe Wills, Devrie Bloom, Beckett Gust, Ayden Ross, Connor Spencer, and Carter Timmerman. Full results can be viewed here. The MJT Saskatchewan Junior Tour next heads to Saskatoon for the MJT-Golf Saskatchewan Order of Merit Series at Moon Lake Golf and Country Club on July 26 and 27. More details can be found at www.maplejt.com.
---
About Re/Max Blue Chip Realty
We are a dedicated team of Real Estate Specialists who understand real estate and are here to serve the needs of our buyers and sellers of Saskatchewan Real Estate. In believing that our clients needs come first, we are dedicated to providing the highest level of quality service to our sellers and buyers. Through our commitment to continued education, and promotion of a strong team atmosphere, we strive to obtain positive results for our clients, staff and company. 
About the MJT
The non-profit Maple Leaf Junior Golf Tour is Canada's number one-played Junior Golf Tour as well as the only national junior tour run exclusively by PGA of Canada Professionals and the 'Road to College Golf' in Canada. The organization is supported by valued Premier, Tournament and Product Partners. The MJT hosts close to 90 events across Canada, including free Ford Go Golf Junior Clinics, the MJT Mini Tour for 12U and multi-day events for competitive players aged 11-19 which also offer qualifiers for international tournaments. The program has annual awards, scholarships and incentives to help reward performance and participation throughout each season. MJT alumni include many Professional Tour players and PGA of Canada Professionals, as well as Canadian Amateur, National and Provincial Junior Champions. The MJT aims to develop champions, in golf and in life, promoting the game from grassroots through to the provincial, national, university and professional levels.