Web.com's Nova Scotia Open Pulls The Plug On 2016
Details

Category: Inside Golf
Published: 2016-01-10
by Inside Golf Editors - The Web.com Tour's Nova Scotia Open won't be returning to the Ashburn Golf Club's new course next summer.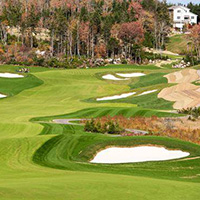 For the last two years, the event was part of the Web.com Tour schedule, but plans for a third edition have been scrapped after the company who ran the tournament, SportBox, decided not to renew their option on the event.
"It was disappointing because we had two really good years," said Gordie Smith, Ashburn's general manager.
Image Caption : Home To The Web.com Tour's Nova Scotia Open For The Last Two Years, The New Ashburn Course Won't Be Hosting The Event For A Third Year - Image Courtesy Facility
Smith said that finding another company with the experience of running such a large-scale golf event would take a lot of time and tha all the partners involved decided it was best to move on.
"I think the tour decided that it was just a little too late in the season and [there was] not enough time to get the corporate support that they needed in time for a June event," said Smith. "It was just time to announce that next year's event is not going to happen."
The Web.com Tour which acts as the final stepping stone for players looking to get on the PGA TOUR saw a number of rising stars from around the world come to the New Ashburn course over the last two years. Each year, the course and the province were showcased in front of a worldwide TV audience of 3.9 million people on the Golf Channel.
With the tournament shelved, Nova Scotia golf will lose an excellent marketing tool, said the executive director of the Nova Scotia Golf Association, David Campbell. "It's quite a loss for golf in Nova Scotia," he said. "An event of that magnitude here in Nova Scotia had a great impact on the sport here in the Nova Scotia golfing community."
Campbell also noted that the timing of the decision to scrap next year's tournament comes at a time when Nova Scotia golf is trending upward on the international golf scene.
"With new courses like Cabot Links [in Inverness] and Brunello [in Timberlea] coming on board in the last few years, we've really become front and centre in the international golf community," he said. 
The Nova Scotia government was a significant contributor to the Nova Scotia Open and kicked in $600,000 over two years.