Pochylko's Eagle, Eight Birdies Highlight Hot Scoring At MJT's Popular Elmwood Event
Details

Category: Inside Golf
Published: 2021-07-06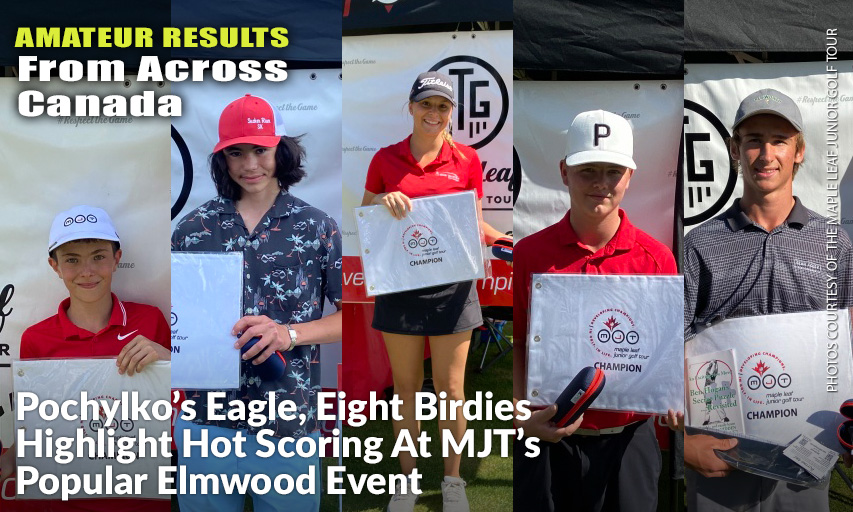 SWIFT CURRENT, Saskatchewan — After seeing a delay to the commencement of the 2021 MJT Junior Tour season due to COVID-19 restrictions, Canada's number-one played junior golf tour officially teed-off its Saskatchewan Junior Tour season on June 26 and 27 with the MJT-Golf Saskatchewan Order of Merit Series at Elmwood Golf and Country Club in Swift Current. "It was a very successful event and exciting to see the players out competing again," commented MJT Tournament Director, Jeff Chambers. A full field competed over 36 holes of tournament golf, vying for titles in six divisions and valuable points on both Golf Saskatchewan's Order of Merit and the MJT's Order of Merit presented by RBC. 
The spotlight shone on the MJT Junior Boys Division where 2020 MJT Saskatchewan Order of Merit winner, Chase Pochylko, lit up the golf course making an eagle and eight birdies over the two days to win his division title by three shots. The 17-year-old elite golfer from Saskatoon, SK, blazed around the course with scores of 68 and 71 (139), finishing the tournament four-under par in his final five holes to also win Low Overall score. This marks Pochylko's third MJT win over the last two seasons and shows a major upward progression in his game. Cole Bergheim, 17, of Red Deer, AB, shot great scores of 69 and 73 (142) to finish second place in the division.
Another divisional 2020 MJT Saskatchewan Order of Merit winner, Darien Herlick, 15, of Weyburn, SK, picked up where he left off last season, earning his first 2021 MJT win in the Juvenile Boys Division at Elmwood Golf Club. Herlick, who fired scores of 70 and 78 (148) to win by two shots, had a great start to the tournament, opening with a two-under par 70, but struggled in the initial stages of his second round. Persevering, Herlick finished the tournament going two-under in his final five holes to hold on and win the title. "I tried to keep my emotions under control," he said. "It feels great to compete and win against guys older than I am." Saskatoon, SK, players Thomas Danielson (77-73=150), 16, and Max Regier (73-77=150), 15, finished with total scores of 150 to tie for second.
Recording an eagle and seven birdies in the tournament was MJT Bantam Boys Division winner, 14-year-old Dade Bernatchez, of Sucker River, SK, who fired rounds of 69 and 78 (147) to take his title with a three-shot margin. Bernatchez played best on the back nine of both rounds. "This was the first time I broke 70," said Bernatchez, who recorded a new personal best round. "I know that if I stick to my game plan and hit fairways and make putts, I can shoot that low."
The MJT Peewee Boys Division needed extra holes to determine a winner after two 11-year-old players finished tied at the top of the leaderboard. Lucas Sturgeon, of Saskatoon, SK recorded a pair of 79s (158) while Jackson Giesbrecht, of Warman, SK, fired scores of 76 and 82 (158). Emerging victorious out of the playoff was Sturgeon, who earned his second MJT title after his performance in the MJT Ford Series at Stony Plain Golf Course in Alberta. "My driving and putting improved throughout the tournament," he stated, when asked about the key to his victory. "I was able to make some long putts,"  
MJT veteran champion and 2020 MJT Order of Merit winner Ella Kozak, 15, moved up into the MJT Girls 15-19 Division and started out strong, picking up her first victory of the season. Kozak recorded rounds of 75 and 81 (156), making six birdies in the process. "It's a great start to the year and I'm proud of myself," she commented. "My irons were pretty spot on and I kept things consistent." Autumn Neiszner, 17, of Regina, SK, shot 81 and 78 (159) to place second while 16-year-old Brooklin Fry, of Shell Lake, SK, finished in third place with scores of 76 and 84 (160).
Chloe Wills, of Kyle, SK, 13, carded 85 and 91 (176) to win the MJT Girls U15 Division by six strokes over Niya Friesen, 13, of Swift Current. "The key to my victory was lots of determination," Wills said. "I feel excited and proud to win my division title."
The MJT Booster Juice Comeback awards for most improved scores from round two over round one were: Sarah Henderson, T'Kayah Sim, Mason Kuryvial, Hunter Steeves, Jaxen Witt, and Aidan Shanks.
Full results can be viewed here. The MJT Saskatchewan circuit next heads to Estevan, SK, for the MJT Re/Max Blue Chip Realty Classic at Estevan Woodlawn Golf Club on July 2 and 3. More details can be found on the website at www.maplejt.com.
---
About the MJT
The non-profit Maple Leaf Junior Golf Tour is Canada's number one-played Junior Golf Tour as well as the only national junior tour run exclusively by PGA of Canada Professionals and the 'Road to College Golf' in Canada. The organization is supported by valued Premier, Tournament and Product Partners. The MJT hosts close to 90 events across Canada, including free Ford Go Golf Junior Clinics, the MJT Mini Tour for 12U and multi-day events for competitive players aged 11-19 which also offer qualifiers for international tournaments. The program has annual awards, scholarships and incentives to help reward performance and participation throughout each season. MJT alumni include many Professional Tour players and PGA of Canada Professionals, as well as Canadian Amateur, National and Provincial Junior Champions. The MJT aims to develop champions, in golf and in life, promoting the game from grassroots through to the provincial, national, university and professional levels.