Nesbitt & Odnokon Win Back-To-Back Titles On MJT Mini Tour Presented By PGA Of Saskatchewan At Elmwood
Details

Category: Inside Golf
Published: 2021-07-06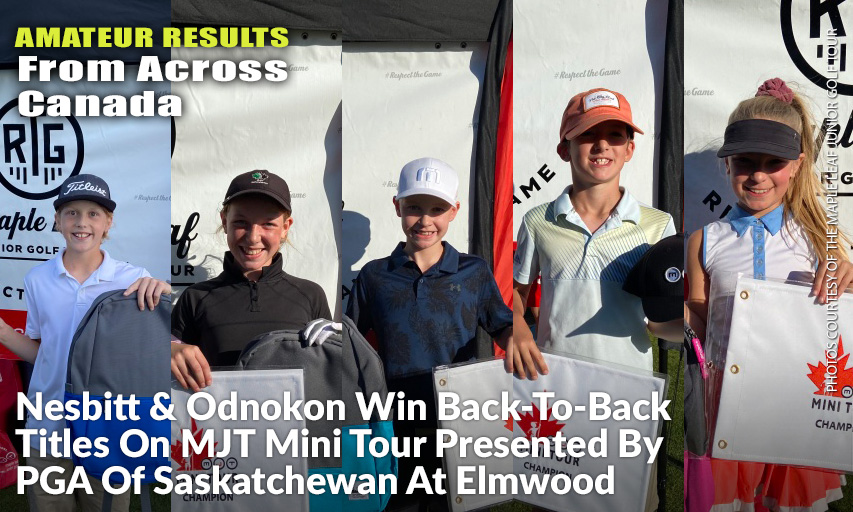 SWIFT CURRENT, Saskatchewan — After opening the 2021 MJT Saskatchewan Mini Tour season at Joanne Goulet Golf Course in Regina, the MJT's 12U circuit rolled into Swift Current on Sunday June 27, where young athletes between the ages of eight and 12 competed for titles in five divisions at the MJT Mini Tour presented by PGA of Saskatchewan at Elmwood Golf and Country Club. Back-to-back titles were won by 10-year-old Austin Nesbitt, in the MJT Boys 9-10 Division, and by 11-year-old Grace Odnokon in the MJT Girls 11-12 Division.
Nesbitt, a young golfer from Pilot Butte, SK, fired a score of 73, making five birdies and playing the par fives at three-under-par. "It feels great to get two in a row," commented Nesbitt, who has started off his Mini Tour season perfectly. "I'm super happy and proud of myself and I look forward to the next one." Nine-year-old Keaton Kreklewich, of Melville, SK, recorded a score of 79 to finish second place in the MJT Boys 9-10 division.
MJT Mini Tour veteran, 11-year-old Grace Odnokon, picked up her fifth win in three seasons of playing on the MJT. The Saskatoon, SK, golfer earned her second consecutive 2021 MJT Girls 11-12 victory after recording a score of 92. "I was focused on my own shots," commented Odnokon, who won by six strokes. "It feels awesome to win my division title."
In the MJT Boys 11-12 Division, 12-year-old North Battleford, SK, resident Finn Silver shot a score of 79 to win by three shots. Silver, who is playing his first full season on the MJT Mini Tour in Saskatchewan, entered the winner's circle early with his performance at Elmwood Golf Club. "I thought I played some good golf," he said. "I focused on my putting and made all the putts I needed to." Humboldt, SK, player Tryce Wallin, 12, recorded an 82 to finish in second place.
Playing in their first MJT Mini Tour event were eight-year-old Andrew Fraser, of Saskatoon, SK, in the Boys 8U Division and 10-year-old Swift Current-local Kayden Meyer in the Girls 9-10 Division. Both players began their development on the MJT Mini Tour and saw great strides in just their first round of the season. "It was great to have my dad caddy and we had a great time," commented Fraser on his experience. "I had a fun time playing with Andrew," said Meyer after her round. The MJT will be watching both players keenly as they progress on the Mini Tour in Saskatchewan.
The PGA of Saskatchewan is awarding lucky participants at each of the MJT Mini Tour events in the Province with a golf makeover courtesy of one of their Zone Professionals, and the winners at the Elmwood event were Grace Odnokon, Jun Lee (Regina), Matty Schmiess (Swift Current) and Nixon Maharaj (Saskatoon). Full results can be viewed here. The Saskatchewan 12U circuit next heads to Saskatoon on July 26 for the MJT Mini Tour presented by PGA of Saskatchewan at Moon Lake Golf and Country Club. More details can be found at www.maplejt.com.
---
About the MJT
The non-profit Maple Leaf Junior Golf Tour is Canada's number one-played Junior Golf Tour as well as the only national junior tour run exclusively by PGA of Canada Professionals and the 'Road to College Golf' in Canada. The organization is supported by valued Premier, Tournament and Product Partners. The MJT hosts close to 90 events across Canada, including free Ford Go Golf Junior Clinics, the MJT Mini Tour for 12U and multi-day events for competitive players aged 11-19 which also offer qualifiers for international tournaments. The program has annual awards, scholarships and incentives to help reward performance and participation throughout each season. MJT alumni include many Professional Tour players and PGA of Canada Professionals, as well as Canadian Amateur, National and Provincial Junior Champions. The MJT aims to develop champions, in golf and in life, promoting the game from grassroots through to the provincial, national, university and professional levels.