Kolm Goes Low, Six Champions Crowned In MJT's Tangle Creek Stop
Details

Category: Inside Golf
Published: 2021-07-06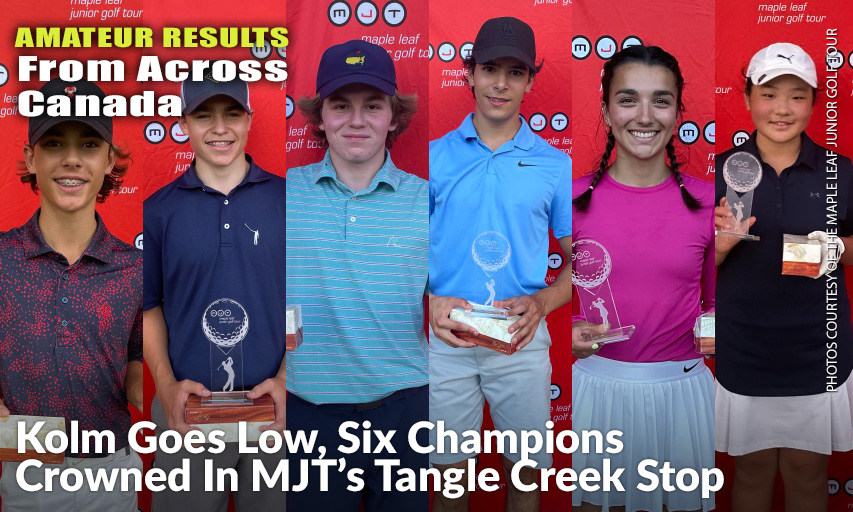 BARRIE, Ontario — Canada's number-one played junior golf tour continued its 2021 Junior Tour season in Thornton, ON, on June 27-28, where a full field of young athletes competed in wet conditions in the MJT Ontario Series at Tangle Creek Golf and Country Club, vying for divisional titles and valuable points on the MJT Order of Merit presented by RBC.
Hunter Kolm, 17, of Aurora, ON, took home both the MJT Junior Boys title and low overall score after firing rounds of 74 and 70 (144). Kolm started the tournament exactly the way he planned, making an eagle on the par-five first hole at Tangle Creek. He went on to compliment his rounds with seven more birdies. Kolm is set to play a full circuit with the MJT in Ontario this year and has picked up at least one win each year on the program. Second place in the division went to Mitch Brassard, 17, of Barrie, ON (79, 73=152).
The MJT Bantam Boys Division witnessed the return of the 2020 MJT National Champion, Luke Smith, who put on a spectacle of great golf. The 13-year-old from Toronto, ON, shot excellent scores of 71 and 74 (145) to win the division in convincing fashion. Smith made a tournament-high eight birdies over his 36 holes and played the par threes at an impressive even par for the tournament. Aidan Talent, 14, from Brooklin, ON, took second place in the division.
Yasmine Qureshi, 17, of Quebec, QC, won the MJT Girls 15-19 Division. Qureshi, who made her MJT debut last year at the MJT National Team Challenge at the end of the season, picked up her first 2021 MJT win with fine scores of 78 and 75 (153) at Tangle Creek. "I feel very proud to win my first event," commented Qureshi, who tied for low overall Girls score with Michelle Chu in Girls U15. "It's a real confidence booster especially in the tough conditions." Raesa Sheikh, 17, of Caledon, ON, finished the division in second place with scores of 78 and 79 (157).
The MJT Girls U15 Division saw Michelle Chu, of Markham, ON, fire scores of 79 and 74 (153) to win her title by two shots. Chu, who returned to the MJT after her first season last year, made her mark right away picking up her first MJT Junior Tour victory. Chu was tied for the lead with one hole to play in the tournament and stepped up on the 18th hole, making an eagle to secure victory. Richmond Hill, ON, resident Sophia C. Xu, 12, carded 79 and 76 (155) to finish in second place.
In the MJT Juvenile Boys Division, 16-year-old Matteo Rocco, of Toronto, ON, shot 78 and 77 (155) to come from behind and win the title. Rocco sat one shot behind the lead after the first round but played his final seven holes in the second round at even-par, including a birdie on 18, to win by two shots. "The key to my victory was sticking to my game plan," commented Rocco. "I feel really happy knowing that all the practice and hard work paid off." Matthew Lyons, 16, of Aurora, ON, carded 78 and 79 (157) to finish in second place.
A tight contest took place in the MJT Peewee Boys Division, where 12-year-old Vasili Gianakas, of Kleinburg, ON, came from behind to win by a single shot. Gianakas, who was still behind by one shot with one hole to play in the tournament, came up clutch on 18 making an eagle to seal victory. After not having the start he wanted by shooting 79 in the first round, Gianakas heated up quickly in the front nine on the second day, making three birdies and opening at one-under par. Continuing to stay steady through the middle of his second round, Gianakas inched closer and closer to the top of the leaderboard and surged into first at the very end shooting a 71 (150). 11-year-old Markham, ON, player Andy Dai recorded scores of 73 and 78 (151) to finish the division in second place.
Full results can be viewed here. The MJT Booster Juice Comeback awards for most improvement in score in round two from round one were Sadie Wu, Astoria Yen, Tinghan Li, Cooper Pope, Tyler Zhang, and Benjamin Fowke.
The MJT continues with its Junior Tour schedule in Guelph, ON, on July 10-11, with the MJT Ontario Series at Guelph Lakes Golf and Country Club. More details can be found on the website at www.maplejt.com.
---
About the MJT
The non-profit Maple Leaf Junior Golf Tour is Canada's number one-played Junior Golf Tour as well as the only national junior tour run exclusively by PGA of Canada Professionals and the 'Road to College Golf' in Canada. The organization is supported by valued Premier, Tournament and Product Partners. The MJT hosts close to 90 events across Canada, including free Ford Go Golf Junior Clinics, the MJT Mini Tour for 12U and multi-day events for competitive players aged 11-19 which also offer qualifiers for international tournaments. The program has annual awards, scholarships and incentives to help reward performance and participation throughout each season. MJT alumni include many Professional Tour players and PGA of Canada Professionals, as well as Canadian Amateur, National and Provincial Junior Champions. The MJT aims to develop champions, in golf and in life, promoting the game from grassroots through to the provincial, national, university and professional levels.