Taylor, Fiks Tie For Low Overall In MJT Manitoba Season Opener At Selkirk
Details

Category: Inside Golf
Published: 2021-07-06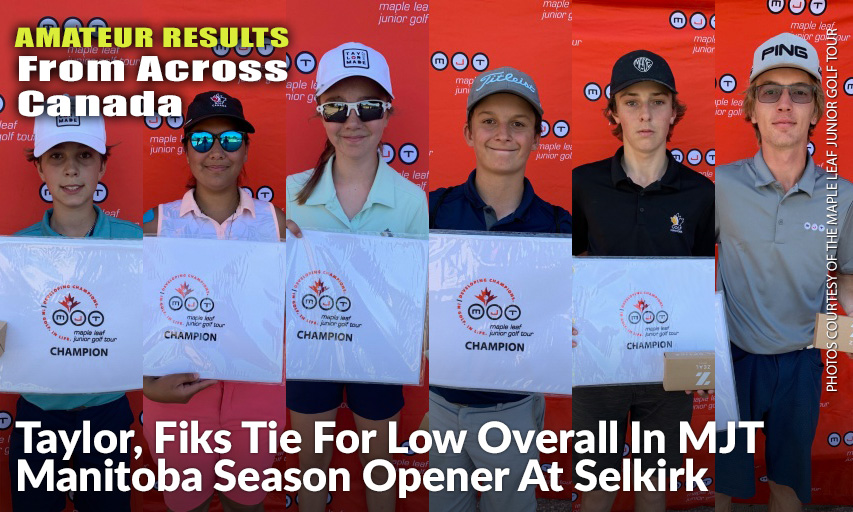 SELKIRK, Manitoba — Canada's number-one played junior golf tour officially opened its COVID-delayed 2021 Manitoba Junior Tour schedule on July 28 and 29 in Selkirk with the MJT Manitoba Series at Selkirk Golf and Country Club, where young golfers vied for titles in six divisions along with valuable points on the Maple Leaf Junior Golf Tour's Order of Merit presented by RBC.
There was no shortage in talent displayed in the MJT Junior Boys Division at Selkirk that saw an exciting finish take place between three MJT veteran champions, all from Winnipeg, MB. Taking home the win with scores of 70 and 75 (145) was 2020 MJT Manitoba Order of Merit Winner Noah Fiks. The 17-year-old golfer edged out a two-shot victory holding off two great charges from behind to earn his fourth victory in his last six starts on the MJT, and tied for Low Overall Score with Jack Taylor in the MJT Juvenile Boys division. 2018 MJT National Champion, Braxton Kuntz, 17, fired scores of 74 and 73 (147) including going two-under par in his final five holes of the competition, to finish in second place. 2019 MJT National Champion Neel Soni, 18, finished the division in third place, carding 74 and 75 (149) after playing his final four holes at one-under par.
Jack Taylor, 15, of Winnipeg, fired 73 and 72 (145) to win the MJT Juvenile Boys Division by five shots, tying for Low Overall Score with Fiks. Taylor made a division-high seven birdies on his way to his first MJT win since 2019. Three players finished tied for second in the very competitive division with a total score of 150: Jack Rudick (76-74), 16, of Winnipeg, MB, Jacob Taweel (76-74), 15, of Winnipeg, MB, and Chase Janas (74-76), 16, of Oakbank, MB.
MJT Bantam Boys saw 14-year-old Jackson Delaurier, of Dauphin, MB, earn his first MJT Junior Tour title in his first start. Delaurier, who was previously the Golf Manitoba Bantam Boys Champion, recorded rounds of 77 and 75 (152) to win the MJT event by four shots. Payne Wood, 14, of Winnipeg, fired a pair of 78s (156) to finish runner-up by a single shot.
The MJT Peewee Boys Division needed a playoff to crown a winner after 36 holes of play. Winnipeg-players Mason Chubey (82-79), 12, and Hudson Hunnie (79-82), 12, finished tied at the top of the leaderboard with a total score of 161. After two playoff holes, Chubey was crowned the division title by countback, earning his first MJT Junior Tour win in his first career start on the MJT.
2020 MJT Manitoba Order of Merit winner, Mikyla Albert, continued her fine performance on the MJT earning her first 2021 title in her hometown of Selkirk. The 19-year-old veteran MJT champion shot 83 and 77 (160) for her 17th win in eight years on the MJT. Finishing tied for second place just one shot back were 15-year-old players Cala Korman, of Killarney, MB, and Crystal Zamzow, of Swan River, MB, who both carded identical scores of 86 and 75 (161).
The MJT Girls U15 Division title was won by 14-year-old Jeri Lafleche, of Winnipeg, MB. The 2020 MJT Alberta Order of Merit winner recorded scores of 86 and 87 (173), continuing to mark her name on the top of the MJT Manitoba leaderboards. Runner-up was Addison Kartusch, 14, also of Winnipeg (94-84=182).
Full results can be viewed here. The MJT Manitoba Junior Tour circuit next heads to St. Boniface Golf Club in Winnipeg on July 19 and 20. Registration is online at www.maplejt.com.
---
About the MJT
The non-profit Maple Leaf Junior Golf Tour is Canada's number one-played Junior Golf Tour as well as the only national junior tour run exclusively by PGA of Canada Professionals and the 'Road to College Golf' in Canada. The organization is supported by valued Premier, Tournament and Product Partners. The MJT hosts close to 90 events across Canada, including free Ford Go Golf Junior Clinics, the MJT Mini Tour for 12U and multi-day events for competitive players aged 11-19 which also offer qualifiers for international tournaments. The program has annual awards, scholarships and incentives to help reward performance and participation throughout each season. MJT alumni include many Professional Tour players and PGA of Canada Professionals, as well as Canadian Amateur, National and Provincial Junior Champions. The MJT aims to develop champions, in golf and in life, promoting the game from grassroots through to the provincial, national, university and professional levels.