Beat The Heat With Cooling Products From Bag Boy & Devant
Details

Category: Inside Golf
Published: 2021-06-30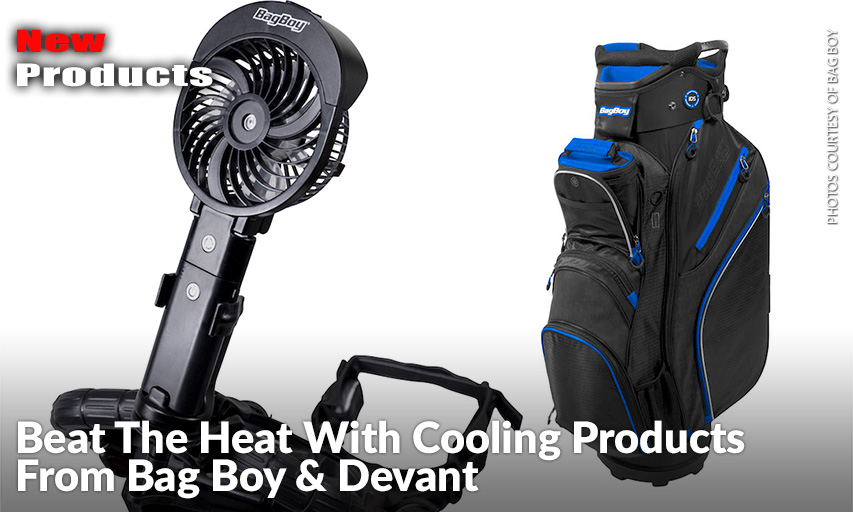 With the hot summer months now here, Bag Boy and Devant are highlighting some of their most sought-after products for beating the heat.
The 3-in-1 cart fan from Bag Boy is an energy-efficient way to stay comfortable when temperatures rise. The 3-speed adjustable fan provides up to five hours of battery life and offers an on/off water misting spray option for maximum cooling capability. It includes a rechargeable, detachable power bank for charging USB enabled devices, as well as a pushcart mount to ensure golfers can stay refreshed as they walk the course.
The Bag Boy Chiller series is made up of a cart bag and a hybrid stand bag. Both bag options come conveniently equipped with a removable, insulated cooler bag to hold several 12-ounce cans right in the golf bag. The bags also feature 14-way organizer tops with full-length individual dividers and Top-Lok technology, a patented bag-to-cart attachment system.
In addition to Bag Boy's line of cooling products, the Arctic Blast Towel by Devant Sport Towels is another easy way to stay cool while you play. When activated by water, these lightweight towels cool to 30˚F below ambient temperature. They provide 45+ UPF protection when covering the skin and come in a convenient 12" x 36" size to easily cover the neck, head and other hot spots.
"These products are perfect for golfers who are looking for some extra ways to beat the heat," said Pat Gallagher, Product Manager at Dynamic Brands. "This line offers golfers a way to play the game they love without sacrificing their comfort."
For more information or to see the full line of Bag Boy and Devant products, visit www.bagboy.com and www.devantsporttowels.com.
---
About Bag Boy
Founded in 1946, the Bag Boy Company has built a reputation for unmatched quality, unbelievable durability and unsurpassed innovation and design. Bag Boy designs, manufactures and distributes a full line of award-winning, feature-loaded golf bags, push carts, travel covers and accessories designed for a golfer's on-course convenience and comfort. For more information, please visit www.bagboy.com. Follow us on Facebook at www.facebook.com/bagboygolf and on Instagram @bagboygolf.
About Devant Sport Towels
Established in 1976, Devant Sport Towels is the most respected brand of custom sport towels by building a reputation for unmatched quality, design and service. Devant, located in Pageland, South Carolina, manufactures and distributes a full line of custom sport towels, cotton tapestry throws and Hi-Def™ bag tags. Devant is an official licensee for the PGA of America (PGA Championship, KPMG Women's Championship and Senior PGA Championship), LPGA (Solheim Cup, International Cup) and the USGA (U.S. Women's Open, U.S. Senior Open, U.S. Amateur, Walker Cup and U.S. Open). Dynamic Brands is the parent company of Devant and is located in Richmond, VA. For information on Devant visit www.devantsporttowels.com. Follow us at https://www.facebook.com/DevantSportTowels, and https://twitter.com/devantsporttowe.
About Dynamic Brands
Founded in 2004, Dynamic Brands is the parent company for a portfolio of premium brand name companies committed to the development of innovative, quality products and outstanding customer service in the sporting goods industry. Golf and recreational products are offered through Bag Boy®, Burton®, Datrek® Golf, Devant Sport Towels®, Haas-Jordan™, IGOTCHA®, SEARCH 'N RESCUE® and FLAGPOLE-TO-GO® brands, and include walking carts, golf bags, travel covers, umbrellas, custom sport towels, bag tags, golf ball retrievers, flags and accessories. In addition, Dynamic Brands is the U.S. distributor of Evnroll putters—the 100% milled putters feature designer Guerin Rife's patented "Sweet Face" Technology, delivering unprecedented accuracy and zero dispersion. Dynamic Brands' products are marketed in 87 countries worldwide. For more information, please visit www.dynamicbrands.com. Follow us at www.facebook.com/dynamicbrandsrva/ and www.linkedin.com/company/dynamic-brands/.