Hole-In-One Highlights MJT's TaylorMade Junior Championship At Rebel Creek
Details

Category: Inside Golf
Published: 2021-06-23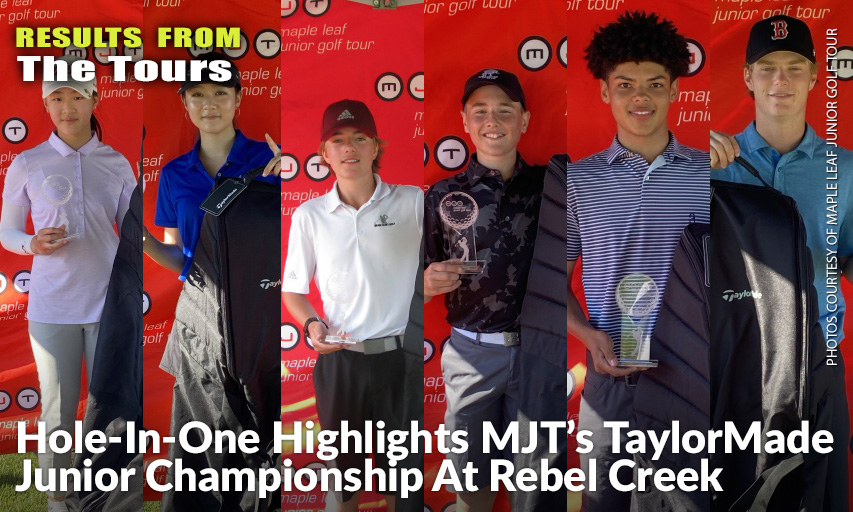 PETERSBURG, Ontario — After a two and a half month delay to the start of the 2021 MJT season in Ontario due to COVID restrictions, Canada's number one-played Junior Golf Tour was able to safely hold the hugely successful MJT TaylorMade Junior Championship at Rebel Creek Golf Club in Petersburg on June 12 and 13. This long-awaited and highly-anticipated event, headlined by MJT Premier Partner, TaylorMade Golf Canada, featured six age divisions and the first chance to collect valuable MJT Order of Merit points.
In addition to the crowing of six TaylorMade Junior Champions, another tournament highlight was a hole-in-one on the 16th hole of Rebel Creek Golf Course on day two of the competition by Matthew Spadacini, 16, of Richmond Hill.
Taking home Low Overall Score and the MJT TaylorMade Juvenile Boys Champion title with scores of 71 and 73 (144) was 16-year-old Mitchell Grey, of Mississauga. Grey made a tournament-high 10 birdies through 36 holes. "It feels great to win in tough conditions and against great competition," commented Grey after his win. "I most enjoyed playing with other good players."
A tight contest took place in the MJT Girls 15-19 Division that saw 15-year-old Alissa. C. Xu, of Richmond Hill, win by a single shot. The 2020 MJT Ontario Order of Merit winner continued her reign of success on the MJT with scores of 73 and 72 (145), which included an eagle and six birdies, coming from behind to take home the MJT TaylorMade Junior Girls Champion title. "It was fun to get out and play with other people again," mentioned Xu, who enjoyed the feeling of getting back to competition. "The highlight of my tournament was making the eagle." 12-year-old Michelle Xing, also of Richmond Hill and playing up a division, finished second with scores of 71 and 75 (146).
Graem Costigan of Cambridge, 18, made an eagle and five birdies on his way to shooting 74 and 73 (147) and claiming the MJT TaylorMade Junior Boys Champion title. "It feels good because it's the first tournament of the year and the win gives me some confidence going into my next events," remarked Costigan. Costigan has won at least one event in each of the last four years competing on the MJT and got off to his winning ways in a hurry at the first event of the 2021 Ontario season.
Securing a one-shot victory in the MJT Girls U15 Division was 12-year-old Katherine Han of Toronto. Han fired rounds of 81 and 80 (161) to earn pick up her first win in her first ever MJT tournament, a remarkable debut on the MJT Ontario Junior Tour. Finishing in second place was 11-year-old Nobelle Park, of Oakville, who carded a pair of 81s (162).
The MJT TaylorMade Bantam Boys Champion was 14-year-old Aiden Pavey, of Burlington, who shot 75 and 79 (154) to win the title. Pavey recorded six birdies throughout the tournament. "The highlight of my tournament was making the most birdies ever in a single round," commented Pavey, who made personal-best five birdies in his opening round. "I enjoyed the challenge of the golf course and battling the conditions."
In the MJT Peewee Boys Division, 12-year-old Brayden Card, of Cambridge, came from behind to take home his respective MJT TaylorMade Champion's title. Card, who fired scores of 71 and 74 (145), made an eagle and six birdies throughout the competition to win by just two shots. "It feels good to be able to come out and play well in my first event of the year," he said. "I haven't been able to see and play with my friends since last year so it was great to be able to do that again." Taking home a second place finish with scores of 70 and 77 (147) was MJT 2020 Ontario Order of Merit winner, Dawson Lew, 12, of Markham.
Full results can be viewed here. The Maple Leaf Junior Golf Tour continues in two weeks time in the province with the MJT Ontario Series at Tangle Creek Golf and Country Club in Thornton on June 26 and 27. More details can be found online at www.maplejt.com.
---
About TaylorMade Golf Company
Headquartered in Carlsbad, California, TaylorMade Golf is a leading manufacturer of high performance golf equipment with industry-leading innovative products like SIM2 metalwoods, SIM2 irons, P Series irons, TP5/TP5X golf balls and Spider putters. A major force on the PGA TOUR, TaylorMade has an unrivaled athlete portfolio that includes Tiger Woods, Dustin Johnson, Rory McIlroy, Tommy Fleetwood, Rickie Fowler, Matthew Wolff, Collin Morikawa, Harry Higgs, SH Park, Nick Taylor, Michael Gligic, Charley Hull, Maria Fassi and Sierra Brooks.
About the MJT
The non-profit Maple Leaf Junior Golf Tour is Canada's number one-played Junior Golf Tour as well as the 'Road to College Golf' in Canada. The organization is supported by valued Premier, Tournament and Product Partners. The MJT hosts close to 90 events across Canada, including free Ford Go Golf Junior Clinics, the MJT Mini Tour for 12U and multi-day events for competitive players aged 11-19 which also offer qualifiers for international tournaments. The program has annual awards, scholarships and incentives to help reward performance and participation throughout each season. MJT alumni include many Professional Tour players and PGA of Canada Professionals, as well as Canadian Amateur, National and Provincial Junior Champions. The MJT aims to develop champions, in golf and in life, promoting the game from grassroots through to the provincial, national, university and professional levels.