Motocaddy Rolls Out Extensive Electric Walking Cart Range
Details

Category: Inside Golf
Published: 2021-06-02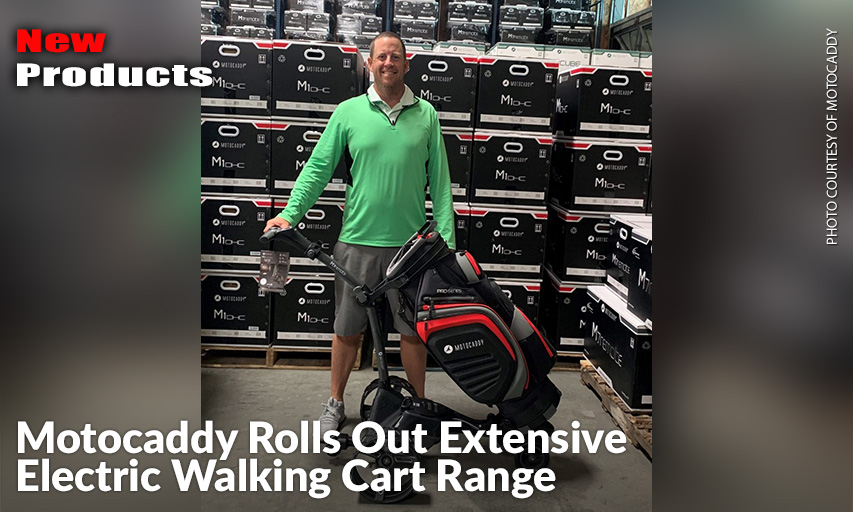 Motocaddy, the world's top-selling brand of electric walking carts, is rolling out an extensive supply of hi-tech models from its fully stocked U.S. base in Carlsbad, CA., in response to growing demand from golfers wanting to make walking the course an even more enjoyable experience.
The award-winning selection from Motocaddy includes the M7 REMOTE hands-free model and the M5 GPS DHC with touchscreen display – rated the Most Wanted Electric Cart and Best Smart Cart respectively by MyGolfSpy in 2020. Also proving popular with American golfers is the feature packed M1 DHC electric cart with downhill speed control, USB device charging and an electronic parking brake.
The innovative brand, which has become a market leader in electric carts across the world since launching in 2004, offers matching golf bags designed expressly to fit comfortably on each of the carts – including the 100% waterproof Dry-Series and premium Pro-Series lines, to a HydroFLEX hybrid bag that offers a carry option if needed. As the #1 push cart brand in the UK, it also offers the lightweight CUBE and Z1 models packed with popular features.
To support sales nationwide, Motocaddy has invested in a high-profile 'Enjoy the Walk' advertising campaign across popular websites such as MyGolfSpy, GolfWRX and Hackers Paradise. It's also set up a 12-man sales team with more than a century of golf industry experience to cover golf facilities in California, New York, Philadelphia, Pennsylvania, Michigan, Ohio, Wyoming, Colorado, Utah, Texas, Oklahoma, Louisiana, Mississippi, Alabama, Tennessee, Georgia and Florida, with further territories on the way.
The sales team is led by Roger Teat, President of the Motocaddy U.S. Division, and supported by Inside Sales and Service Manager Mike Samoles, plus Customer Service Representative Jake Tilley. They operate from a newly opened showroom, warehouse and offices in Carlsbad, while a National Service Centre has been established in Chicago, IL.
"We've seen a high level of interest in the product line from PGA professionals around the country, especially those looking to set up rental fleets of the electric walking carts to mirror the revenue streams enjoyed by leading European courses," said Roger, a former Sales Operations Director at Cobra-Puma. "The opportunity to grow the electric walking cart market in the U.S. is one that Motocaddy is determined to seize and we now have the stock and support system in place to do so," he added.
---
For details about Motocaddy products and rental opportunities, visit www.motocaddy.us or contact This email address is being protected from spambots. You need JavaScript enabled to view it..
For more information, please contact Adam Smith at Sports Impact at This email address is being protected from spambots. You need JavaScript enabled to view it. or Oliver Churcher at Motocaddy at This email address is being protected from spambots. You need JavaScript enabled to view it.