Women's Golf Day Set To Go Across BC!
Details

Category: Inside Golf
Published: 2021-05-28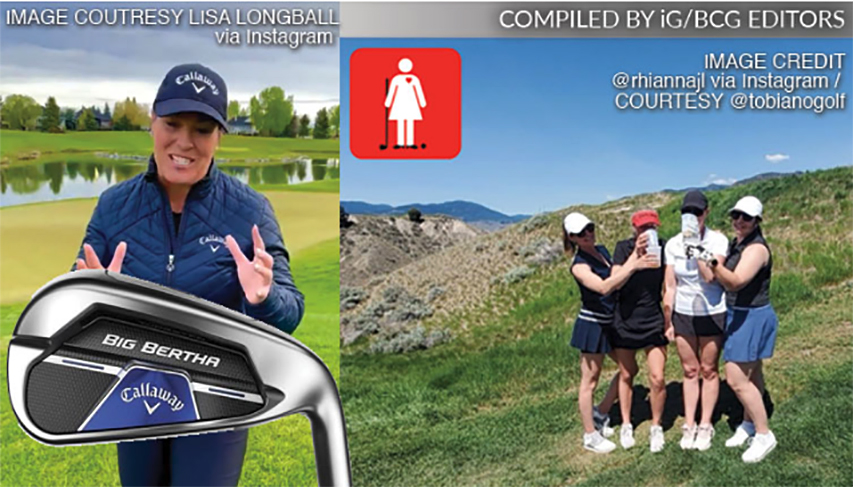 The International Women's Golf Day goes Tuesday, June 1st and facilities across the province are getting involved...
KUDOS GO OUT TO...
"Coach Shayain" - who has recently been hired to roll out Golf Canada's first "First Tee" program here in BC - decided to run an event at Mylora GC in Richmond. The 9 & Dine / Putting Challenge with 100% of net proceeds going to local women's charities proved so popular that the 90 spots available SOLD OUT in less than 24 hours! Contact This email address is being protected from spambots. You need JavaScript enabled to view it. to get on the wait list.
ACROSS THE COUNTRY
Lisa Longball is the Women's Golf Day Ambassador and sponsored by Callaway Golf and said on Twitter, "In honour of #WomensGolfDay my sponsor @CallawayGolf will be giving away a set of Big Bertha Reva irons! Simply…"
          • Post a Picture or Video of you Enjoying Golf OR
          • Share What You would Say to Encourage a Woman to Try Golf
Then tag it with @LisaLongball, @CallawayGolf & @womensgolfday
Draw goes Tuesday at 6pm MDT
See the video HERE
ACROSS THE PROVINCE
BC Golf is also getting involved. As part of this year's Women's Golf Day celebration, British Columbia Golf is holding a 'Cloud Scramble'. Just form your own 4-person team and play an 18-hole scramble round by June 1st. All players play from the best tee shot position and finish the hole out that way.
There will be prizes drawn from the scorecard images entered by each team, thus the 'awards' are strictly based on participation. One Club already committed is Sunset Ranch Golf & Country Club and Club Captain Marie-Anne Nason is excited about participating,"We are entering a few teams for the week of June 1. Let me know if there are additional activities we might want to participate in!"
Players sign up by sending an email with their team name and player names to Tyler McKay – This email address is being protected from spambots. You need JavaScript enabled to view it.
Click HERE to find out more
OTHER EVENTS
If you know about another event not listed here, please email This email address is being protected from spambots. You need JavaScript enabled to view it. and we'll add it!
EVENTS BY REGION...
BC ROCKIES
Copper Point Golf
Copper Point has been a big supporter of the Women's Golf Day since the start and has run the same popular "Open to the Public" event every year.
          • 9 holes $20 includes cart, range and tax!
          • 18 holes $35 includes cart, range and tax!
Scott McClain PGA of Canada Head Golf Professional says, "We will also have Golf Shop specials on merchandise and special drink and meal features for the ladies if they choose to dine at the View Restaurant - reservation recommended 250-341-3392 ext 2.
Lessons can also be arranged by appointment by calling Dennis Bradley at 250-341-3393 or by email This email address is being protected from spambots. You need JavaScript enabled to view it.
Call 1-877-418-4653 or 250-341-3392 ext 1 to book your golf times.
Invermere, BC • 250.341.3392 • This email address is being protected from spambots. You need JavaScript enabled to view it.
www.copperpointgolf.com
St. Eugene Golf Resort Casino
St. Eugene has a number of promotions for Women's Golf Day:
          • 20 - 40% off Women's Apparel May 31 - June 4!
          • Wear Red on June 1st and June 2nd for your name to get entered in a draw for a $50 Resort Gift Card
          • Special Ladies Day Prizing June 2, 2021
          •June 2nd from 1:00 pm - 5:00 pm Cindy will be available on the driving range if you need a pointer or two!
Also, while technically not on June 1st, St. Eugene is hosting a great women's only event. Says Cindy Soukoroff Head Golf Professional, "... Not directly related to Women's Golf Day but on July 14, 2021 we are hosting a Women's Only Qualifier for the RBC PGA Scramble to try to boost women's participation in the national event as well."
Toll free - 1.877.417.3133 • Direct - 1.250.420.2063
7725 Mission Rd, Cranbrook, V1C 7E5
www.steugene.ca
Fairmont Hot Springs GC
Event details to be confirmed later
5225 Fairmont Resort Road, Fairmont Hot Springs • 250-345-6346
This email address is being protected from spambots. You need JavaScript enabled to view it.
www.fairmonthotsprings.com
Radium Course at Radium Resort
Event details to be confirmed later
8100 Golf Course Road, Radium Hot Springs • 250-347-6266
This email address is being protected from spambots. You need JavaScript enabled to view it.
www.radiumgolf.ca
VANCOUVER ISLAND
Bear Mountain GC - Victoria
Bear Mountain is offering special green fee discounts for women on the Valley course, and all women who play on June 1st are entered to win a pair of diamond earrings.
Address: 1999 Country Club Way, Victoria, BC
V9B 6R3
pro shop phone: 250-744-2327
This email address is being protected from spambots. You need JavaScript enabled to view it.
www.bearmountain.ca
Storey Creek - Campbell River
Storey Creek is offering half price green fees for women on June 1st.

Address: 300 McGimpsey Rd,
Campbell River, BC
V9H 1K8
Email: This email address is being protected from spambots. You need JavaScript enabled to view it.
Phone: 250.923.3673
Eagelquest Nanaimo
11:30 am Lesson on driving range prior to 9-hole fun golf tournament, shotgun at 1pm. Phone pro-shop to sign up
1601 Thatcher Road, Nanaimo 8 250-754-1325
This email address is being protected from spambots. You need JavaScript enabled to view it.
www.eaglequestgolfNanaimo
Holding Member only events:
          • Gorge Vale GC
OKANAGAN-SHUSWAP
Kamloops Golf & Country Club
2 Hour Clinic, covering full swing, short-game shots and putting. 4pm-6pm.
Phone pro-shop to sign up
3125 Tranquille Road Kamloops • 250.376.8020
This email address is being protected from spambots. You need JavaScript enabled to view it.
www.kamloopsgolfclub.com
Eaglepoint Golf Resort
Says Eaglepoint Golf Resort ProShop Manager Elsa Poppleton, "June 1st just so happens to land on our ladies day at the club! Here is what we are doing on this day:
Bring a friend night. If a lady decides to participate in ladies day the Green fee for 18 holes is $45, $27 for 9 holes
The buy in is $8.00 which gets you into the Gross/Net Prizing, Skill Prizes, Door Prizes. We also have a putt pot (lowest # of putts wins the pot) and a deuce pot
All women's apparel is 15% off on June 1st as well
8888 Barnhartvale Rd, Kamloops, British Columbia • 250-573-5547
This email address is being protected from spambots. You need JavaScript enabled to view it.
www.eaglepointgolfresort.com
Tobiano Golf
June 1st is #womensgolfday and we are inviting all women to celebrate at Tobiano with $60 green fees on Monday, May 31st and Tuesday, June 1st
CREDIT @rhiannajl via Instagram / COURTESY @tobianogolf
LOWER MAINLAND
Eaglequest Coquitlam
Eaglequest Coquitlam is holding a 9-hole, shotgun Women's Golf Day Scramble at 11:00am June 2nd with a lot of action/activities:
Drink stations – Holes 2/9
Closest to the Pin – Holes #4 and #7 (In 1 shot)
Appy station – Hole #6
Beat the league director – Hole #8
Long putt challenge – putting green (Will run through the event as the "10th" hole)
1001 United Boulevard, New Westminster• 604-523-6400
This email address is being protected from spambots. You need JavaScript enabled to view it.
www.eaglequestgolf.com
Tsawwassen Springs
Marketing & Business Development Coordinator Jill Presley says," Tsawwassen Springs will be running a Women's Golf Day sale June 1-8, all women's apparel will be 25% off!"
100 -5133 Springs Boulevard | Delta BC | V4M 0A6 T: 604.948.1533
www.TsawwassenSprings.ca
Hope Golf Club
Says owner Bonnie Cianfagna, "To celebrate Women's Golf Day, we will have $20 green fees all day for the ladies, as well as a 3 person (ladies) scramble with a modified shotgun start, at 5:00pm for $15 per person."
Go to their website hopegolfclub.ca to see the poster and find out more.
Bonnie 604-206-2217
www.bps2golf.com
www.hopegolfclub.ca
Holding Member / Guest only events:
          • Quilchena Golf and Country Club - Details TBA
Contact Kim to sign up 604-277-1101 ext 226.
Holding Member only events:
          • Richmond Country Club