Maple Leaf Junior Golf Tour's Mini Tour Season Launches In Manitoba At Maplewood Golf Club
Details

Category: Inside Golf
Published: 2021-05-12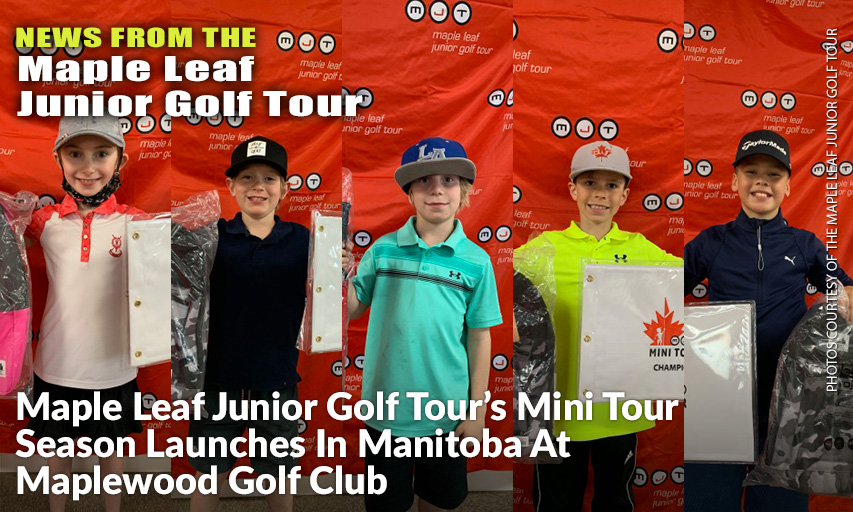 ST. PIERRE-JOLYLS, Manitoba — The Maple Leaf Junior Golf Tour (MJT), Canada's number-one played Junior Golf Tour, teed off its 2021 Manitoba Mini Tour circuit for boys and girls ages 7 to 12 on Saturday, May 1, with the MJT Mini Tour at Maplewood Golf Club. The first of three planned events for the province followed strict COVID-19 protocols in accordance with the province of Manitoba, and provided a fun, competitive experience for young golfers beginning tournament play.
10-year-old Hunter Oakden, of Brandon, MB, fired a score of 86 to grab the win in the MJT Boys 11-12 Division. Oakden, who made an early entry into the MJT Manitoba Junior Tour last year picked up his first MJT win with the return of the Mini Tour. "I made a 20-foot putt on 18 for par which was awesome and so much fun," commented Oakden after his round. "It feels great to get the win after a bad start and I had a lot of fun getting to know my group members."
The MJT Boys 9-10 Division saw 10-year-old Ryder St. Laurent of Ile Des Chenes, MB, record a score of 73 to claim his division title. St. Laurent made three birdies on the par-68 Maplewood Golf Club to go with multiple par streaks throughout his round. "It was awesome to win," commented St. Laurent. "The highlight was shooting my lowest ever score of 73."
Shooting a 91 in the MJT Boys 8U Division was Forrest Wiebe of Macgregor, MB. The eight-year-old aspiring young golfer commented, "Golfing in tournaments is just the best kind of golf." Wiebe, who last played back on the MJT Mini Tour in Manitoba in 2019, will be looking at a great season of development this year on the MJT.
Firing a score of 91 was eight-year-old Maisy Shewchuk, of Winnipeg, MB. Shewchuck, who has had experience playing on the MJT including competing in last year's MJT Mini Tour National Championship at Tsawwassen Springs in BC, has seen great strides in her game. "I had a great recovery on the 10th hole," commented Shewchuck, when asked about the highlight of her round at Maplewood.
Carding 102 in the MJT Girls 11-12 Division was Winnipeg's Jewel Lafleche, 11. "It feels great to play and be out golfing and meet new people," said Lafleche, embodying the mandate for the MJT to help develop champions in golf and in life. "It feels like I did well and I'm proud of myself for coming out."
All scores can be viewed on the MJT website here.  The next 12U event, the MJT Mini Tour at The Players Course in Winnipeg, will take place on June 6. More information on the event and registration details can be found online at www.maplejt.com.
---
About the MJT
The non-profit Maple Leaf Junior Golf Tour is Canada's number one-played Junior Golf Tour as well as the only national junior tour run exclusively by PGA of Canada Professionals and the 'Road to College Golf' in Canada. The organization is supported by valued Premier, Tournament and Product Partners. The MJT hosts close to 90 member functions across Canada, including free Ford Go Golf Junior Clinics, the MJT Mini Tour for 12U, and multi-day stops for players aged 11-19. The program has annual awards, scholarships and incentives to help reward performance and participation throughout each season. MJT alumni include many Professional Tour players and PGA of Canada Professionals, as well as Canadian Amateur, National and Provincial Junior Champions. The MJT aims to develop champions, in golf and in life, promoting the game from grassroots through to the provincial, national, university and professional levels.