With Heated Stalls On The Way, There'll Be No Need For Mitts & Parkas At Canada Golf Card Driving Range For Cold Weather Practice
Details

Category: Inside Golf
Published: 2021-03-25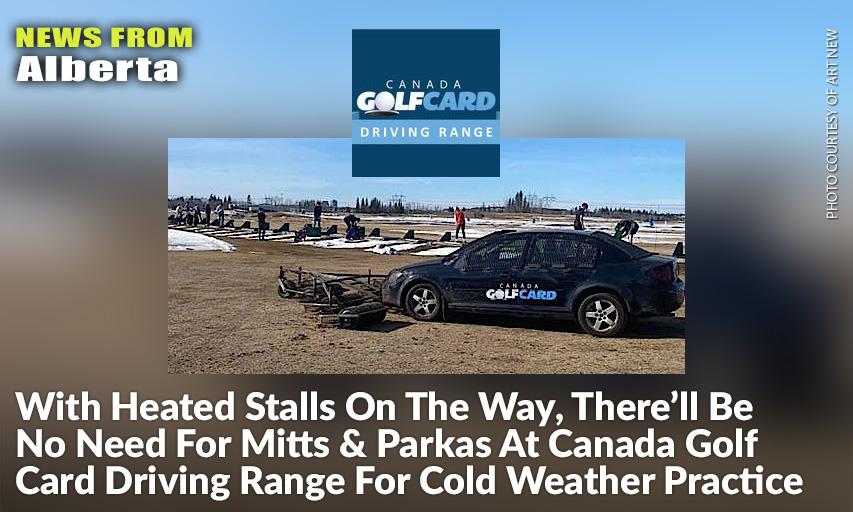 By GORD MONTGOMERY, Inside Golf
EDMONTON, Alberta —  A sure sign of spring in Edmonton is the opening of snow-dappled driving ranges, with housebound hackers out taking advantage of the chance to drive a few golf balls into orbit. The earliest range to open its landing area in the city this year, and yes, it did have snow on it, was the Canada Golf Card Driving Range.
Now under new ownership the site will offer a plethora of goodies for winter-weary, and pandemic-pooped golfers. Included in the list fresh out of the grocery bag are brand-new balls — around 30,000 of them — along with some big ideas for the future of this southwest Edmonton hangout.
The biggest item to come out of the shopping bag during a phone call with one of the nw owners, Art New, a member of the PGA of Alberta, was the fact the trio is looking at making this facility into a spot that runs longer than the usual golf season in this part of the province. In other words, they want to put a roof, and heaters, over and into some of the on-site stalls. That is something Edmonton golfers have never had the luxury of having — an outdoor spot to whack balls into the cold weather skies (or ground on the odd occasion), with a way to stay warm at the same time.
"We're discussing that and it's in our long range plans," New explained, about giving some of the hitting areas at the former Bogey Busters locale a facelift. "We're making a bunch of changes and putting some covered stalls in for rainy days, etcetera. Then we thought we'd like to try and put heat in some. We have 60 stalls on the property so we're certainly not looking at heating all of them, but we'd like to do ten. It wouldn't be that extravagant by any means, but if we can have the heat and scrape off some snow and stay open for ten months, that's the plan. It's not firm yet, but it's on our radar."
The range opened on March 5 this year, which in this part of the country is an uncommon event. Right off the hop the owners decided to bring in new missiles for swingers to send into orbit, something that was badly needed. "The previous ones were getting a little tired. They'd had a lot of shots!" quipped New.
There are also plans to fix the hitting mats presently in place as well as make use of the grass deck that is available for those who prefer that feel. Another addition to the layout will be a miniature golf course — the kind with clown noses and windmills — as opposed to the putting courses that came into vogue a while back. This will be an attraction for the kids to stay busy  while dad, or mom, work out the kinks in their game. "We'll landscape that and get it set up in May," New continued. "What we think is, we're the only outdoor mini-golf course in Edmonton now!"
The range will also offer a variety of lessons this coming spring and summer, including singles and groups as well as for juniors with certified PGA of Alberta instructors.
Getting back to the heated stalls concept, and the hoped-for demand where sometimes the temps in the summer can feel like a November day, New reported Mother Nature is going to have a lot to do with their open-for-business timeline.
"This will all be weather-based," he replied. "If it's that cool I don't think anybody's going to be hitting any balls …. I know I certainly wouldn't be! But it all depends on how warm we can get these bubbles, that's what it boils down to. If it's minus-30, I don't think we even operate. But if it's minus-10 and no wind …. " then the feeling is the links-crazed line-ups will most certainly be there.
While the heated stall idea is in the future, and one that Edmonton's golf-crazy population is likely to love, for now the Golf Canada Driving Range will go about business as usual in the warmer months. After all, golf season is essentially here, and since it's early this year, all the better for the new owners of a driving range that's looking at changing the face of outdoor practice in the capital city.
For more on the Golf Canada Driving Range, go to their website at www.canadagolfcard.com. They are located at 13510 Ellerslie Rd SW in Edmonton and their phone number is 780-414-0017.