Alberta's Virtual Golf Shows Morph Into Digital Marketplace
Details

Category: Inside Golf
Published: 2021-03-02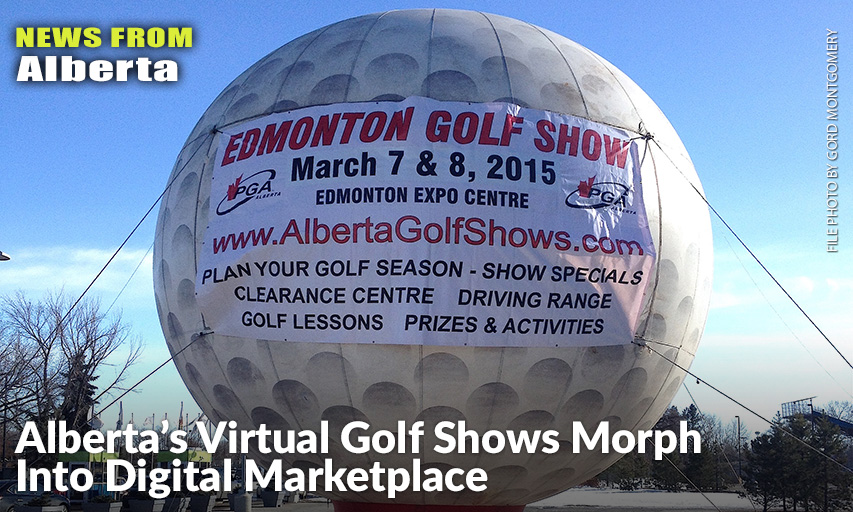 By GORD MONTGOMERY, Inside Golf
CALGARY, Alberta — Like top-rate golfers do with their swings, the PGA of Alberta is able to fix, or change, mechanics when something goes awry with a digital platform. As such, they're stepping away from a golf show that is virtual to an idea that encompasses all of their member clubs.
For the upcoming golf season, the PGA of Alberta has abandoned the idea of its two virtual golf shows out of Calgary and Edmonton deciding instead to go with an digital marketplace to help highlight the offerings of member clubs throughout the province. Speaking to the switch in ideas, Ashley Van Kroonenburg noted this wasn't a spur of the moment decision on anyone's part.
"We're actually changing the whole platform," she began. "We're going to be doing an online marketplace for anyone that has a golf course in Alberta that's a PGA member. It will be a directory for private clubs, public clubs," and any special promotions courses may be offering the public, all available through one online hub, or a virtual Yelp if you will.
The change comes about due to a lack of interest in the online golf show idea, which had become the number one way of reaching the golfing public in these pandemic times. But, Van Kroonenburg noted, the local PGA head office had re-ceived feedback from their members that maybe that wasn't such a good idea after all. While eyes did get to those online pages, it seems perhaps the cost of doing business that way wasn't seeing a good return on investment. So, the head office came up with something different, and they hope, more appealing to their members.
"It changed because we're finding golf courses are really busy right now. They don't have much of a budget so we wanted to offer something that was free. This isn't going to cost the golf courses anything. It's going to be free advertising for them. It's something to offer the community and the PGA pros, something different. As a community we like to be different than everybody else and we were finding the virtual (golf show) option just wasn't the right avenue to go down."
Continued Van Kroonenburg, "We actually had a ton of feedback from courses that had signed up for the B.C. Golf Show last year and they just weren't seeing the value in it and they don't know if they're going to see the foot traffic through their site. We just didn't want to go down that avenue where the unknown was so much. We didn't want to charge people for something that we weren't sure was going to be successful, so that's why the change."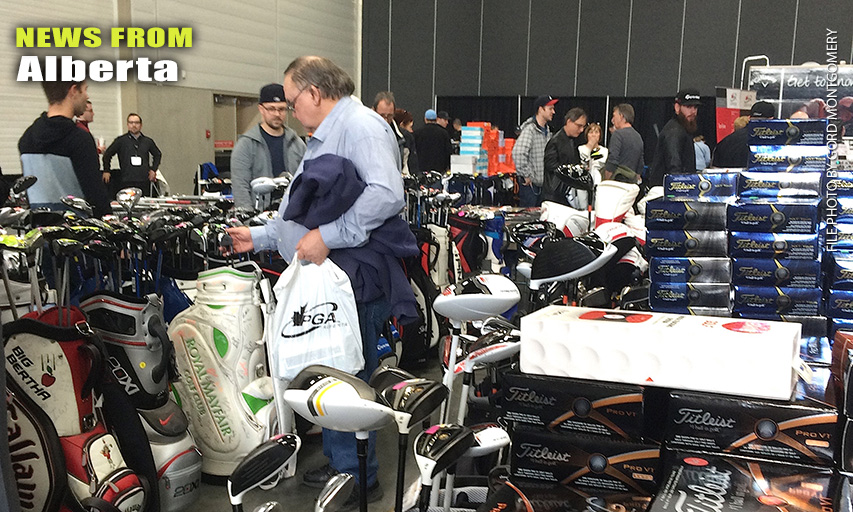 Eager Golf Gear Shoppers Won't Be Able To Find Any Good Deals Personally This Year As The PGA Of Alberta Golf Shows Have Once Again Been Cancelled, But They Can Still Hunt Up A Good Deal Or Two From Every Course In Alberta With A PGA Pro On Staff Through The Newly Launched Digital Marketplace.
The largest advantage to this new idea is that the consumer who goes to this new site is going to come away with far more than members would ever get from a golf show, be it live or online. You see, every course in Alberta that belongs to the PGA is going to receive a tee time in which they can highlight their offerings to the public. That means not only Albertans can see what's on tap throughout the province but also anyone from anywhere who comes across the site. Through this means a course's website can be found, and through that they can explain and promote any league play, junior golf activities; the abilities of their teaching pros through a lessons section; and outline any special offerings they have on the books as well as any pro shop deals that may be running.
"People can now have access to all courses in Alberta, which has never been done before," off a single site, Van Kroonenburg pointed out. "It's going to be a directory hub, like a Yellow Pages, for all golf courses in Alberta that have a PGA pro."
In all, this new idea will be home to over 500 golf courses, as well as Golf Town locations because they have teaching pros who belong to the PGA of Alberta. That means golfers, and there was definitely an influx of those in 2020, can now find new places to test their skills they may not have been aware of in the past.
So while this new marketplace idea hopefully satisfies the wants and needs of not only golf pros but the golfing public as well, it doesn't necessarily mean that the actual physical golf shows won't ever return to Calgary and Edmonton. In fact, that's the hope of most in the industry once the pandemic is brought under control and people can once again gather together to celebrate the game.
"I definitely see that," Van Kroonenburg said in closing. "I am also a golf profes-sional and I really feel that with golf growing hugely right now. It's sad to say, but COVID actually helped the golf industry to blow it back up. I really do think people are going to be craving (the physical golf shows) …. and that they are going to be a huge thing for us. Maybe not in 2022 because I don't know what the future looks like, but I do think they'll come back and be bigger, and better, than ever."
For more on the new digital marketplace, please visit their site at pgaofabmarketplace.expofp.com when it launches on March 15th.