Expert Insights At The 2021 PGA of BC Spring Education Seminar
Details

Category: Inside Golf
Published: 2021-02-17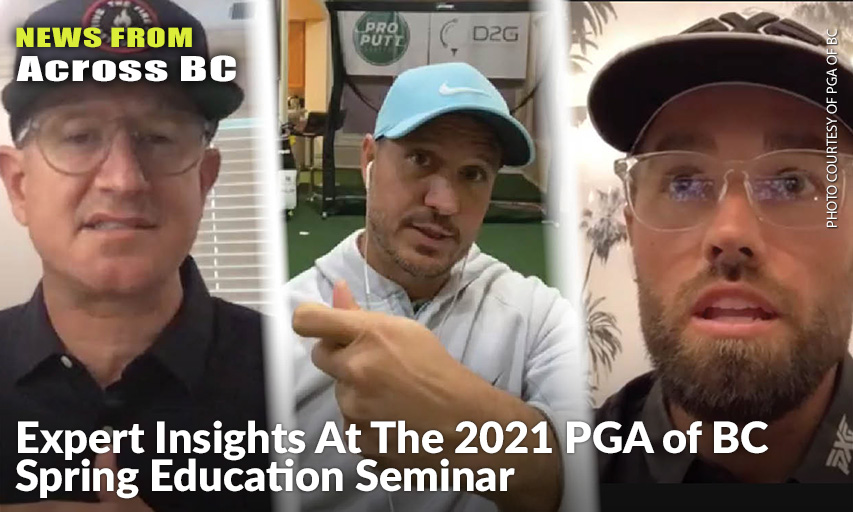 RICHMOND, British Columbia — More than 170 PGA of BC Professionals and guests heard from some of golf's top minds in coaching, instruction, club management and much more during the Association's 2021 Spring Education Seminar, which came to a close Tuesday afternoon.
The two-day event, which serves as the PGA of BC's signature professional-development gathering, remained a tremendous forum to glean knowledge from a range of industry experts despite moving to a virtual format for the first time this year.
Monday's program kicked off with renowned coach Chris Como, who joined live from his Living Room Lab in Dallas to answer pre-submitted questions from PGA of BC members, sharing his insights on working with elite competitors like Tiger Woods and Bryson DeChambeau, as well as his coaching philosophies as a whole.
That was followed by an impassioned presentation from golf-media personality Matt Ginella, who detailed some of the best golf experiences he's seen in his travels and the unique opportunity golf has to capitalize on a new "tsunami of interest" in the sport.
Monday afternoon featured acclaimed golf statistician Lou Stagner, who shared tour-level figures on short-side misses, putting make-rates and more, and how his data-based approach helps players find areas to improve.
Monday's final session came courtesy of Lance Gill and Jason Baile, who detailed their transformational coaching method in working with athletes from a fitness perspective.
Tuesday's lineup commenced with PGA of Canada Professional Alex Riggs, who joined the audience live from his home base in Dubai to discuss how he's become one of the most in-demand online coaches in the midst of a pandemic.
Following a break to allow attendees an opportunity to participate in this week's PGA of Canada Tee Talks Live Digital Series session, Tuesday's program resumed with Henry DeLozier of GGA Partners. His insights on emerging trends for PGA Professionals and the importance of working to retain golfers during our current surge were valuable messages for all.
Closing out the event was world-class coach Terry Rowles, who shared his extensive research measuring the grip and ground reaction forces and his work testing and applying those concepts with top-level competitors.
The PGA of BC would like to thank all of this week's featured presenters, attendees and members of the Association's Education Committee for facilitating all sessions and helping to assemble this year's speaker lineup.