Speakers Announced For The 2021 PGA of BC Spring Education Seminar
Details

Category: Inside Golf
Published: 2021-01-20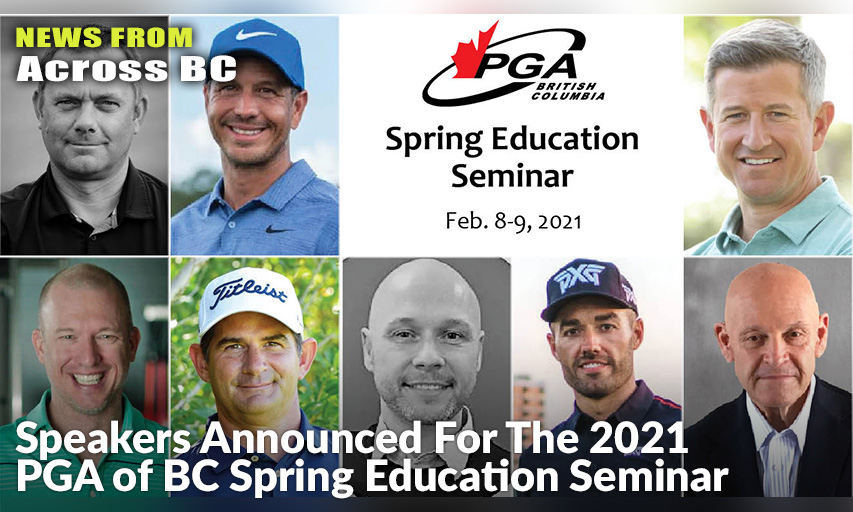 RICHMOND, British Columbia — The PGA of BC is pleased to announce the lineup of featured speakers to appear at the Association's 2021 Spring Education Seminar, which will be conducted virtually on Feb. 8-9.
Though public-health circumstances unfortunately will not allow for the PGA of BC's signature professional-development event to be held in its traditional form, the virtual format will ensure this year's content is shared in a safe forum and provide more convenient access to those based outside the Lower Mainland. Based upon the tremendous early response to the Association's virtual 2021 Education Series presented by Foresight Sports Canada, we anticipate that the Spring Education Seminar will be an excellent and well-attended event.
Thanks to the efforts of the PGA of BC Education Committee, the seminar will once again feature a variety of subject matter relevant to all members, delivered by some of the leading minds and experts in our sport.
The seven presentations comprising this year's seminar will cover topics that include golf instruction, club management, enhancing facilities' offerings for patrons, statistical analysis, online coaching and more.
The Day 1 schedule will include presentations from golf-media personality Matt Ginella, Dubai-based PGA of Canada Professional Alex Riggs, renowned golf statistician Lou Stagner, and a session conducted jointly by TPI Fitness Advisory Board co-director Lance Gill and Jason Baile, Director of Instruction at Florida's Jupiter Hills Club.
Acclaimed coaches Terry Rowles and Chris Como will share their expertise with members as part of the Day 2 schedule, which will also feature a talk delivered by Henry DeLozier, a principal with GGA Partners. In a unique opportunity for members, Como will be answering pre-submitted questions from PGA of BC Professionals, while Rowles will close the event with a two-hour session.
The seminar itinerary has also been designed to accommodate those wishing to participate in the PGA of Canada Tee Talks Digital Series session that will be held Feb. 9.
The event schedule is as follows (all times PT):
Monday, Feb. 8
9:00 a.m. – Opening Remarks – Donald Miyazaki; Executive Director, PGA of BC
9:15 a.m. – Alex Riggs, PGA of Canada
10:30 a.m. – Matt Ginella; Dawn Patrol Productions
Break
1:00 p.m. – Lou Stagner, DECADE Golf
2:15 p.m. – Lance Gill; LG Performance & Jason Baile, PGA; DOI at Jupiter Hills Club (Fla.)
4:00 p.m. – PGA of BC Annual General Meeting
Tuesday, Feb. 9
9:30 a.m. – Chris Como; DOI, Dallas National Golf Club
11:00 a.m. – PGA of Canada Tee Talks Digital Session / Break
12:30 p.m. – Henry DeLozier; Principal, GGA Partners
1:45 p.m. – Terry Rowles; Mountain Ridge Country Club (N.J.)
**Schedule subject to change
Registration is open now and is priced at $99 (plus GST) for PGA of BC members. Non-members are welcome to register for $149 (plus GST) and with the reference of a Class "A" member.
CLICK HERE to access the event page and view synopses for each presentation, more information about each presenter, registration links and more. Members can also submit questions for Como's consideration on the event page.
Please note that registration will close at 4 p.m. PT on Friday, Feb. 5. Registered attendees will receive details on how to access the virtual seminar via email closer to the event dates. Members are advised that seminar content will only be available during the live sessions and not made available for later viewing.
The Spring Education Seminar will once again provide an excellent opportunity for members to earn points toward the 2021 Professional Development Program (PDP) Order of Merit presented by Sunice & Bobby Jones. Participants in last year's seminar included 86 members who were named to the PGA of BC's Top 100 Golf Professionals of 2020.