Golf Canada & PGA of Canada Name Inaugural Participants Of Women In Coaching Program
Details

Category: Inside Golf
Published: 2021-01-16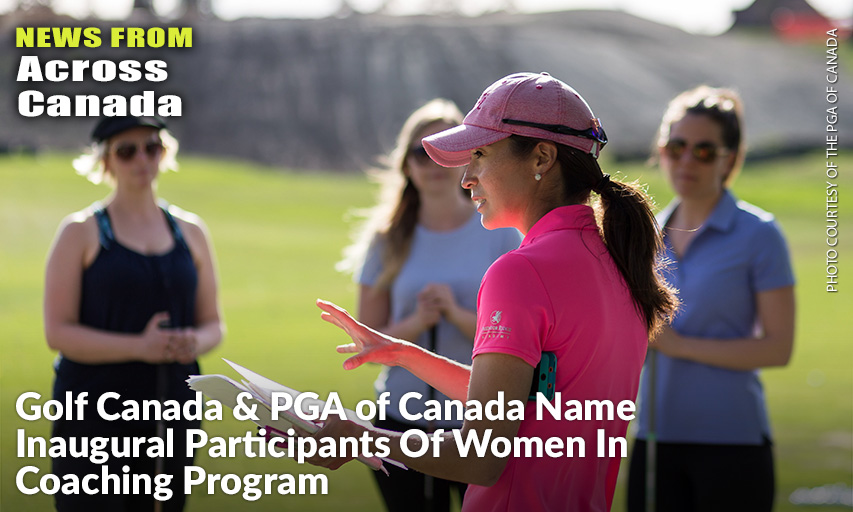 Together with the PGA of Canada, Golf Canada is excited to announce the nine individuals named as inaugural participants in the 2021 Women in Coaching program.
Each participant receives in-depth career development support that is focused on four main areas: sports science and coaching education, hands-on training experiences with coaches and top players, project work and individualized learning plans. Recipients are awarded a $2,500 bursary to help offset costs for the hands-on training portion of the program.
Due to the volume of qualified applicants, Golf Canada and the PGA of Canada are considering ways to extend career development support to a broader pool of aspiring female coaches. Increasing the number of female mentors and role models is a priority for the growth of golf in Canada.
"The Women in Coaching program presents an opportunity for some of Canada's most-accomplished female leaders to further their career developments together," said Jennifer Greggain, coach of Team Canada's Junior Squads. "The strong collection of coaches will drive the initiative forward through knowledge and experience sharing on the way to building a foundation for the future."
Areas of focus include leadership, networking, building experience, Safe Sport, developing coach philosophy, and expanding technical knowledge. A diverse lineup of speakers and educators will assist in content delivery.
"The overarching goal with the Women in Coaching program is to help administrators to further understand barriers and identify solutions for women entering the field," said Emily Phoenix, manager of high performance with Golf Canada. "There remains much work to do, but this signals progress in achieving equitable representation of women in the Canadian golf coaching community."
The following are selected as participants in the 2021 Women in Coaching program:
Casey Ward, Credit Valley Golf & Country Club, Ontario
Emma DeGroot, Hamilton Golf & Country Club, Ontario
Bri-ann Tokariwski, Elmhurst Golf & Country Club/Golf Manitoba, Manitoba
Dawn Turner, Grey Hawk Golf Club/University of Ottawa, Ontario
Kyla Inaba, Predator Ridge Resort, B.C.
Michelle McCann, Uplands Golf Club, B.C.
Elizabeth Asselin, Royal Québec Golf Club, Québec
Sarah Landry, University of Montreal, Québec
Carla Munch, Cambridge Golf Club/University of Waterloo, Ontario
Announced in August, the Women in Coaching Program is a new initiative that strives to reach a stronger balance between sexes of high-performance coaches. The program received financial support for launch through Sport Canada's Safe Sport and Gender Equity Fund and the R&A's Women in Golf charter.