2021 BC Golf Education Summit: Elevate To The Next Level
Details

Category: Inside Golf
Published: 2021-01-16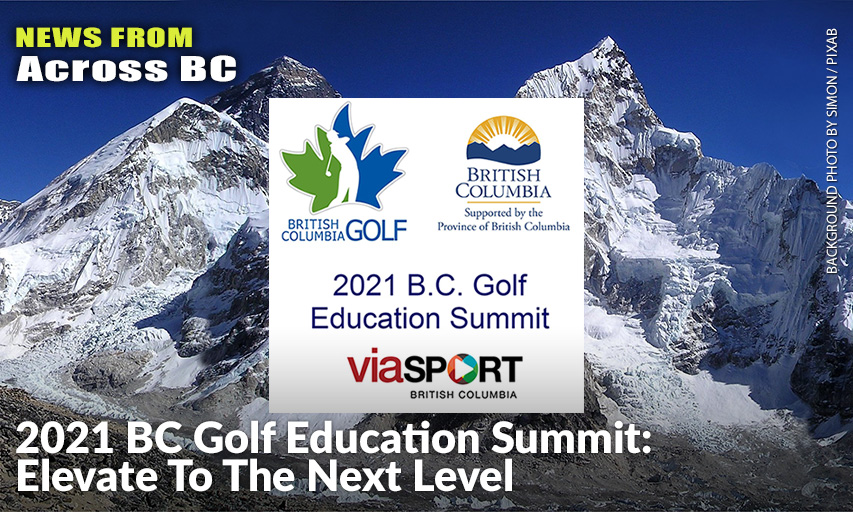 You are invited to join a webinar: The 2021 BC Golf Education Summit – "Elevate to the Next Level." After registering, you will receive a confirmation email about joining the webinar.
The 2021 Summit will bring together leaders in golf development to discuss the pillars of performance along the competitive pathway, centered around this year's theme of "Elevate to the Next Level."
The 2021 BC Golf Education Summit is an amazing opportunity for competitive players of all ages and abilities to come together to learn from some of the most knowledgeable people in Canada on how to succeed along the path to becoming the best possible golfer you can be.
Although some of the material will be targeted more towards those of junior age, anyone can benefit from these excellent presenters and topics.
All Webinars are free and start at 7:00 p.m. PST
Dates
February 3rd – Ideal Performance State, Four Pillars of Performance – Kim Senecal
February 9th – Planning for Performance - Take it to the next level  – Matt Cella and Colin Lavers
February 17th – Measuring your Skill Level – Jason Giesbrecht, John Randle and Laird White
February 24th – High Performance Expectations – Jennifer Greggain (Team Canada)
March 3rd – The Path to Greatness – Panel discussion including pre-recorded sessions with Adam Hadwin and Nick Taylor
Click on the link below to register
(By registering, I agree to the Privacy Statement and Terms of Service)
---
Presenter Bios:
Colin Lavers – Head Performance Coach & 2020 PGA of BC Coach of The Year
Originally from Alberta, Colin Lavers brings a wealth of experience having played and coached locally, provincially, nationally and internationally. A Class 'A' Professional with the PGA of Canada, Colin is currently the Head Performance Coach for British Columbia Golf. He also has his own academy, Elevate Golf Performance, that he coaches out of Seymour Golf & Country Club where he has been working for the past 13 years. Finally, Lavers also helps with Simon Fraser University as an Assistant Coach. Colin has received several awards for his work over the years, including the 2020 PGA of BC Coach of the Year, 2012 PGA of BC Apprentice Professional of the Year and the 2013 Lower Mainland Junior Leader of the Year. Lavers is one of very few golf professionals in Canada who is trained in both Coach New Competitors and Coach Developing Competitors, finishing his CNC Certification in 2013.
Matt Cella - Team BC Assistant Performance Coach
PGA of Canada Class A Professional
Coaching Developing Competitors Certified
TPI Junior Level 2 Certified
Simon Fraser University Assistant Coach
As a Provincial Coach with British Columbia Golf for the past 6 years, Matt has led the Girls Team to a win in the North Pacific Team Matches in back-to-back years, coached the 2016 Boys Team to take 2nd place at the Canadian Junior Championships and coached Team BC to team Silver medals at the 2017 Canada Summer Games. In his private coaching, Matt works with numerous high-level players including Provincial Champions and Tour Players. As part of the coaching team at Simon Fraser University, Matt has helped both the Men's and Women's Team gain their highest ever NCAA rankings. Matt incorporates a holistic approach to his coaching, understanding that everyone is different in how they learn and absorb information. He looks at all factors that can influence performance and uses his friendly, compassionate nature to get the best out of players.
Jennifer Greggain - Golf Canada National Coach, Junior Teams
PGA of Canada Coaching Developing Competitors Trained (CDC)
PGA of Canada Coaching New Competitors Certified (CNC)
K-Vest and Flight Scope Certified
University of Washington Bachelor's of Science and Engineering in Technical Communication
University of British Columbia Diploma in High Performance Coaching and Technical Leadership
Jennifer's career includes competitive play at the highest levels of amateur and professional golf, making her playing experience one of the most accomplished in Canada. She earned a scholarship at the University of Washington, where she then pursued over ten years of tour experience, including two years on the LPGA Tour. Jennifer served as Director of Instruction at the Chilliwack Golf Academy for 10 years, coached the University of the Fraser Valley golf team for 6 years, and has been a British Columbia provincial coach for 5 years. Jennifer is currently a full-time coach of Golf Canada's National Junior Teams at Bear Mountain, and she is also currently pursuing her Masters of High Performance Coaching and Technical Leadership at the University of British Columbia.
Kim Senecal - Owner @Dacata Performance Group 
Kim Senecal is a Certified Professional Co-Active Coach who's been helping teams and individuals achieve greatness for more than 20 years. Kim holds a Master's of Arts Degree in Physical Education with an emphasis in Sport Psychology and has passionately applied this knowledge in his work with entrepreneurs, businesses, and athletes to help them reach their full potential. 
Kim can be found here: https://dacataperformancegroup.com/our-team-kim-senecal-and-bradford-walterhouse/
Jason Giesbrecht - Head Teaching Professional
Jason is a 27-year PGA of Canada Professional with a wealth of expertise and a passion for helping golfers reach their goals. Jason has a great track record of building development programs and fostering learning environments which help bring the best out in golfers. His belief that a measurement is better than a guess made him an early adopter of diagnostic technology including launch monitors, 3D motion capture, video analysis and ground reaction forces. Jason has been recognized many times, most recently for a national award in 2018 for Professional Development. Jason's passion for people and this great game are on full display in all he does.
Phone: 250.812.0059
Email: This email address is being protected from spambots. You need JavaScript enabled to view it.
John Randle - Lead Golf Coach
John has been engrossed in golf his entire life. He played collegiately at the University of Washington and then professionally on tour for 8 years prior to dedicating his energy and passion for golf as a coach.John, a 3- time and this year's PGA of BC Teacher of the Year, has succeeded in large part due to his commitment to constant learning and by growing his knowledge of skill development. His ability to effectively communicate in simple, understandable, and effective ways with his students has led to his ever-growing reputation as one of Canada's most respected and sought-after educators.
Phone: 778.679.7888
Email: This email address is being protected from spambots. You need JavaScript enabled to view it.
Laird White - Performance Specialist
Laird, well known in Eastern Canada for his successes, lives in a world of coaching and club fitting excellence. He is one of the foremost equipment fitting experts on the planet. Much of his time is spent globetrotting on the PGA Tour, helping the game's best players find the needed edge for their games. While much of his day to day is with the world's best players, his heart is with the weekend golfer who is striving to break a personal milestone. Laird is an innovator and an industry leader in the gamification of practice. His unique perspective blends his knowledge of both how to deliver a club on a ball, but more importantly, how to transfer skills to a golf course environment.
Phone: 250.881.4448
Email: This email address is being protected from spambots. You need JavaScript enabled to view it.