PGA of BC Releases 2021 Education Series Schedule
Details

Category: Inside Golf
Published: 2020-12-21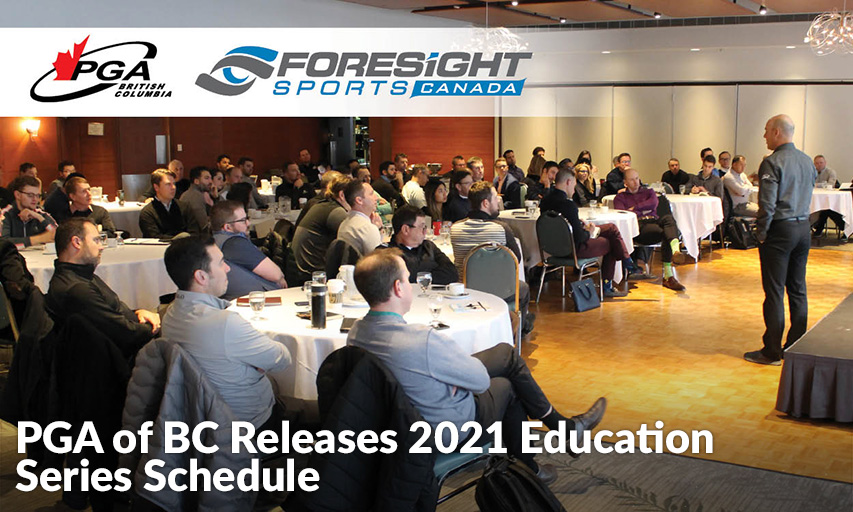 RICHMOND, British Columbia — The PGA of BC is pleased to announce the schedule and lineup of featured speakers for the Association's 2021 Education Series presented by Foresight Sports Canada.
Due to continued concerns surrounding public health, the entirety of the 2021 Education Series will be conducted virtually. Though we wish it were possible to safely gather at this time, moving the programming to a fully digital setting will afford members across the province the convenience of participating in Education Series sessions from their workplace or home. The format will also allow members to have greater flexibility in attending the workshops most relevant to their career goals.
Rather than a collection of regional events as in past years, the Education Series will be presented as a run of 10 individual professional-development sessions taking place online from January through March. Many presenters featured throughout the series will be PGA of BC Professionals and other esteemed individuals within the PGA of Canada and Canadian golf community. The Association's Preferred Partners at Dale Carnegie Training of British Columbia will also lead two sessions of the 2021 series.
The schedule for the Education Series will be as follows (all times PT, schedule subject to change):
Tuesday, Jan. 12 at 10 a.m. – Nick Starchuk, PGA of Canada
"Putting Performance for the Club Pro: A new business plan waiting on your practice green"
Tuesday, Jan. 19 at 10 a.m. – Panel discussion: Bill Kelly, Steve Haggard & Drew Scollon; moderated by Greg Pool
"New Challenges, New Solutions: Safe Operations amid a Health Crisis"
Thursday, Jan. 21 at 1 p.m. – Erin MacAngus-Marshall, Dale Carnegie Training of BC
"Communicating with Different Personality Styles"
Thursday, Feb. 4 at 1 p.m. – Clay Stothers
"Swing Sequence, Applied Pressure & Matchups"
Thursday, Feb. 18 at 1 p.m. – Panel discussion: Gail Graham, Tiffany Gordon, Judy Forshner; moderated by Cindy Soukoroff
"Industry Empowerment: Experiences & Impacts for Women Working in Golf"
Tuesday, Feb. 23 at 10 a.m. – Jeff Palmer
"Values-based Approaches to Leadership"
Thursday, March 4 at 1 p.m. – John Randle
"Understanding and Working with a Player's Squaring Mechanism"
Tuesday, March 9 at 10 a.m. – Erin MacAngus-Marshall, Dale Carnegie Training of BC
"Recognizing Leadership Blind Spots"
Tuesday, March 16 at 10 a.m. – Casey Johnson, PGA of Canada
"Looper Lessons: An LPGA Tour Caddie's advice for Club Professionals"
Thursday, March 25 at 1 p.m. – Jason Giesbrecht
"Teaching with Technology"
Click on any workshop heading for more information on each individual session or view them from the PGA of BC's Schedule of Events page.
Registration is now open for all sessions comprising the Education Series. Member registration for individual sessions will be priced at $10 (plus GST) each. However, PGA of BC members in good standing will have the option to purchase a Series Pass, granting access to all 10 sessions, for $70 (plus GST).
Non-members are welcome to attend any workshop of the series, with a reference from a Class "A" Professional, for $20 (plus GST).
Members will receive two (2) PDP points for each live session they attend in full. Those unable to attend live workshops will have an opportunity to access replays via the Education Series Archive.
Please note that registration for each individual session will close at noon the day prior to the workshop taking place. Those whose registrations are confirmed will receive information on how to join the virtual workshops via email at the address listed during registration. These instructions will be delivered the afternoon prior to the scheduled session.
We look forward to having you join us for these informative workshops in the months ahead. The administration team also looks forward to revealing the lineup in the near future for the 2021 Spring Education Seminar, which will be held virtually on Feb. 8-9.