Jack Nicklaus Opened The Masters With Tee Shot For 'Play Yellow' Children's Charity
Details

Category: Inside Golf
Published: 2020-11-14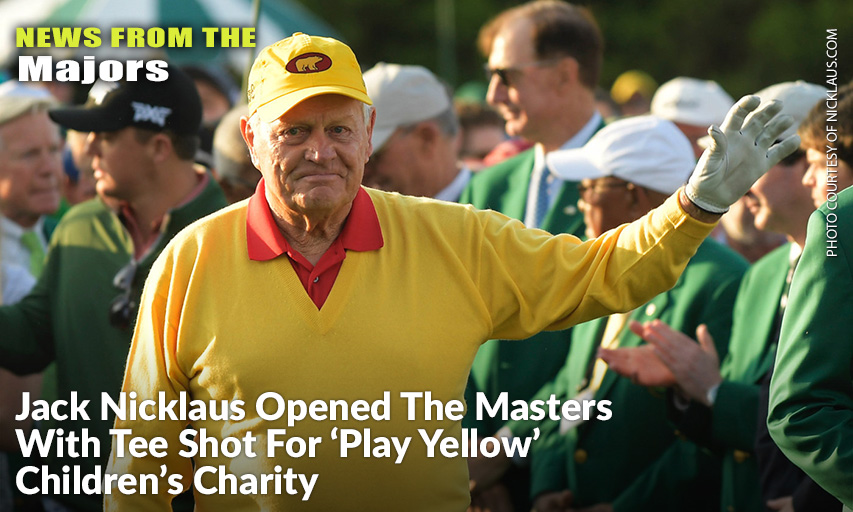 NEW YORK, New York — Although the Masters is in November for the first time in its history, one familiar and welcome sight will unfold when Jack Nicklaus hits the ceremonial tee shot to open the tournament Thursday morning. When he does, the Golden Bear will wear a Play Yellow hat and a limited-edition yellow glove designed specifically for the occasion by the GOLF.com and ASHER Golf teams.
After hitting the ceremonial tee shot, Jack will sign his hat and glove, which will be auctioned by the Children's Miracle Network to support the $100 million Play Yellow campaign. The auction will go live Thursday morning on eBay with a starting bid of $500. Led by Jack and his wife Barbara, as well as the PGA Tour and Children's Miracle Network Hospitals, "Play Yellow for Children's Hospitals" strives to bring the entire golf world together in helping the 10 million kids treated at local children's hospitals each year. The winning bid will be donated to the donor's local children's hospital. 
The glove is sold as part of a limited-edition collection box of three gloves that were designed by the GOLF.com and ASHER Golf teams. The boxes retail for $75 in the GOLF.com Pro Shop and they're part of the newly-released 2020 Nicklaus Collection, which is GOLF.com's first exclusive, limited drop of merchandise. In addition to the auction of Jack's autographed hat and glove, GOLF.com will donate 10 percent of every set of gloves sold via the Pro Shop to Play Yellow.
"This year's Masters may seem different in many ways, but one constant that remains is Jack Nicklaus' commitment to incorporating charity into his Masters traditions," said Jason Adel, CEO of GOLF.com. "We are proud to help Jack and his wife Barbara support Play Yellow through GOLF.com's 2020 Nicklaus Collection." 
A Collection Unlike Any Other
The limited-edition 2020 Nicklaus Collection offers consumers a vivid emphasis on the classic Golden Bear style, with an eye-catching array of hats, gloves and accessories. And for the first time, consumers are able to buy Jack's famous bear in colors beyond classic gold: The exclusive GOLF.com collection features green, teal, pink and other-colored bears among the 20 different AHEAD hats that range in styles from dad caps to rope hats to bucket hats. The collection of headwear features a variety of logos including the classic yellow bear, Jack's signature, a vintage patch, and more.  
The 2020 Nicklaus Collection also features a custom-designed Jones Golf shoe bag with a bold new logo—Jack's signature embroidered over the number he's most synonymous with, 18, commemorating his record-setting major championship wins. Rounding out the collection is a newly-designed Faribault Mills blanket that celebrates Jack's incredible 1986 Masters win at the age of 46.
These limited designs are so popular that some, such as the distinctive Golden Bear bucket hat, sold out within 24 hours of appearing on GOLF.com. And 75 percent of the collection sold out within two days.
"The 2020 Nicklaus Collection weaves Jack's timeless appeal with a fresh look and modern twist," said Ashley Mayo, Head of Brand at 8AM Golf. "This year's Masters represents a new experience for all of us, making it an ideal time for GOLF.com to make its foray into offering only-sold-here, limited-edition designs."
---
About GOLF Magazine and GOLF.com
Celebrating its 60th anniversary in 2019, GOLF – including GOLF Magazine, GOLF.com, and associated digital, video and social media platforms – is the premier media brand for all-things golf. GOLF Magazine reaches an audience of 4.2 million people, while more than 6 million people engage monthly with the brand across our GOLF.com and GOLF social channels. GOLF's celebrated franchise includes the GOLF Top 100 Courses (including World and U.S. editions); GOLF's Top 100 Courses You Can Play; GOLF's Top 100 Teachers in America; the GOLF Fix Finder app; and GOLF Films productions. With innovative content covering equipment, instruction, travel and lifestyle, GOLF is the definitive voice of the sport on and off the course, dedicated to enhancing every golfer's enjoyment of the game.
About 8AM Golf
GOLF Magazine and GOLF.com are part of the 8AM Golf family. 8AM Golf was created by golf entrepreneur and GOLF publisher Howard Milstein as the holding company that oversees his golf companies—all of which are dedicated to helping golfers at every level enjoy the game more. In addition to GOLF and GOLF.com, other 8AM Golf companies include the Nicklaus Companies (in partnership with Jack Nicklaus); legendary club maker Miura Golf; True Spec Golf, a brand-agnostic club-fitting company that has fit more than 30,000 golfers worldwide; GolfLogix, the most-downloaded GPS app in golf; Club Conex, a global leader in the design and manufacturing of adjustable golf club adapter systems; and Chirp, a free-to-play gaming app that let's golfers wager on the outcome of pro golf tournaments, rounds, and shots.