Club Champion Offers Rare Fitting Discount For A Limited Time
Details

Category: Inside Golf
Published: 2020-11-06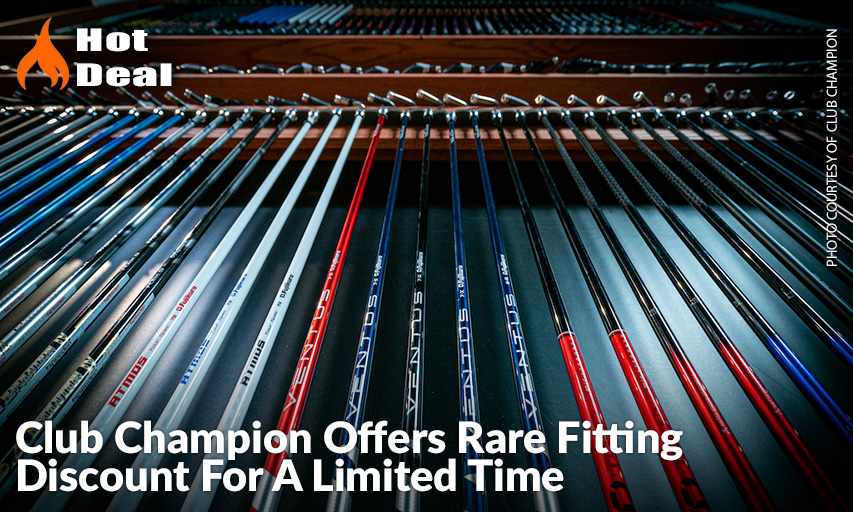 Don't forget to treat yourself this season! Club Champion is offering an incredible deal on their Tour-level fittings — 50% off all fitting types with a $500 equipment purchase. This winter special is active nationwide from November 1, 2020 – January 31, 2021.
"We have everything a golfer needs to gain distance and lower scores. We're sort of like a candy store for golfers," said Nick Sherburne, Club Champion's founder. "From the moment you book an appointment, you're immersed in this unparalleled experience that allows you a peek into a professional golfer's life, with every club imaginable at your fingertips."
In a departure from tradition, this 50% off promotion applies to all seven of Club Champion's fitting types. Those seeking out a putter fitting are only required to purchase a new putter (no price minimum) for the 50% fitting discount to apply.
Club Champion's unique approach is brand agnostic; they focus on the golfer and not the manufacturer. This tactic allows them to give each customer a unique and informative experience that renders real results on the course. Speaking of results, a Golf Digest study found that eight out of nine Club Champion custom-fit golfers lowered their scores by as much as six strokes per round and added an average of 21 yards off the tee. A custom fitting at one of Club Champion's 74 locations is the perfect way to prep for the coming golf season.
Club fittings aren't a new concept, but offering a professional experience for amateur golfers is a relatively recent upgrade to an outdated practice. Golfers have always been able to visit local pros or retailers who have one or two fitting carts provided by club manufacturers; with this approach, golfers are unable to mix and match across brands to determine their ideal combinations. True customization just isn't possible outside of custom fittings, which is where Club Champion comes in.
Using cutting-edge technology, Club Champion master fitters are able to analyze a golfer's swing and match them to clubs that maximize their strengths. With over 45,000 hittable head and shaft combinations to choose from, there's something for everyone. This game-changing experience will give any golfer — regardless of skill or experience — insight into their own swing mechanics and enhance their experience on the course.
"There's no better time to upgrade your golf game," said Sherburne. "Our fittings are the best gift you can give yourself if you want to truly lower your scores."
Promotional fitting costs:
Fairway/Hybrid Fitting — $50
For more information about custom club fitting or to book an appointment, please visit clubchampiongolf.com.
---
About Club Champion
Established in 2010, Club Champion is the #1 golf club fitting, building, and retailer in the country and is headquartered in Willowbrook, IL. There are currently 74 fitting studios in major markets across the country with further expansion planned. The studios offer all top golf club, shaft and grip manufacturers in the industry, which are used to build trial clubs in real-time. Each studio is equipped with advanced analysis technology, along with highly trained fitters and builders who must complete an extensive training program before they become certified. Club Champion services include club fitting, retail golf club sales, building custom golf clubs, repair services and personalization options. For more information about Club Champion, visit www.clubchampiongolf.com.