Levelwear Names PGA of Canada's Member Assistance Program As Largest Beneficiary Of Charitable Face Mask Initiative
Details

Category: Inside Golf
Published: 2020-10-10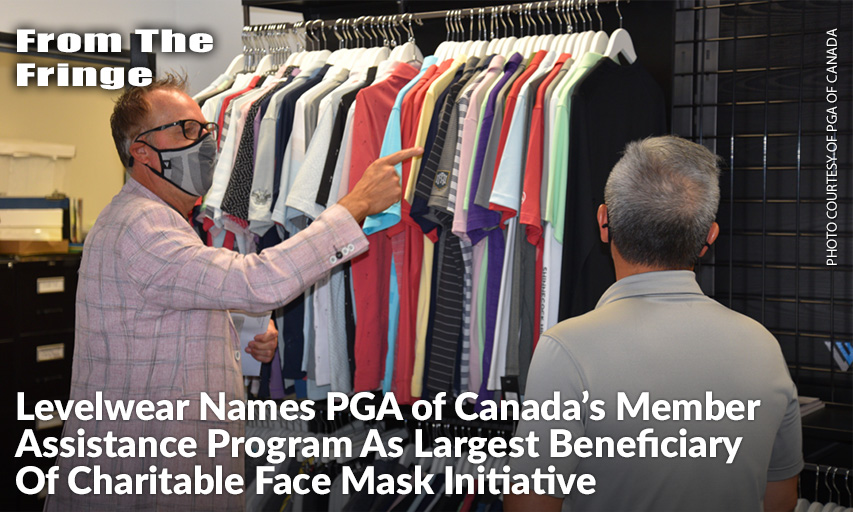 Levelwear is pleased to announce that over 25 per cent of all funds raised from its recent face mask initiative will benefit the PGA of Canada's member assistance program (MAP), which provides members and their families with access to vital and confidential counselling and family support services.

The donation makes the association's MAP the largest beneficiary of Levelwear's charitable campaign, which raised more than $200,000 in support of various charities and community organizations.

"As part of our responsibility to be good corporate citizens, Levelwear took swift action to deploy our full suite of resources to help the local community, numerous small businesses, and those who have always supported our business with 37,500 complimentary face masks," said Herbert Ngo, EVP of Sales and Operations for Levelwear. 

"It then evolved into a charitable initiative that has raised over $200,000 cumulatively. We are extremely proud of the hard work of our entire team coming together and being able to support the PGA of Canada with our largest donation going toward such a worthy cause. We know that the funds will go a long way to improving the lives of their members and are happy to be able to support a world-class organization like the PGA of Canada."

Levelwear identified a generous portion of all online and wholesale face mask sales between May and July to benefit multiple causes. In addition to the PGA of Canada's MAP, Levelwear is also supporting the PGA of America's Disaster Relief Fund, The LPGA Caddie Assistance Fund, Food Banks Canada, Feeding America and others with the funds raised.

"Support form great partners like Levelwear is critical in times like these," said Kevin Thistle, chief executive officer of the PGA of Canada. "Having funds available to help fellow members of the association with the care they need to improve their well-being makes us all stronger. We thank the generous and thoughtful efforts of Levelwear for this significant donation and investment in our people."

Members will soon have access to PGA of Canada-branded merchandise through a digital retail platform provided by Levelwear, which will help support the association's MAP in an ongoing capacity. 
---
About the PGA of Canada's Member Assistance Program
The Association's member assistance program provides PGA of Canada professionals and their immediate family members with professional counselling, coaching and consulting services to help manage personal, family and work-related concerns. It's a resource that has been widely used given the adverse effects of COVID-19. To learn more, visit www.pgaofcanada.com/benefits/member-assistance-program.