MJT National Award Winners Announced For 2020
Details

Category: Inside Golf
Published: 2020-10-10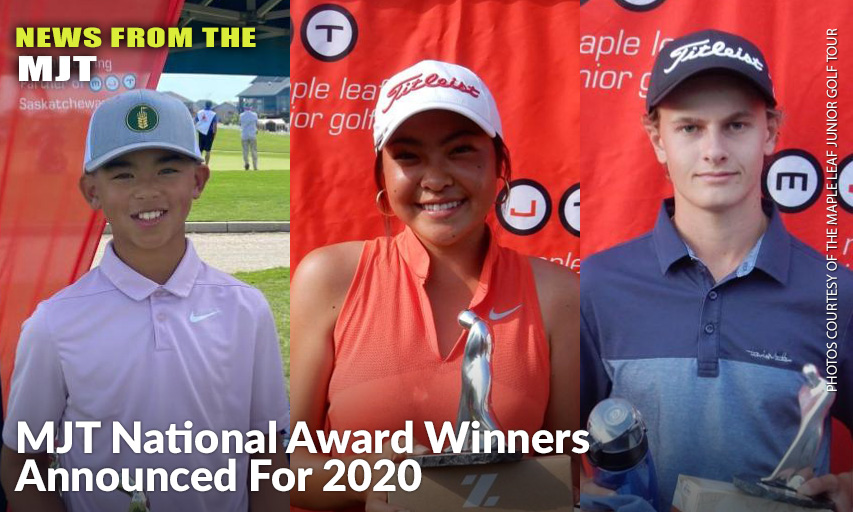 The non-profit Maple Leaf Junior Golf Tour (MJT), Canada's number one-played junior golf tour, is pleased to announce the major award winners for 2020, namely the 2020 adidas Golf Players of the Year, the MJT Order of Merit point winners in each age division in every region across the country, and the annual MJT Scholarship recipients.
With regards to the 2020 MJT adidas Golf Players of the Year, six juniors were recognized based on their scoring averages in a required minimum number of MJT tournaments across the country, and were as follows:
MJT Girls U15 Player of the Year: Yeji Kwon
MJT Girls 15-19 Player of the Year: Jennifer Gu
MJT Boys Peewee Player of the Year: Alex Zhang
MJT Bantam Boys Player of the Year: Ryan Liang
MJT Juvenile Boys Player of the Year: Cooper Humphreys
MJT Junior Boys Player of the Year: Kyle Mayner
The 2020 MJT Order of Merit winners, based on cumulative point totals in each region, are as follows:
Atlantic Canada: Annika Parkash, Mackenzie Deveau, Rylan Sutherland, Jacob LeBlanc, Julien Babineau and Jake Smith
Alberta: Eileen Park, Jenna Bruggeman, Brady Durkin, Brett Jones, Zachary Haydamack and Braden O'Grady
British Columbia: Yeji Kwon, Erin Lee, Jaden August, Joshua Ince, Danny Im and Ilirian Zalli
Manitoba: Jeri Lafleche, Mikyla Albert, Brayden Boge, Grady Chuback, Noah Fiks and Trey Ross
Ontario: Tara O'Connor, Alissa Xu , Eddie Gu, Ben De Castro, Ethan Irvine and Kavith Ranchagoda
Saskatchewan: Ella Kozak, Sarah Grieve, Elias Haukeness, Darien Herlick, Chase Pochylko and Theoren West
Sharing the $2,000 Dylan Reichelt Memorial Award are Danny Im of Langley, BC, and Ilirian Zalli of Vancouver, BC, due to their respective achievements as Juvenile and Junior Boys Order of Merit Points leaders in British Columbia.
The $1,000 Jacob Lugli Memorial Scholarship, awarded to a Manitoba-based member who shows excellent dedication, passion, and performance on the MJT, went to Braxton Kuntz of Winnipeg.
The winner of a $1,000 MJT Scholarship was Hana Yoshida of Richmond Hill, ON. An additional $6,000 in scholarship monies was also awarded to several other MJT members.
"Despite a most unusual year with the pandemic affecting everything, we managed to execute most of the program in 2020 and recognize the achievements of these young athletes, thanks to incredible support from our members and Sponsors," said Elaine Denton, Director of Marketing and Administration. "We look forward to seeing them all continue to develop as champions, in golf and in life."
---
About the MJT
The non-profit Maple Leaf Junior Golf Tour is Canada's number one-played Junior Golf Tour as well as the only national junior tour run exclusively by PGA of Canada Professionals and the 'Road to College Golf' in Canada. The organization is supported by valued Premier, Tournament and Product Partners. The MJT hosts close to 80 events across Canada, including free Ford Go Golf Junior Clinics, the MJT Mini Tour for 12U and multi-day events for competitive players aged 11-19. The program has annual awards, scholarships and incentives to help reward performance and participation throughout each season. MJT alumni include many Professional Tour players and PGA of Canada Professionals, as well as Canadian Amateur, National and Provincial Junior Champions. The MJT aims to develop champions, in golf and in life, promoting the game from grassroots through to the provincial, national, university and professional levels.