MJT Scholarship Deadline Is September 30!
Details

Category: Inside Golf
Published: 2020-09-28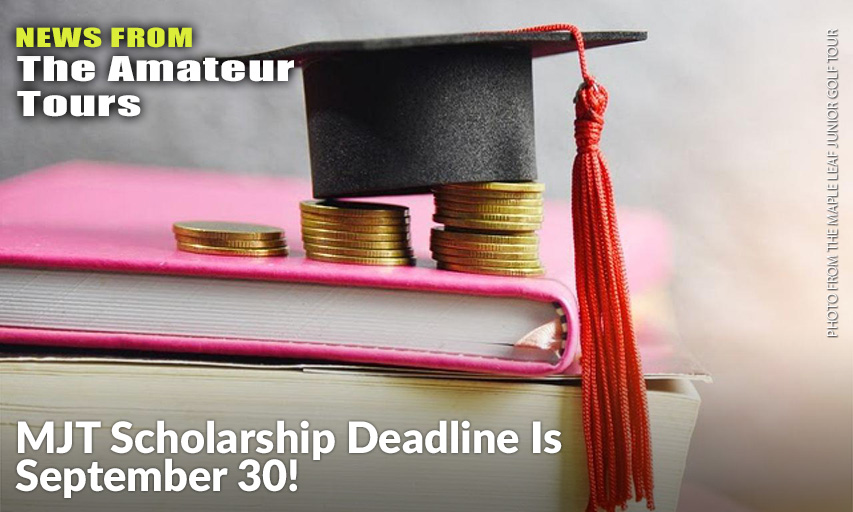 The Maple Leaf Junior Golf Tour is pleased to present annual awards for the MJT Players of the Year and MJT Scholarships.
2020 MJT Scholarships - Scholarships are awarded to members who show exemplary athletic, educational and personal achievements and who meet the following eligibility requirements:
As a result of slower delivery times by standard mail, we encourage applicants to e-mail all relevant documents to the MJT Head Office at This email address is being protected from spambots. You need JavaScript enabled to view it.. Each application received will be acknowledged by e-mail.
Click here for 2020 Application Form
Applications must be accompanied by a completed MJT  Scholarship Application Form. Note: birth requirements - must be 17, 18, or 19 to apply.

Funds are paid directly to an educational institution and must be paid within ONE YEAR of graduation.

High School Transcript showing marks for the 2019/20 school year.

Summary of personal achievements including community involvement, leadership roles, extra-curricular activities, work and volunteer efforts.

A good MJT stroke average and/or top finishes in MJT events in a minimum of three (3) MJT events.

A 300-500 word essay on how playing golf has impacted/influenced your life.

Applications open to current MJT members who are Canadian residents

Applicants must be enrolled in High School, College, University or other post-secondary education program in Canada or the United States for the 2020/21 school term.

Applicants with demonstrated financial need may receive priority. Proof of household income may be required, such as statement of earnings from employer.
Dylan Reichelt Memorial Award ($1,000 to each Junior & Juvenile BC OOM Champion)
Dylan Reichelt was a regular member of the MJT for four years. He was taken from us in a vehicle accident one week prior to the MJT season finale in Florida at the end of the 2011 season. Dylan was always watching the Order of Merit points race and wanted to be first, which he was on a few occasions, he just loved the competition. The life lessons Dylan and his twin brother Jesse learned through the MJT were invaluable.
This award is automatically given to the Order of Merit Champions from BC in the Junior and Juvenile age divisions.
Jacob Lugli Memorial Scholarship ($1,000)
A new scholarship in 2019, the Jacob Lugli Memorial Scholarship is to honour the memory of a young member of the Tour, Jacob Lugli, 17, a resident of Dryden, Ontario, who competed in MJT events in the province of Manitoba. Lugli, and his father Mark, tragically lost their lives in a devastating motor vehicle accident en route to the MJT Manitoba Series event at Selkirk Golf and Country Club in July.
The Jacob Lugli Memorial Scholarship is awarded to a Manitoba-based member of the MJT who is developing as a champion in both golf and life, showing leadership and community service.
MJT Players of the Year Award
MJT Players of the Year will have played in a minimum of 6 MJT tournament rounds on the annual schedule, in any region. Winners in each division will be determined by their scoring average. 
The winners of this prestigious award will receive prize vouchers to support with expenses of attending the MJT National Championship.
Past winners of these special MJT sponsored awards include:
MJT CANADA SCHOLARSHIP WINNERS (First place recipients are listed; many others also received funds):
2019: Josh Nagy, Saskatoon, SK
2018: Jacob Armstrong, Winnipeg, MB
2017: Jacob Kydd, Regina, SK
2016: Rhiannon Jones, Westbank, BC.
2015: Keenan Flemming, Sechelt, BC
2014: Emily Creaser, Edmonton, AB
2013: Lauren Rutherglen, Kelowna, BC & Michael Griffin, Victoria, BC
2012: Brianna Carrels, Lethbridge, AB
2011: Jehremy Ryde, Eston, SK
2010: Derek Field, Calgary, AB
2009: Luca Trisi, Toronto, ON
2008: Chase Teron, Red Deer, AB
2007: Chelsea Hummelt, East Selkirk, MB
2006: Spencer Harris, Winnipeg, MB
2005: Jesse Skelton, St. Francois – Xavier, MB
2004: Todd Hutcheson, Ingersoll, ON
2003: Ryan Stevenson, Lethbridge, AB
​2019 MJT PLAYERS OF THE YEAR
PeeWee: Ryan Liang, Vancouver, BC
Bantam: Ryan Vest, Vernon, BC
Juvenille: Cooper Humphreys, Kelowna, BC
Junior: Ilirian Zalli, Vancouver, BC
Collegiate: Dakota Smith, Edmonton, AB
Girls U15: Luna Lu, Burnaby, BC
Girls 15-18: Erin Lee, Langley, BC​

2018 MJT PLAYERS OF THE YEAR
PeeWee: Andre Zhu, Richmond Hill, ON
Bantam: Cooper Humphreys, Kelowna, BC
Juvenille: Hunter Thomson, Calgary, AB
Junior: Kaiden Nicholson, Edmonton, AB
Collegiate: Michael Harrison, Camrose, AB
Girls U15: Tina Jiang, Richmond, BC
Girls 15-18: Emma Yang, Langley, BC
2017 MJT PLAYERS OF THE YEAR
PeeWee: Justin Bjornson, Surrey, BC
Bantam: Andy Luo, Burnaby, BC
Juvenille: Brady McKinlay, Lacombe, AB
Junior: Chandler McDowell, Springbrook, AB
Collegiate Men's: Logan Hill, Red Deer, AB
Girls U15: Brooke Rivers, Brampton, ON
Girls 15-18: Susan Xiao, Surrey, BC
Collegiate Women's: Sarah Lawrence, Duvall, WA
2016 MJT PLAYERS OF THE YEAR
PeeWee: Braxton Kuntz, Winnipeg, MB
Bantam: Ilirian Zalli, Vancouver, BC
Juvenile: Chandler McDowell, Springbrook, AB
Junior: Christian Zalli, Vancouver, BC
Girls U15: Emily Zhu, Richmond Hill, ON
Girls 15-19: Susan Xiao, Surrey, BC
2015 MJT PLAYERS OF THE YEAR
PeeWee: Shawn Sehra, Windsor, ON
Bantam: Braeden Cooper, Vernon, BC
Juvenile: Roman Timmerman, Saskatoon, SK
Junior: Calvin Ross, Fredericton, NB
Girls U14: Emily Zhu, Richmond Hill, ON
Girls 15-19: Vivian Lee, New Westminster, BC
2014 MJT PLAYERS OF THE YEAR
Bantam: Andrew Spalti, Vancouver, BC
Juvenile: Adam Veenstra, Smithers, BC
Junior: Adam Graham, Sarnia, ON
Girls: Alisha Lau, Richmond, BC
2013 MJT PLAYERS OF THE YEAR
Bantam: Roy Kang, North Vancouver, BC
Juvenile: Will Gretton, Calgary, AB
Junior: Steven Lee, Kelowna, BC
Girls: Madison Easterbrook, Burlington, ON
2012 MJT PLAYERS OF THE YEAR
Boys 13 & Under: Jae Wook Lee, Langley, BC
Boys 14-16: Jared du Toit, Kimberley, BC
Boys 17-19: Travis Fredborg, Selkirk, MB
Girls: Keanna Mason, Pitt Meadows, BC
2011 MJT PLAYERS OF THE YEAR
Boys 13 & Under: Roy Kang, North Vancouver, BC
Boys 14-16: Matt Williams, Calgary, AB
Boys 17-19: Jerry Christiansen, Saskatoon, SK
Girls: Alix Kong, West Vancouver, BC
2010 MJT PLAYERS OF THE YEAR
Boys 13 & Under: Jason Martens, Edmonton, AB
Boys 14-16: Travis Miller, Calgary, AB
Boys 17-19: Kevin Piper, St. Albert, AB
Girls: Valentina Trillo, Port Moody, BC
2009 MJT PLAYERS OF THE YEAR
Boys 13 & Under: Patrick Murphy, Crossfield, AB
Boys 14-16: Jerry Christiansen, Saskatoon, SK
Boys 17-19: Dillon Batsel, Medicine Hat, AB
Girls: Anica Yoo, Port Coquitlam, BC
2008 MJT PLAYERS OF THE YEAR
Boys 13 & Under: Kevin Kwon, Coquitlam, BC
Boys 14-16: Carson Kallis, Red Deer, AB
Boys 17-19: Chris Cooke, Canmore, AB
Girls: Jisoo Keel, Coquitlam, BC
2007 MJT PLAYERS OF THE YEAR
Boys 13 & Under: Kevin Lee, Surrey, BC
Boys 14-16: Jesse Gibson, Saskatoon, SK
Boys 17-19: Scott Thompson, St. Wallburg, SK
Girls: Soo Bin Kim, Port Coquitlam, BC
2006 MJT PLAYERS OF THE YEAR
Boys 13 & Under: Andy Yang, Coquitlam, BC
Boys 14-16: Kyle Dodman, Abbotsford, BC
Boys 17-19: Ted Cho, Langley, BC
Girls: Jennifer Yang, Coquitlam, BC
2005 MJT PLAYERS OF THE YEAR
Boys 13 & Under: Brian Cho, Pitt Meadows, BC
Boys 14-16: Jonnie Motomochi, White Rock, BC
Boys 17-19: Judd Blackwater, Fort MacLeod, AB
Girls: Bari-Lynn Erais, Lethbridge, AB
2004 MJT PLAYERS OF THE YEAR
Boys 13 & Under: Jonnie Motomochi, White Rock, BC
Boys 14-16: Will Porter, Coaldale, AB
Boys 17-19: Josh Taylor, Abbotsford, BC
Girls: Sue Kim, Langley, BC
2003 MJT PLAYERS OF THE YEAR
Boys 13 & Under: Jonnie Motomochi, White Rock, BC
Boys 14-16: Mitchell Fox, Okotoks, AB
Boys 17-19: Michael Knight, Calgary, AB
Girls: Susan Nam, Edmonton, AB