Mayfair Lakes GC Goes Forward By Moving A Step Back
Details

Category: Inside Golf
Published: 2017-08-10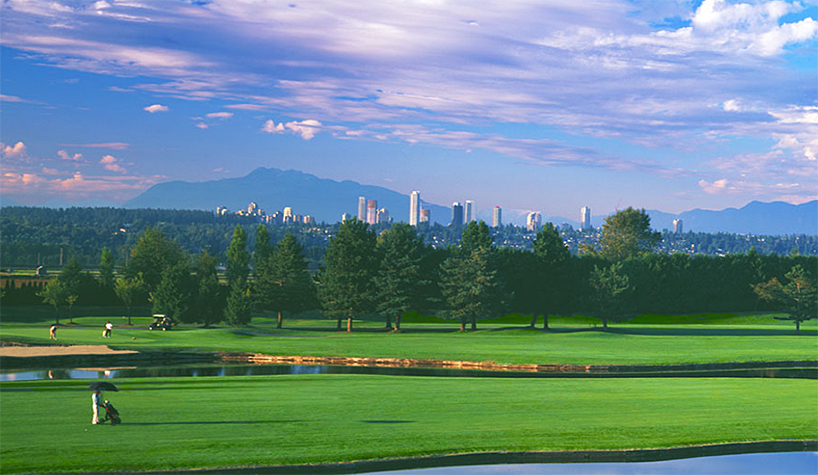 Mayfair Lakes GC In Richmond Have Taken A Step Backward — In Order To Move Forward — As They've Re-Positioned Their Tee Blocks For The Good Of The Game. (Photo/Mayfair Lakes Golf & Country Club)
VANCOUVER, British Columbia (Brad Ziemer/British Columbia Golf) — Red, white and blue have taken on a new meaning at Mayfair Lakes Golf Course.
The Richmond course has flipped its tees in an effort to convince its players — mainly the male ones — to play from the appropriate set of tees. And according to general manager Mike Smedstad, it's working.
The back tees at Mayfair are now red, which traditionally have been the forward tees at most courses.
Those red tees have, unfortunately, also come to be known to many as the 'ladies' tees. And of course that means most guys don't want to be seen playing them.
Smedstad wanted to change that and thought making the switch might persuade more players to re-think their tee choices. "We are trying to get away from gender-specific tees," Smedstad said. "Play the tee box that is best suited to your skill set. It doesn't matter about the colour."
Smedstad, who was persuaded to make the change after attending a United States Golf Association innovation symposium held this past March in Vancouver, said the response to the move has been overwhelmingly positive. "It really has made a difference," he said.
"There actually has been a lot of instances where instead of playing the  back tee box because it is red, guys will move forward and play the more forward tee which now is gold. Everyone seems to really like the idea. I have had a lot of women, especially, say you know what, we love that. It takes away that stigma."
Smedstad has also seen some confused looks on the faces of players teeing it up at Mayfair Lakes for the first time since the change. "My office overlooks the first tee so I see it all the time," he says with a chuckle. "Obviously, it's more about the men because they always want to tee it up on the back tees. People see those red tees as the back tees and they are like, 'Is this a par 5 for ladies or what?' " 
Mayfair's blue tees, now the front tees, measure 5,277 yards. The whites are 5,673 yards, the golds are 6,155 and the reds are 6,608. There is also a red/gold combo tee measuring just over 6,400 yards and a set of orange 'quik' tees measuring 3,518 yards. Smedstad feels like educating players about their tee choices is critical for the golf industry.
For starters, having players play tees that suit their ability will speed up play and that, of course, is good for the bottom line. Perhaps more importantly, the right tee selection will give players an opportunity to score better and lead to a more enjoyable golf experience. Too often, he says, players select tees where they don't really have a fighting chance to make par on many holes. Players should select a tee that is going to allow them to hit greens in regulation. If you are reaching for your 3-wood to hit your second shot into par 4s, chances are you teed it up too far back.
Play it forward has become one of the new mantras in the golf industry. "What it does is lend itself to people to having a better playing experience because let's face it, if you are out there taking less strokes and having a better score hopefully you are having a lot more fun," Smedstad says.
Smedstad also hopes to install colour-coded targets on the Mayfair driving range that might help its players make better tee choices. "It's all about distance of flight with your driver," he says.
If you're only able to fly your driver to the blue targets, then choose to play the blue tees. The red targets would be located toward the back of the range for the big-hitters. If you can't get near them, then don't think about playing the red tees.
Play it forward, instead.