Ziemer's B.C. Golf Notes: Sloan Lone British Columbian In Field As New PGA TOUR Season Begins; Davison T2 At TPC Toronto; du Toit Makes Cut In Korn Ferry Tour Debut
Details

Category: Inside Golf
Published: 2020-09-09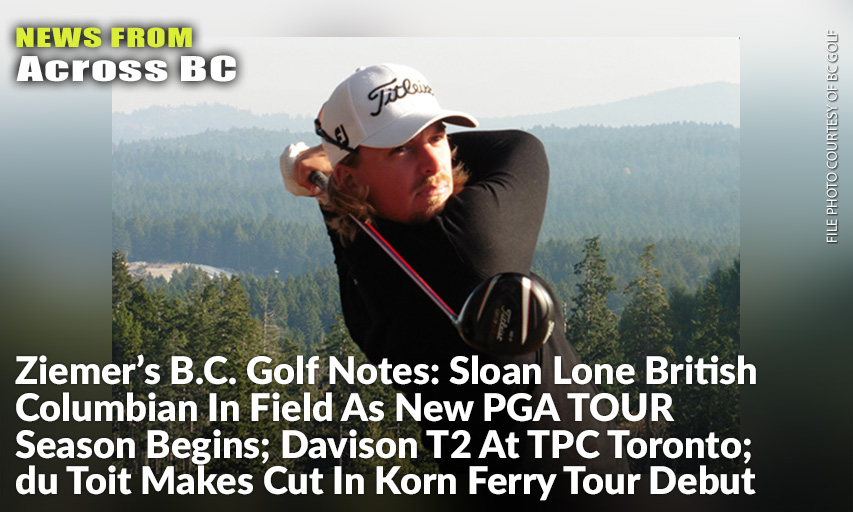 By BRAD ZIEMER, British Columbia Golf
One season ends and another begins. There really is no off-season anymore on the PGA TOUR, which tees off its 2020-21 season with the Safeway Open in Napa, Calif.
It is the first of a record 50 tournaments, including six majors, scheduled over the next year in what the PGA TOUR has dubbed a 'super season.'
The U.S. Open and Masters, both postponed due to COVID-19, will be played twice over the next year.
This year's U.S. Open goes Sept. 17-20 at Winged Foot Golf Club, while the Masters goes Nov. 12-15 at Augusta National in Augusta, Ga. Both tournaments are scheduled to return to their regular slots in 2021.
As for the Safeway Open, Merritt's Roger Sloan is in the field. Abbotsford products Nick Taylor and Adam Hadwin are taking the week off. Sloan had his best finish of the year at last season's Safeway Open, where he tied for 13th place.
Notable names in the field include Phil Mickelson, Sergio Garcia, and Jordan Spieth.
JUNIOR ACHIEVEMENT
Surrey's Adam Svensson and Jared du Toit of Kimberley, a pair of former B.C. Junior Boys champions, played in the Korn Ferry Tour's Lincoln Land Championship in Springfield, Ill. 
Svensson, a regular and past winner on the tour, tied for 22nd place and moved up two spots on the Korn Ferry points list to No. 42. Svensson closed with a two-under 69 to finish at 11-under. That was eight shots behind winner Brett Drewitt of Australia.
Du Toit Monday qualified his way into the event, his first on the Korn Ferry Tour, and tied for 46th at seven-under after shooting an even-par 71 [in the final round].
Vancouver's Stuart Macdonald was also in the field. He closed with a 30 on his back nine [in the final round] and tied for 46th at seven-under after shooting a four-under 67 [in the final round]. Macdonald, who has made nine of 12 cuts this season on the Korn Ferry Tour, stands 110th on the points list.
Svensson and Macdonald are both in the field for the Evans Scholar Invitational in Westchester, Ill.
DUNCAN DELIGHT
Duncan's Callum Davison tied for second at the Canada Life Series event at TPC Toronto's Heathlands Course. Davison closed with a three-under 68 to finish the 54-hole event at seven-under par. That was just one shot behind winner Albert Pistorius, a native of South Africa who resides in Calgary.
Edmonton native Andrew Funk, who now lives in the Victoria area, and Delta resident Yi Cao also tied for second. Former UBC Thunderbird Evan Holmes finished alone in fifth place at six-under. Richmond's Chris Crisologo tied for seventh place at four-under.
The four-event Canada Life Series concludes with another event at TPC Toronto. The series points leader will receive an exemption into the 2021 RBC Canadian Open as well as conditional status and six guaranteed starts on the 2021 Mackenzie Tour.
The players who finish second through fifth on the points list receive conditional Mackenzie Tour status in 2021 and two guaranteed starts. Heading into the finale, Cao leads the points list with 853.33 points. Pistorius is second with 835 and Holmes is third with 631 points. Zach Anderson of Nanaimo holds down fourth place with 326.75 points, while Joey Savoie of La Prairie, Que., is fifth with 311 points. Davison's tie for second moved him into sixth place with 294.33 points.
VERNON VICTORY
Todd Tweedy of Fairview Mountain Golf Club in Oliver fired a two-under 70 to win an Interior PGA Tour event at Vernon Golf Club. Tweedy earned $500 for the win. New PGA of BC champion Keith Martin of Tower Ranch Golf Club in Kelowna was second after posting a 71.