Golf Canada And PGA of Canada Announce Women In Coaching Program
Details

Category: Inside Golf
Published: 2020-08-20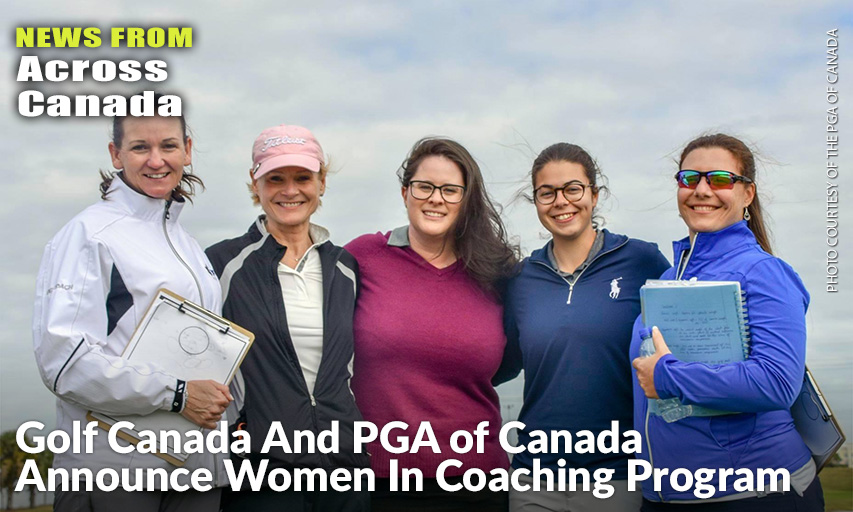 This year has been a unique one — to say the least — but a big positive that's come from the lengthy break from event-planning has seen Golf Canada accelerate meaningful initiatives that will benefit the future of the sport.
The Golf Canada Women in Coaching Program, launching this week, is one of those initiatives — an exciting partnership between Golf Canada and the PGA of Canada that will put the sport on the path to further balance between sexes at a high level, coaching-wise.
"Golf Canada has a vested interest in developing the coaching pool to fill the future pipeline of national team coaches — we want to ensure that in the future we have a coaching staff that better represents our players and the golfing community," says Emily Phoenix, the manager of high performance sport at Golf Canada and one of the leaders of the Women in Coaching Program.
"There are PGA of Canada members out there who are female, that have invested in their own coaching skills and we want to provide some additional tools, along with our partners at the PGA of Canada, to further develop these existing coaches."
In early 2019 Sport Canada approached all National Sport Organizations for programs or projects it wanted to do but maybe hadn't had the funding to launch. The idea for the Women in Coaching Program fell under the Safe Sport and Gender Equity Fund while its inspiration came from Level Par, a comparable initiative in Ireland.
Golf Canada applied for a wider collection of funding, so not only will it be doing a coach mentorship program, but there are some other exciting initiatives that Golf Canada has outlined either in the safe sport area or with gender equity that will span two years — 2020 and 2021 — says Phoenix.
The development of this particular program also relates well to Golf Canada's commitment to the R&A's Women in Golf charter.
In part, the R&A's Women in Golf charter (of which Golf Canada is a signatory) intends "to inspire an industry-wide commitment to developing a more inclusive culture within golf around the world and enable more women and girls to flourish and maximize their potential at all levels of the sport."
Tristan Mullally, the Women's National Team Head Coach, will co-lead the program along with Phoenix. He says it's huge any time you can support people who want to learn in both a functional program but also with financial aid.
"Good coaches will tell you they have to invest a lot of money in themselves," said the PGA of Canada Class 'A' member.
Mullally also coaches the Women's Young Pro Squad and led the Canadian Women's Golf Team of Brooke Henderson and Alena Sharp at the 2016 Summer Olympics.
He says although full-time coaching opportunities are limited, for both genders, this is a chance for Golf Canada to help level the playing field.
"There are many great female coaches across Canada but they tend to be a little more isolated and this was a way to bring expertise together," he said. "This will bring together likeminded female coaches to build relationships and learn best practices from our national team program."
As part of the mission of the program, Golf Canada will work closely with female PGA of Canada professionals interested in pursuing a career in coaching.
There will be four main elements to the program including lectures, hands-on training, project work, and a self-assessment. Each successful candidate will receive a $2,500 bursary from Golf Canada.
"The time is long overdue," says Matt Allen, the chief innovation officer of the PGA of Canada, about this kind of program. "I think for us the rationale was really: we have a lot of female professionals who are doing great work and leading at the club level but we really saw an opportunity to grow the pool of high performance coaching in the country."
The program launch aligns nicely with the continued growth of the DCM PGA Women's Championship of Canada and the launch of the PGA of Canada's Women's PGA Cup in 2019, says Allen. A program like this, he says, helps with visibility and hopefully, growth of the game.
"There are lots of young, female golfers playing the game and picking up the game now. If they don't see a high-profile female coach in our sport then they don't see the pathway for them. If you don't see it, you don't believe it," says Allen. "This is the time for us to say, 'you know what, we're putting a stake in the ground.' These young girls who are starting to pick up the game today can have a viable career at the high performance level."
PGA OF CANADA PROFESSIONALS INTERESTED IN THE WOMEN IN COACHING PROGRAM CAN CLICK HERE TO APPLY.
FOR AN OVERVIEW OF THE PROGRAM, CLICK HERE.
Applications close on Monday, September 7, at 5 p.m. ET