Be An IG Course Reviewer
Eaglequest's CN Future Links 'Girls Club' Helping Girls Grow The Game
Details

Category: Uncategorised
Published: 2016-12-21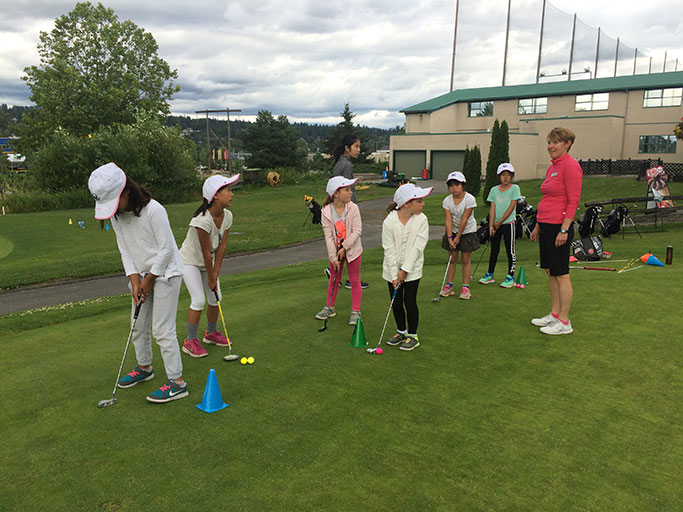 by Bryan Outram
The CN Future Links Girls' Club website tells us the program is a developmental golf program essentially designed for girls 7-18 years of age. As members, young girls will develop the skills, attitudes and positive images of themselves as athletes on the golf course, encouraging both self-esteem and a life-long love of the game.
The Girls' Club was developed to address the huge discrepancy between the numbers of young girls playing golf compared to the number of young boys. It aims not merely to attract girls to the game but also to help retain them longer.
The Girls Club has been held every Monday at Eaglequest Coquitlam since July 4th and is having a very positive affect according to Shiella Cowan, the Director of Instruction at Eaglequest in Coquitlam, who leads the event.
It's not a one-time event like many other CN Future Links programs, as it's a camp that the girls attend once a week from 5pm-7pm.
Cowan explains that part of the success of The Girls Club is that there really are not enough programs available out there aimed specifically at getting young girls involved and at the same time feeling comfortable in the environment. 
"For the most part the girls like the social aspect of the game whereas the boys always want to be competitive," says Cowan. "That's not the case every time, but it holds fairly true for the majority. I find we have better success by separating the boys and the girls."
For each event, the girls take part in some arts and crafts that are related to golf, for example, they may put together a golf notebook. After they spend some time doing the arts & crafts they then head outside to work on their chipping and putting. Lastly, they'll spend the final 30 minutes on the driving range to work on their long game.
British Columbia Golf Participation Intern Ezzabella Hernandez passed on that, "When I was around their age, I too, attended The Girls Club at Mayfair Lakes with Keri Moffat (now a British Columbia Golf Player Development Coach). I greatly enjoyed The Girls Club as it gave me a chance to meet other girls my age that played golf. You could say it was the bridge that pushed me to play golf more."
Of course programs of this nature are also benefitting from the recent success of Canada's newest young star, Brooke Henderson. Having rocketed into the limelight with her victories at the Cambia Portland Classic last year and subsequently becoming the 2nd youngest winner of an LPGA Major at the KPMG Women's PGA Championship she is no stranger to the impressionable young women taking up the game.
Cowan is again able to point to a positive in that she likes to use Henderson as an example of a great role model for her young students, because, as Cowan points out, "Brooke is super fit, she played hockey as a goalie so she has strong legs, and she has a terrific attitude. When I tell my students that she's 18-years old, they say, 'She's only 18? I want to be like her.' " 
So having the right people in charge of the right programs along with a role model to aspire to, there would appear to be at least two elements steering young girl's participation in golf in the right direction.
Another very intriguing note that Cowan makes is that there is a waiting list for junior girls to join the Vancouver Golf Club, which as she points out, "Must mean something good is happening."
To visit the Eaqlequest Coquitlam site CLICK HERE
To find out more about CN Future Links Girls Club CLICK HERE