Young Drains Birdie Putt In Playoff To Win Jacksonville Championship
Details

Category: Inside Golf
Published: 2020-09-28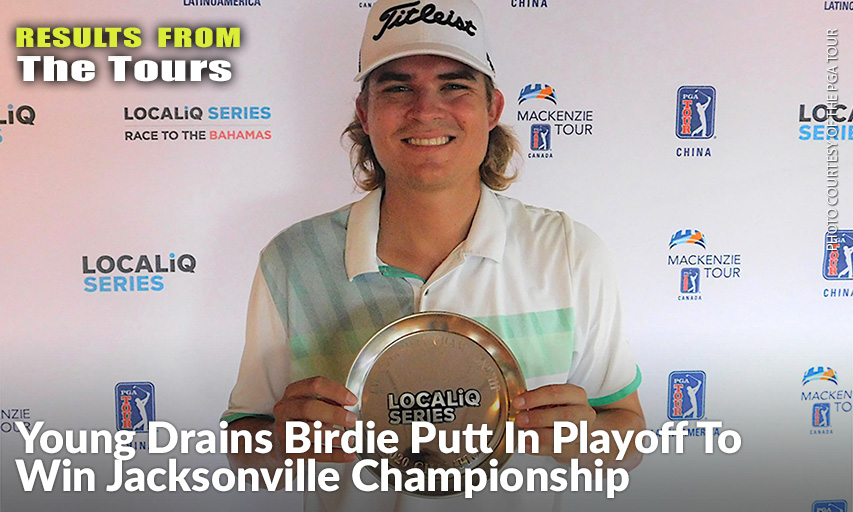 JACKSONVILLE, Florida — Forty-five minutes before he made it into the three-man playoff at the Jacksonville Championship, Carson Young talked about a chip shot he had on No. 15 that hit the pin but stayed out of the cup. He also thought about the 18-footer he had at the end of regulation, a birdie putt that stayed straight when he thought it was going to go right.
No problem, though. In the first hole of the extra session on Hidden Hills Golf Club's 18th hole — with David Pastore and Rowin Caron — Young rolled in a 25-foot birdie putt to capture the sudden-death title, the 500 Race to The Bahamas points and $16,000.
Hidden Hills has been very good to Young this year. In June, the Anderson, S.C., native won an Unbridled Tour event, also in a playoff, defeating European Tour regular Scott Jamieson in a playoff that also concluded on the 18th hole.
Friday, after all three players who finished at 12-under teed off, Young was the first to hit his second shot, knocking his pitching-wedge approach on the par-4 from 130 yards to 25 feet. Caron from the rough came up well short, and he faced a 48-foot putt, while Pastore's ball landed over the green, leaving himself a 12-foot chip coming back.
Caron putted first and left his ball considerably short. Pastore was next, nearly holing his shot from the back rough. He tapped in for par. Then came Young's turn.
"I saw it sliding just a little right, downhill a little bit and down grain. I just wanted to get it there to make sure I had a chance to make it, but I didn't want to give it too good of a run because David was already in (for par)," Young said of his winning putt. "I hit a good putt on line like I wanted, and thankfully it just got there and dripped in."
As the ball neared the hole, it looked like it might just stay out, pausing momentarily before falling in.
"I don't know what it is, but I have a good track record here—two for two," Young said of his pair of professional wins at Hidden Hills in three months. "I guess I just like the way it's set up. You have to be precise with irons and off the tee."
It doesn't hurt to make putts, either.
Young shot a final-round 66 that was enough to get him into the extra session, but he had to sweat out two competitors' putts at the end of regulation that would have eliminated him. First was Pastore's birdie putt from 18 feet that came up just short. In the last group of the day, Caron had an eight-foot birdie putt that would have given him the win. It missed on the high side.
Of his putt, Pastore said, "I just didn't give myself as close a chance as I wanted. I really had a bad (yardage) number to that pin, and I didn't want to risk going long, so I chose the safer club.
"It was a fairly flat putt but not super makeable," Pastore continued. "I was nervous, and I hadn't been checking the scores, so I didn't know where I stood. I knew I was in the mix, and I wanted one last (birdie), and it came up a bit short."
Did you know Carson Young is three for four in cuts made in his Korn Ferry Tour career? He finished 72nd at the 2017 LECOM Health Challenge, tied for 55th at the 2018 Price Cutter Charity Championship and tied for 50th at the 2019 Knoxville Open. His only missed cut came at the 2019 REX Hospital Open.
RACE TO THE BAHAMAS POINTS STANDINGS
Through Jacksonville Championship
| Pos. | Player (Home Tour) | Points | Previous Position |
| --- | --- | --- | --- |
| 1 | Bryson Nimmer (Mackenzie Tour) | 1,419.000 | 1 |
| 2 | Carson Young (Mackenzie Tour) | 684.300 | 13 |
| 3 | Hayden Shieh (Mackenzie Tour) | 640.000 | 3 |
| 4 | Stoney Crouch (Mackenzie Tour) | 552.333 | 4 |
| 5 | Cooper Musselman (Mackenzie Tour) | 500.000 | 5 |
| 6 | David Pastore (Mackenzie Tour) | 464.900 | 9 |
| 7 | Alex Smalley (Mackenzie Tour) | 382.500 | 5 |
| 8 | Rowin Caron (PGA TOUR Latinoamérica) | 337.417 | 38 |
| 9 | | 327.017 | 6 |
| 10 | Patrick Cover (PGA TOUR Series-China) | 271.071 | 7 |
The Jacksonville Championship was the first event of the Arcis Golf Florida Swing, which rewards the top two performers in the three LOCALiQ Series tournaments in Florida. With his victory at the Jacksonville Championship, Carson Young takes the early lead, with Rowin Caron and David Pastore, runners-up in the playoff, in second place. Arcis Golf, the premier operator of public, resort and private golf clubs in the United States, has a current portfolio of 60 properties located coast to coast in 13 states, including The Club at Weston Hills—the site of the final event of the Arcis Golf Florida Swing. Arcis Golf will present a $7,500 bonus to the top finisher, with the second-best performer at the events in Jacksonville, Harbor Hills Golf Club in Lady Lake and Weston Hills in Fort Lauderdale taking home $2,500.
ARCIS GOLF FLORIDA SWING STANDINGS
Through Jacksonville Championship
| Pos. | Player (Home Tour) | Points |
| --- | --- | --- |
| 1 | Carson Young (Mackenzie Tour) | 500.0 |
| T2 | David Pastore (Mackenzie Tour) | 245.0 |
| T2 | Rowin Caron (PGA TOUR Latinoamérica) | 245.0 |
| T4 | Chris O'Neill (Mackenzie Tour) | 100.0 |
| T4 | Camilo Aguado (PGA TOUR Latinoamérica) | 100.0 |
| T4 | MJ Maguire (PGA TOUR Latinoamérica) | 100.0 |
| T4 | Cole Miller (Mackenzie Tour) | 100.0 |
| T4 | Leandro Marelli (PGA TOUR Latinoamérica) | 100.0 |
| T4 | Scott Wolfes (PGA TOUR Latinoamérica) | 100.0 |
| 10 | Patrick Flavin (PGA TOUR Latinoamérica) | 75.0 |